Burberry's first menswear collection is inspired by fluidity and escape
Riccardo Tisci looked to our reemergence post-Covid for a collection about self-expression and the outdoors.
|
23 February 2021, 7:37pm
It's hard, at the moment, to keep track of where we are on the show schedule and who is showing what, where, how, what season… And so, in the middle of a newly genderless London Fashion Week, Riccardo Tisci presented Burberry's first menswear collection, which explores the spaces around masculinity and femininity in dress, tailoring, opulence and embellishment.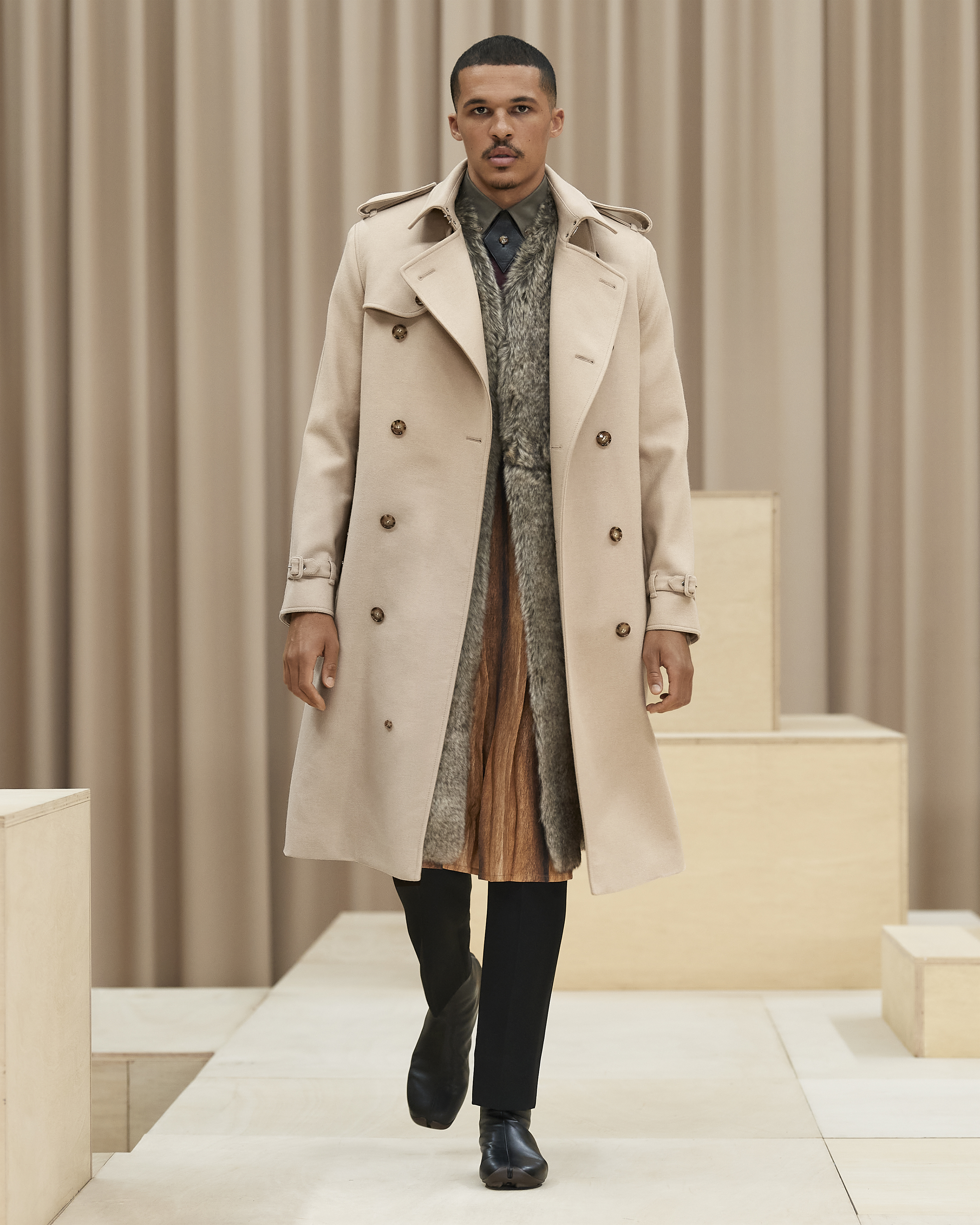 Staged in Burberry's flagship store on Regent's Street — the first show at
the brand's new retail HQ since it opened — the space, in all its luxurious trench-beige softness, was reconfigured as a maze of blocks of different heights that the models walked over. A literally cubist take on a landscape, as a nod to the collections other main theme: the outdoors. Because this was really a collection designed for the future, for our reemergence into the world post-Covid, it was about the outdoors and self-expression, two things we've been starved of during this long winter lockdown.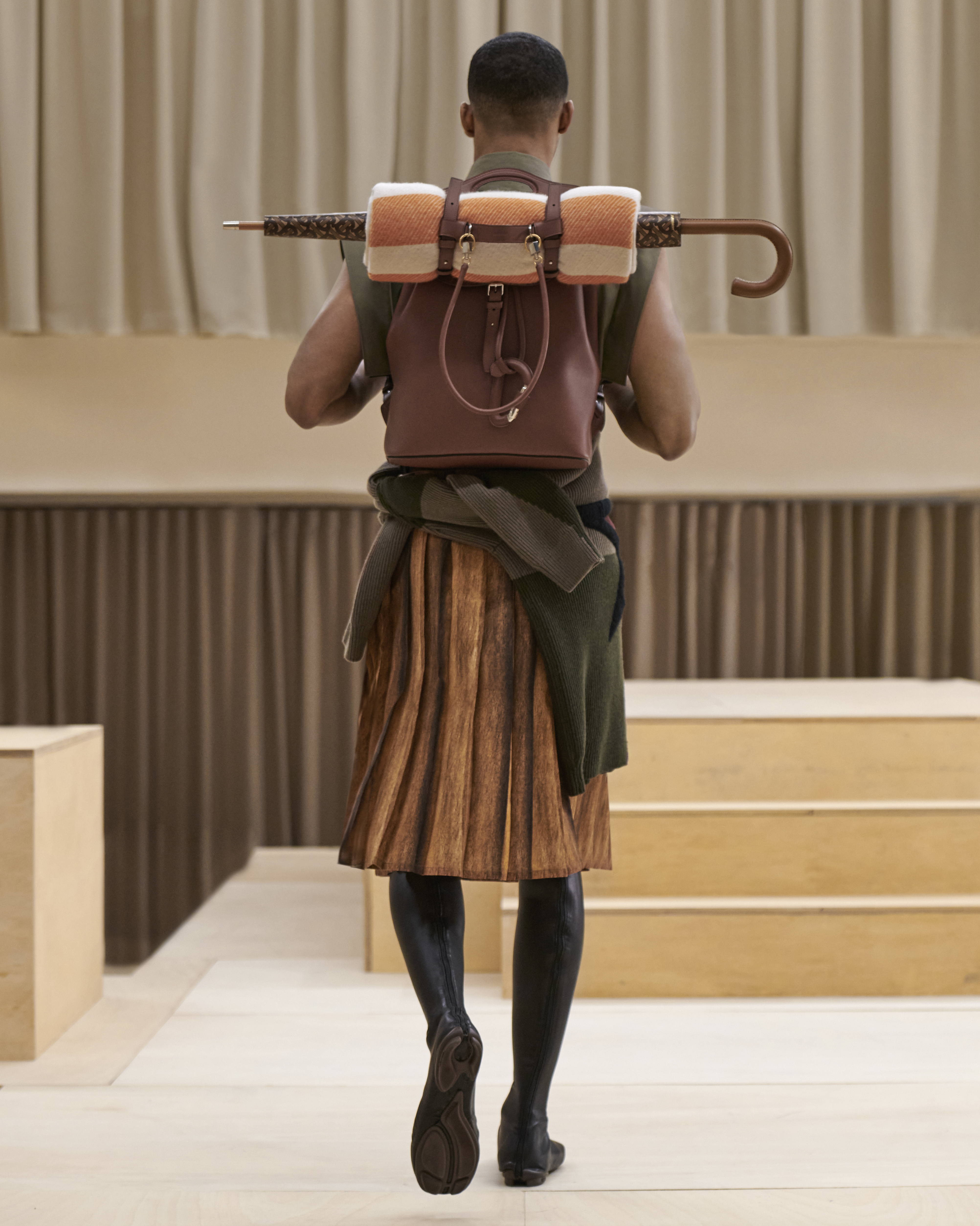 "I became fascinated by the widespread British craft and outdoor movements of the early 20th Century, when people escaped to explore the unknown countryside," Riccardo explained. "They formed communities with a deep respect for nature and the outdoors and looked forward to a future full of possibility. I was not only drawn to the artistry of their craft, colours and shapes, but also to their strong sense of camaraderie and friendship." The models walked with umbrellas and sleeping mats, big practical boots, animal prints, faux furs, warm layers. More obliquely, the outdoors was referenced in prints, patterns and the cut of the garments; there were stars, geometric figures, pleats for ease, fringe to highlight movement.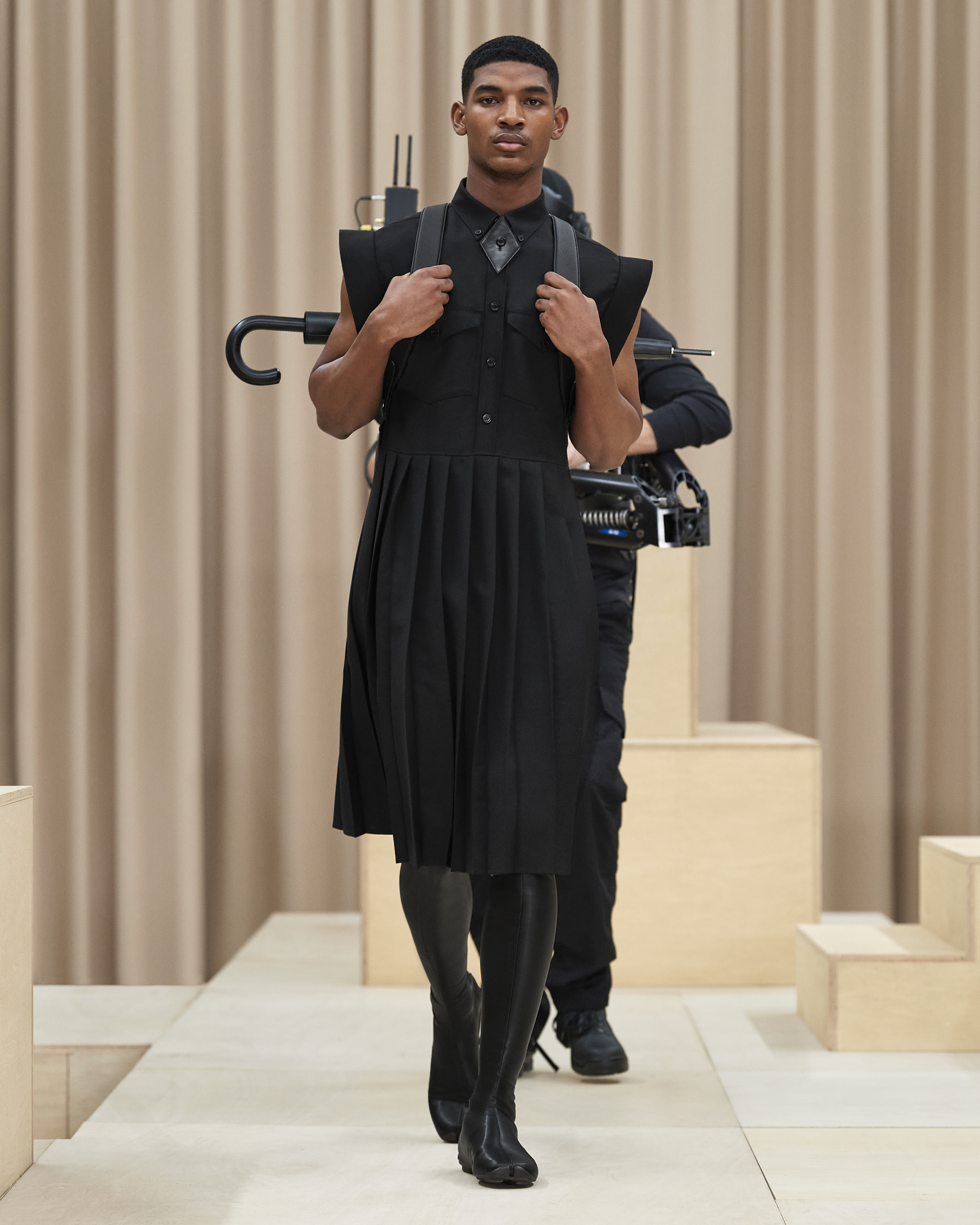 The outdoors was also referenced as a space of reimagination, of fluidity in dress: classic trenches in their elongated cuts resembled — more than anything — dresses. Riccardo had softened their masculinity in frayed edges, a silk scarf, bare arms.
"This collection is an homage to the relationship between humanity and nature, where we can break free and come together to discover new forms of expression. It's for those who are defining their own path, whose strength and energy have inspired this Burberry collection," Riccardo says. It might have picked up where his last womenswear collection left off, in the very British world of the countryside, but Riccardo is finding new spaces of expression in this house; referencing its history, but making it modern, carving out some of his own creative freedom in the Burberry's century-old code.