this new ethical makeup brand wants to change the beauty industry
Australian brand Fluff is questioning both the purpose and production of modern make up.
These days, no matter what you buy, most makeup is made by one of a few giant cosmetics manufacturers. Basically this means we're being sold a lot of very similar products at different price points, just with unique packaging and clever marketing. It's a relatively simple way for cosmetics brands to sell colourful concoctions but what we're really buying is a story. Fluff is a new Australian make up label that doesn't subscribe to this approach. For the launch of their first product — an ergonomic compact bronzer and kabuki brush — the team spent over a year speaking to young people about what they want from makeup and researching a natural formula free of palm oil. The process took so long because pretty much every other bronzer you can buy includes palm oil. Fluff were essentially reinventing the wheel.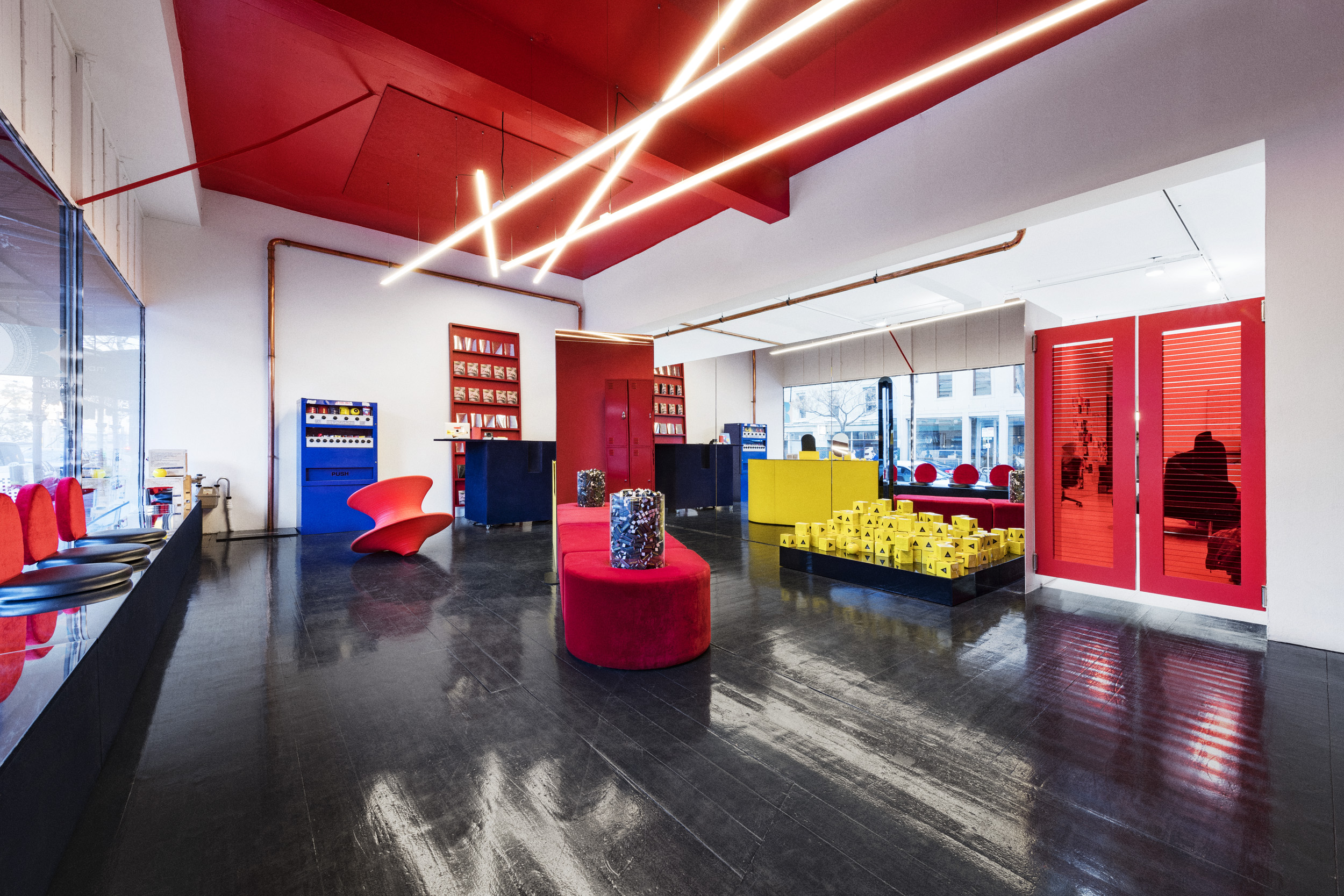 Led by Frank Body Scrub co-founder Erika Geraerts — who gained valuable insights from working on the company that spearheaded the coffee exfoliation frenzy — and a young team, Fluff is all about good products, interesting conversations and fun. Their shiny new store in Fitzroy is a case in point. Inside, bright red furniture is reflected in a huge mirror next to a Klein Blue beauty vending machine. Bundles of bright yellow magic eight balls tell fortunes beside a stand of dedicated Fluff zines full of photos and writing articulating the thoughts and feelings of their friends and peers. For Erika, the opening of the store marks the end of a challenging project and the beginning of what she hopes will be an exciting and fulfilling journey. "It's so nice now that we've finished the store fit out. We wanted to challenge the idea of a typical beauty retail space, where you're guided in and out, and make a place instead where people can come and hang out, talk to us and see the product development. As we've just got the one product right now, it's nice that we can show what we're working on," she tells us.

In an environment where heavy makeup has become common for young people, and given the impenetrability of most makeup brands in terms of genuine information about how their products are produced, Fluff stands out. Rather than making huge ranges they're making one product that can work for different skin types — a less-is-more approach to make up. They're also keen for their customers to think about the reasons they wear make up in the first place and have made this type of dialogue a big part of their platform. Erika tells us, "I think brands can be so much more than their products. They can have an opinion. In the beauty industry, I'd like to see brands speak to their audience with more intelligence. We need brands to create a more interesting dialogue that encourages people to think about what's in their head and what's in their heart. We really want Fluff to be a statement. If you wear our products, you too believe you're not defined by what you put on your face. It's a casual approach to cosmetics and a belief that there's so much more in your life."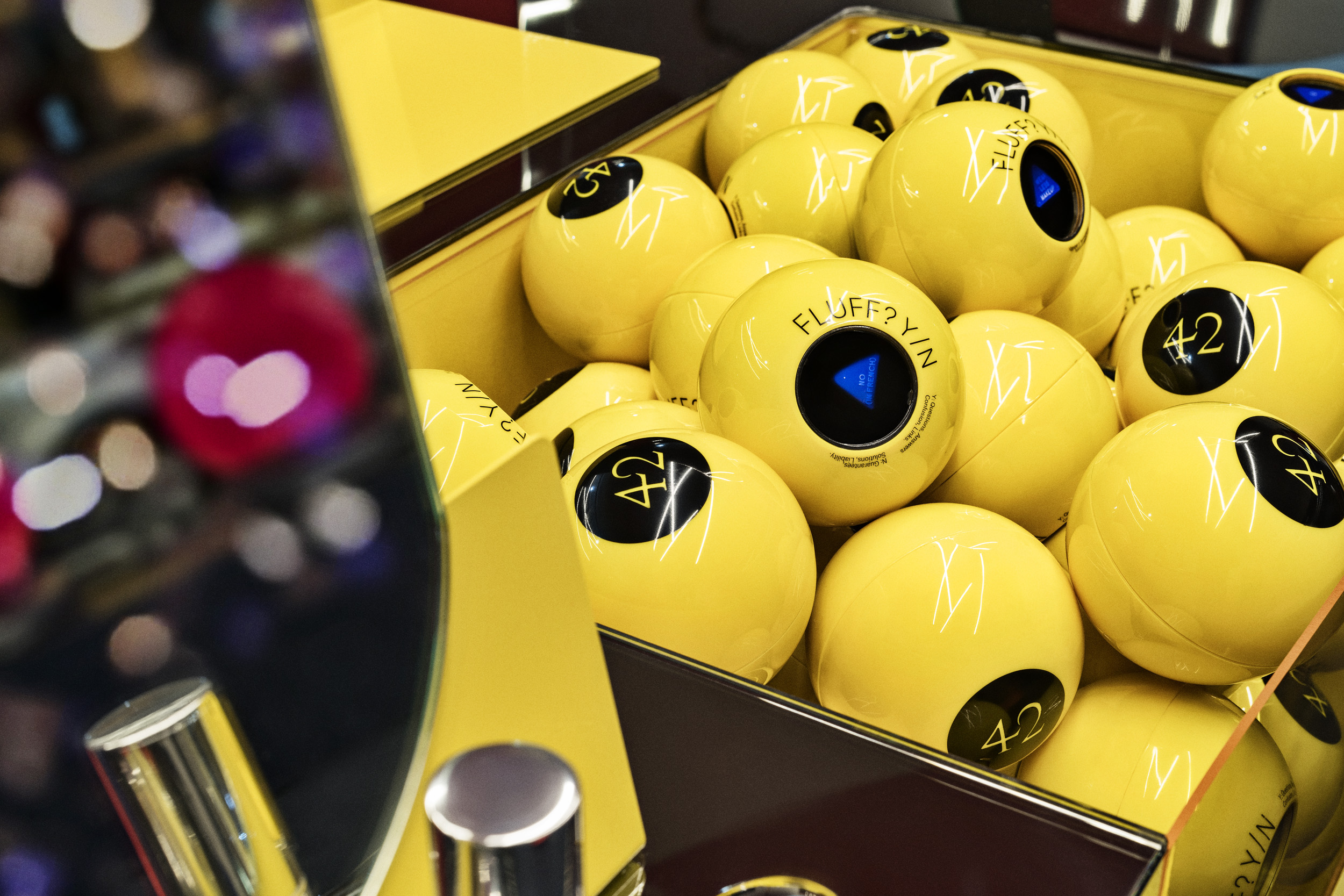 Including harmless, ethical ingredients in cosmetics should be an industry standard, but the fact is, we still don't really know what we're putting on our faces most of the time. Doing the right thing often involves putting product over profit and, as we know, this is rarely how the world works. Erika adds, "If we don't start asking for this change, it literally won't happen. The industry has to change but it never will if brands don't challenge it."

Right now, to add to their line of make up and collectables, Fluff are slowly working on their next releases, which will include a lip balm and mascara, hopefully available later in the year. "We're just getting as many girls in the office to try it and give us feedback. We've also been working on our mascara for about 18 months. We're not going to release it until it's perfect and until we can figure out how to remove the palm oil, which is really tricky," Erika explains. "Basically it's a constant negotiation about what we're willing to compromise on."