the politics of holding hands
Donald Trump, Theresa May, Emmanuel Macron, Kim Jong-Un and Moon Jae-In have all embraced the ceremonial patting of palms in recent months. But is there something more calculating at play?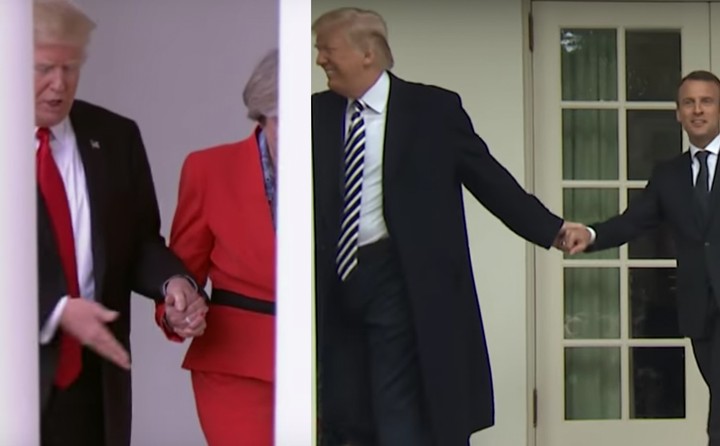 Youtube stills
A new form of physical intimacy has swept the political world in recent months. Reaching out across borders, nationalities, political allegiances and 65-year-old civil wars, it would appear that hand holding has become the latest incarnation of international diplomacy -- with Donald Trump, Theresa May, Emmanuel Macron, Kim Jong-Un and Moon Jae-In all embracing the locking of fingers and patting of palms. But is the latest political handjob a sign of affection? Or is something more calculating at play?
"It's probably more than coincidence that the sudden outbreak follows a year of aggressive power-posturing and 'my weapon's bigger than your weapon' brinkmanship," says author and TV body language analyst Judi James.
Judi suggests it's Donald Trump's "jurassic alpha body language rituals" that has, in recent months, resurrected the lost art of back-patting, man-spreads and power-shakes -- all typical precursors to the newly-fashionable hold. "Chests have been puffed and dialogues have been more reminiscent of playground posturing than intellectual debate," she says.
One of the first glimpses of this new -- ahem -- underhand tactic came in January of last year when Theresa May jetted gleefully out to be the first world leader to meet a newly inaugurated President Trump." Just as May had gained a few points in terms of keeping her distance and her body language dignity during her first meeting with Trump, she was snapped in a pose that made it look for all the world as though the pair had snuck around the side of the White House for a furtive tryst," says Judi. "This was just a swift touching of hands though, prompted by Trump who is -- allegedly -- a little like a Dalek in that he doesn't care for stairs. It was a steadying gesture rather than a deliberate clasp and with Trump's hand on top it made him look like the more vulnerable one."
Never one to miss out a display of macho posturing, Emmanuel Macron -- whose inauguration saw him drive up the Champs-Élysées in an open-topped camouflage jeep (despite being the first modern French President never to have actually done military service) -- used his initial meeting with Trump to show "superior status signals by avoiding becoming a victim of Trump's variety of power-shakes".
"Macron won the battle of the eye contact and clamped Trump's hand hard in their shake to show he was more than a match in terms of toughness," Judi describes. "With that power-battle out of the way, the pair became as tactile as a father and son during Macron's visit to the White House. This hand-holding was actually a prolonged handshake. It looked a bit like 'bring your dad to school' day and it pinned up the fact that these two leaders had a really special relationship that included fondness and friendship."
It's the same spirit of friendship that appears to have inspired the Korean Peninsula to postpone, at least temporarily, the imminent nuclear apocalypse, holding talks at the demilitarised zone at the North-South border last month. "Korean body language rituals are said to include an avoidance of touch or tight handshakes," says Judi. "So these two leader's hand-holding at their historic meeting was even more astonishing than the Trump/Macron gesture."
Judi describes the choreography that goes into moments such as this -- specifically, the need to be certain how the gesture will be accepted before you go waving your hand in the air like a plonker. "If one leader pulled their hand away in disgust or shock it could spark a pretty nasty incident, so I would image this moment could have been planned," she says. "For these two leaders there was a lot about their body language that would be described as intentional gesturing, i.e. performing a symbolic signal to the rest of the world that they might be capable of empathy, rapport and even friendship."
Yet, while Judi points out that the predominantly male politicians are "getting stuck into some serious hand-to-hand bonding", it's worth noting that the same can't be said for another apparently difficult relationship currently being negotiated by the US President.
"Melania had previously been seen performing what looked suspiciously like a swatting gesture on her husband's hand as he tried to clasp her in public and she has even taken to wearing her coats and jackets around her shoulders like a cape which would make it even more difficult to perform anything close to a romantic hand-grab," Judi says of the First Lady's own political power play. "Trump was even shown tapping at her hand and then hooking it with his pinky in a rather prolonged bid to get her to place her hand inside his.
"While the male leaders' hand-grab seems to be part of an alpha power ritual, the hand-hold with a partner will always be seen as romantic, cute and quite juvenile," she continues. "This more romantic display of affection seems to be dying out. The public displays of 'man-club' political unity, however, seem only to be gaining ground."
This article originally appeared on i-D UK.