craig green's new campaign is absolute fire
For spring/summer 18 the London menswear designer created clothes sculptures and then set them alight.
Craig Green's collections measure the simple beauty of clothing against the stunning visual poetry of the wearable, totemic sculptures he also creates. His campaigns though, conceptualise the collections beyond the catwalk. Last season memorably paid tribute to the power of the collective, with bodies joining together to form liferafts. This season -- collaborating again with Robbie Spencer and Dan Tobin Smith -- he's finding creativity in destruction by burning his designs to a cinder.

"Once something is destroyed in that way it can never be taken back to its original form," Craig explains. "So the inspiration stemmed from that beauty found in change and the positivity of destruction. The idea that the process is more important than the final result. Making things is sometimes a torturous process, you can't be too precious, learning that it could be a better idea to rip it up and start again as a way of trying to push it forward."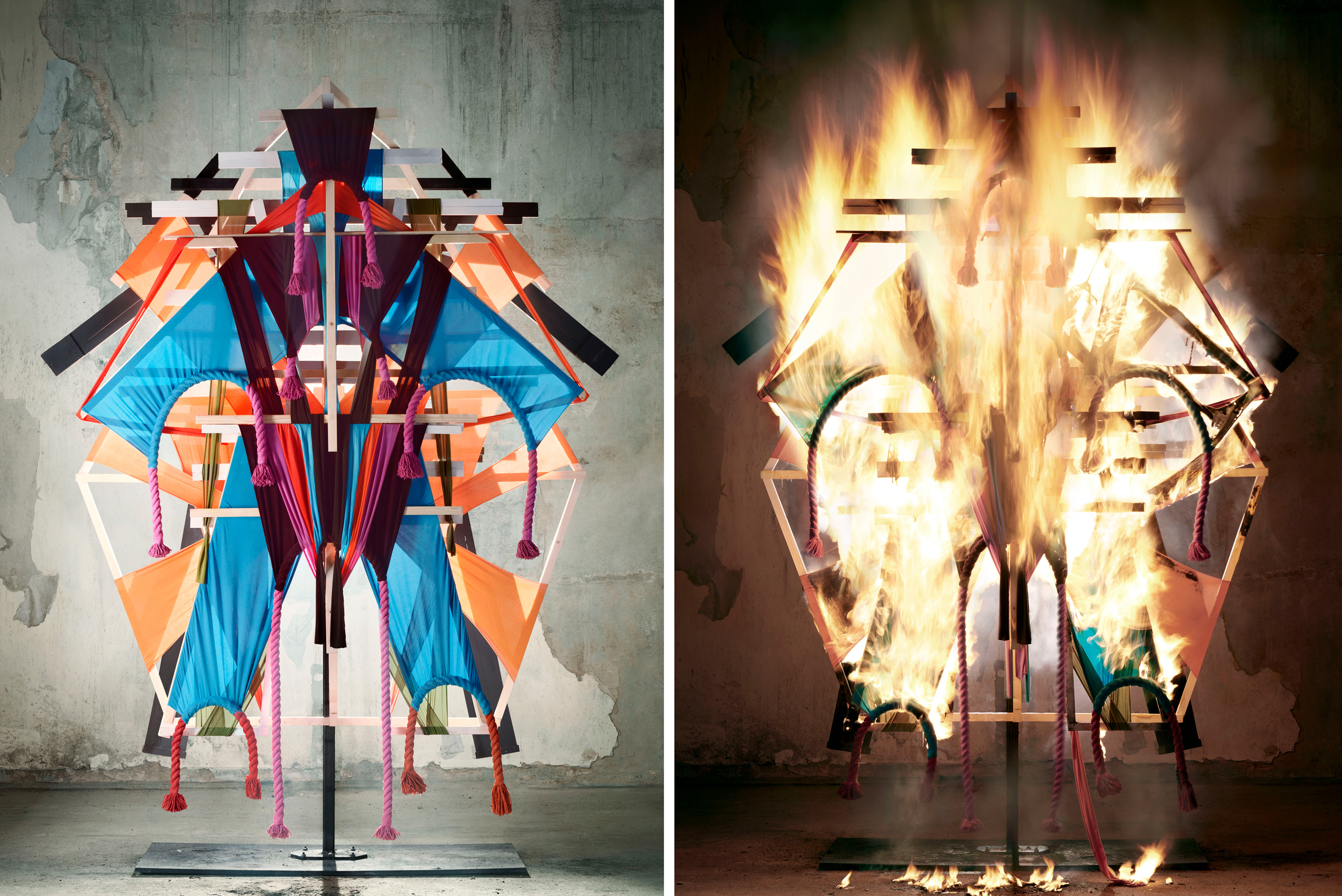 The campaign images pose the intricate and delicate structures -- clothes disembodied and stretched out across frames to resemble human figures -- with them burning. Craig calls them talismanic structures. They started "with the idea of making 'power objects' -- I love that idea of having belief that an object can protect you from harm or evil," he explains. The root of using fire as a symbol comes from the collection itself, which explored the idea of a dark paradise -- "paradise as an aesthetic can be terrifying".
The abstract nature of the campaigns though, beyond something as simplistic as simply showing the clothes, allows Craig's inquisitive mind to dream up new ways of thinking about what he creates beyond the fashion show. Pressed for inspirations and references, he reels off a list that includes weathervanes and windmills, gym equipment and birds of paradise. "The clothing aspect of the collection has already been shown on the runway, but I try and approach a campaign like a show, and feel that it's important to try and make an image that makes people feel or think something, allowing them to interpret in their own personal way."