giant flying birds and amusement rides: travis scott has epic live show plans
As rumours of a baby with Kylie Jenner intensify, Travis discusses taking his shows to new levels and beyond.
|
27 September 2017, 11:50pm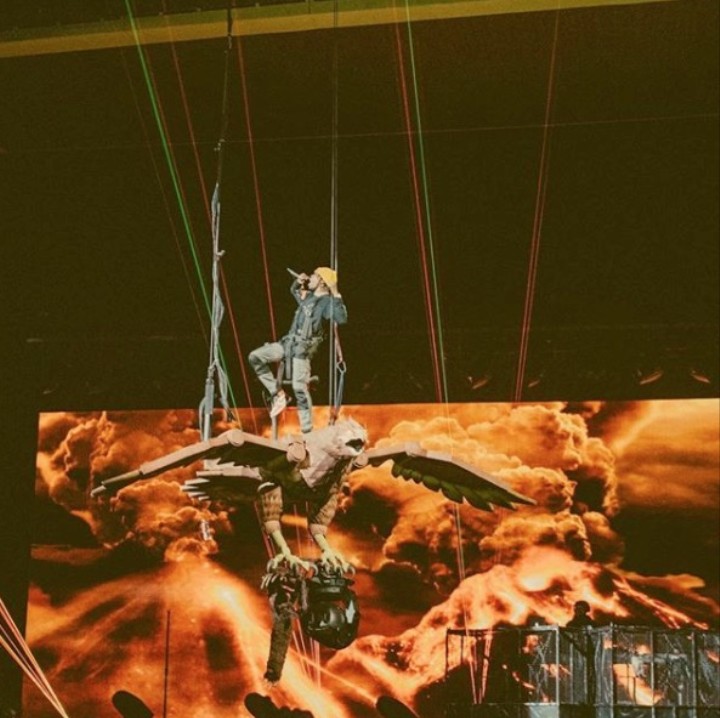 Image via
Travis Scott has given Rolling Stone a very wide ranging interview — he's not only described his own blood as being like "liquid MDMA," but also shared some insight into plans for the live show that will support his next record AstroWorld, a titles that comes from a fun park he used to visit as a kid in Texas.
Travis has declared his ambitions to build functioning theme park, complete with rides and rollercoasters to perform amongst onstage. Travis's recent show saw him riding a giant animatronic bird above the stage, so maybe this is the next logical step. He explained, "I don't know why it hasn't been done already — I think people just don't do shit. Who makes stages these days that are cool?" (Kanye certainly comes to mind).
In the interview, Travis also addresses his reputation for rowdy shows, and his arrest following a fan jumping from a balcony with his encouragement. When asked, he acknowledges that none of it has changed his attitude, stating, "People gotta understand, sometimes shit gets out of control. I'm not trying to cause no harm — I just perform."
Rolling Stone's interview with Travis took place just prior to the swell of internet chat around the rumour that he's expecting a baby with girlfriend Kylie Jenner. And while the couple haven't confirmed the story, they haven't denied it either, with news outlets pointing to a statement by Caitlyn Jenner earlier this week that seemed to confirm the rumour. Quite the rollercoaster indeed.