Photography Mitchell Sams
Raf Simons channels sci-fi and space for AW20
The Belgian designer wants us to escape our earthbound lives and reinvent ourselves as Solar Youth.
|
16 January 2020, 10:27am
Photography Mitchell Sams
'They Can't Stop Us All'. Those were the words scribbled onto (faux) fur-lined muffs at Raf Simons' show yesterday evening -- over 'Solar Youth', 'Nevada' and 'No Land' in techier typography. He didn't give any interviews afterwards; nor were there any show notes to expand upon the story. So what comes next is going on pure assumption.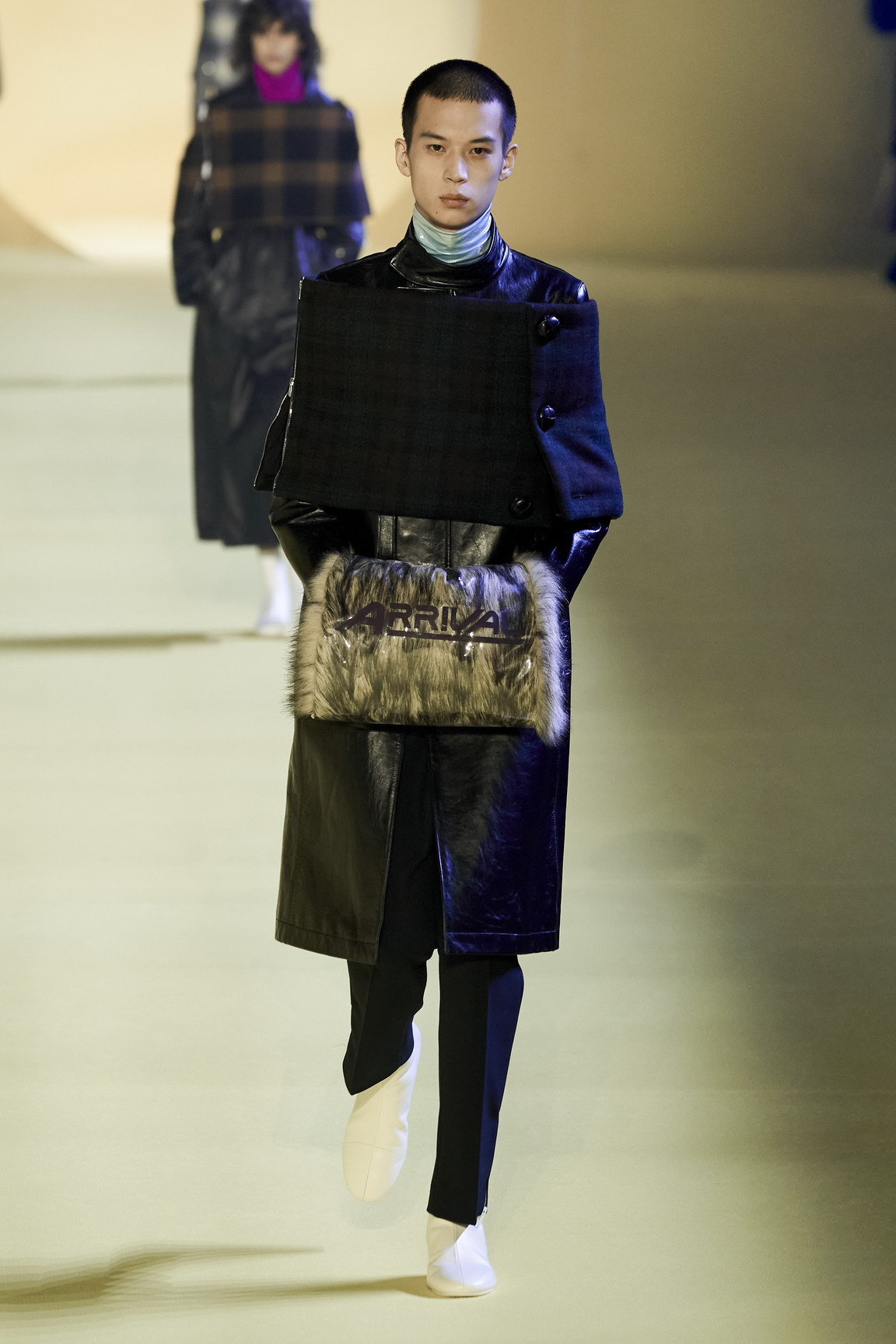 To this reviewer, it seems like the Belgian designer was nodding to that story last year about seemingly everyone storming Area 51, the sense of collective angst and excitement that inspired on the internet. It was a hopeful tale in a world with bleak prospects. It was about the power of collectivism against the might of establishment; the urgency of finding truth in a post-truth landscape. For a designer continually exploring youth culture past and present, it seems like the perfect starting point for telling an optimistic story.
That's just speculation -- or wishful thinking, at least. What is certain is that there was a distinct spacebound sensibility to Raf's collection, which scored by the floor-shaking bass vibrations of a moon-landing and, at the end, David Bowie's Life on Mars. There were the glossy, sharp lines of space-age futurism -- combined with the altogether warmer, earthier tactility of fuzzy furs and shaggy shearlings.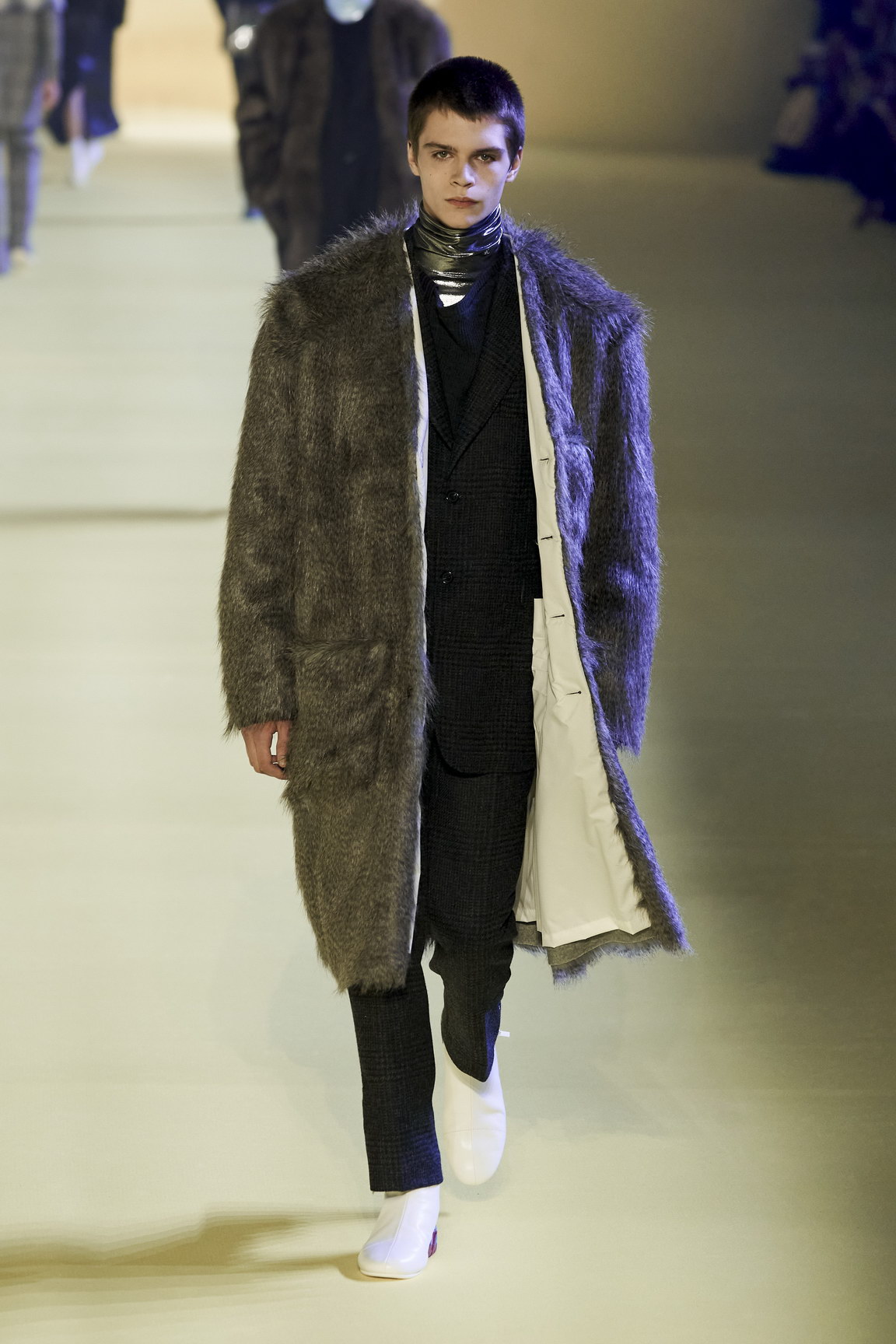 It hinted at what must be a common desire among us to flee this burning planet and its perpetually escalating conflicts and to start afresh somewhere new, somewhere out there in the night sky. Then again, that sounds utterly daunting, doesn't it? We're all creatures of comfort, after all, so maybe we'd want some souvenirs of where we came from, some reminders of our primitive past among all that sci-fi froideur -- the nature we grew up with and the cosiness of winters by the log fire.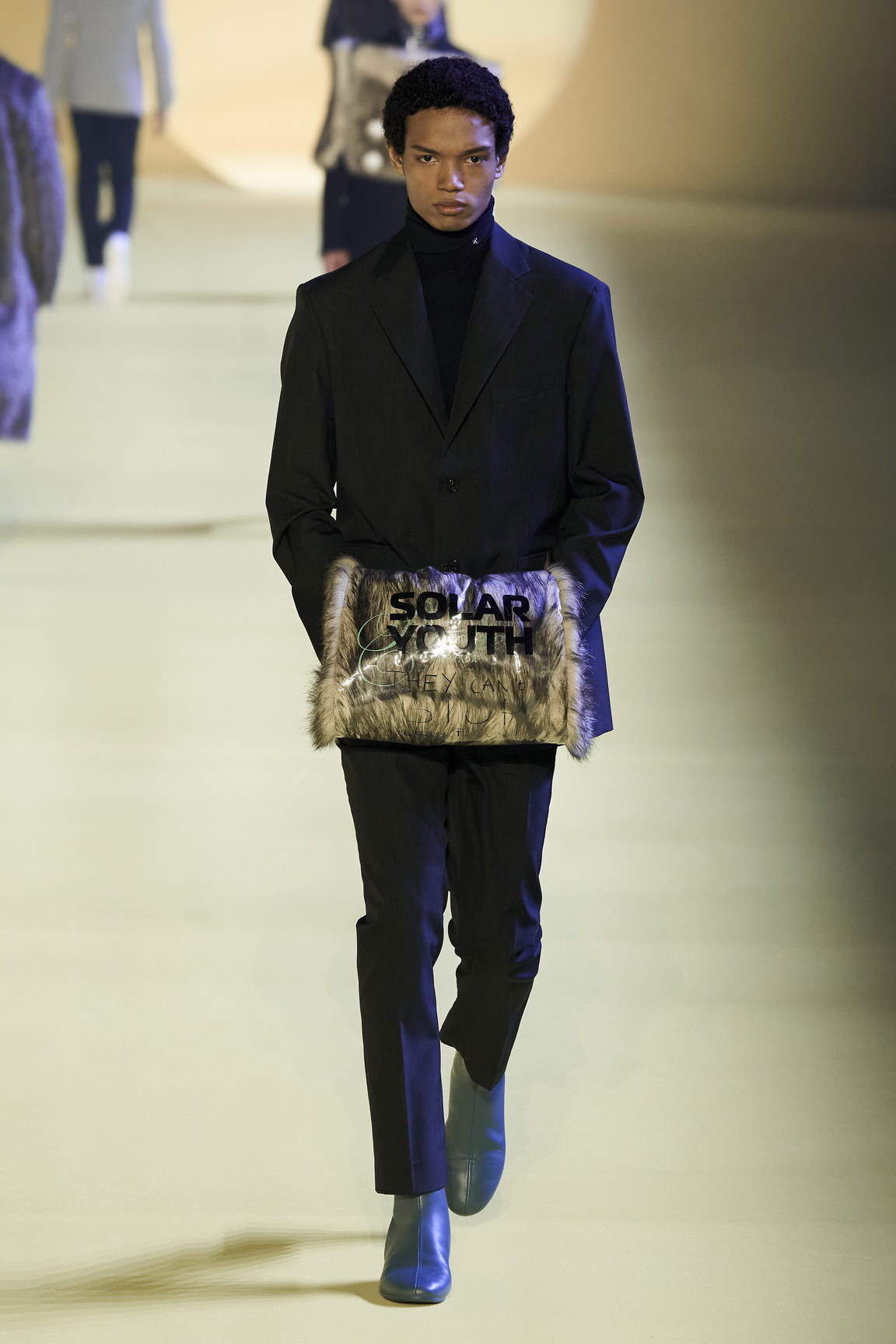 The fact that one's mind wanders so, simply reiterates Raf's singular vision and powerful ability to create an instant mood as well as brilliant clothes. That's of paramount importance if rumours of him taking another creative director role are to be believed (again, pure speculation). Of course, Helmut Lang was always a lodestone for Raf, the northern star that led him to creating his own youthful blend of nostalgic pop culture and alien separation from the masculine world.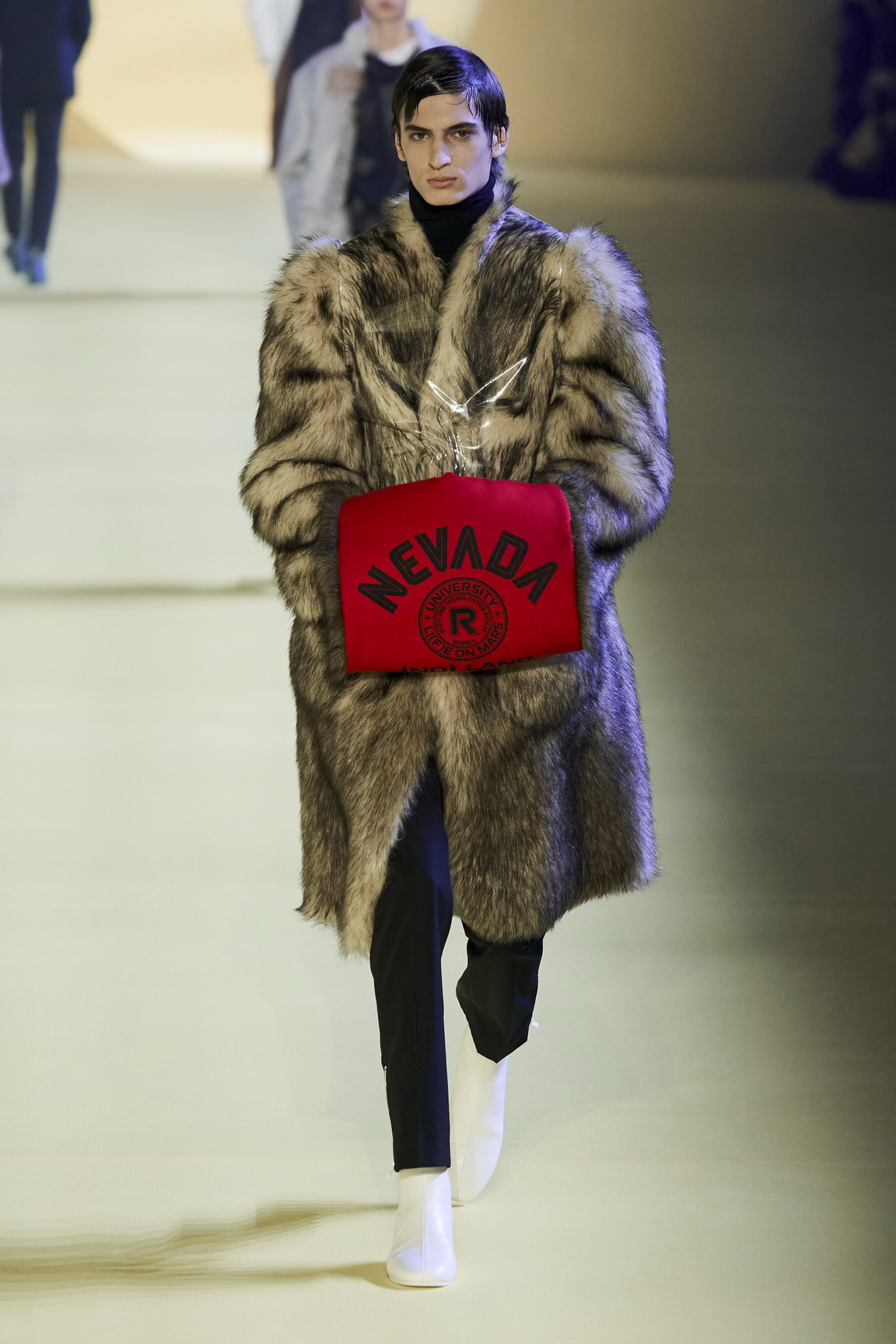 Lang was what The New York Times' Guy Trebay once described as "fashion's O-type, the ultimate donor" and his influence was then and very much still is pulsating through the veins of many designers, young and old. Yet Raf has developed his own language, one that has become just as influential in its own right in the 25 years since he started his namesake label. That slim silhouette and rugged casualness, the seamless mix of minimalist futurism and comfort, and mainly the delicate precariousness of existing between two worlds: boy and man.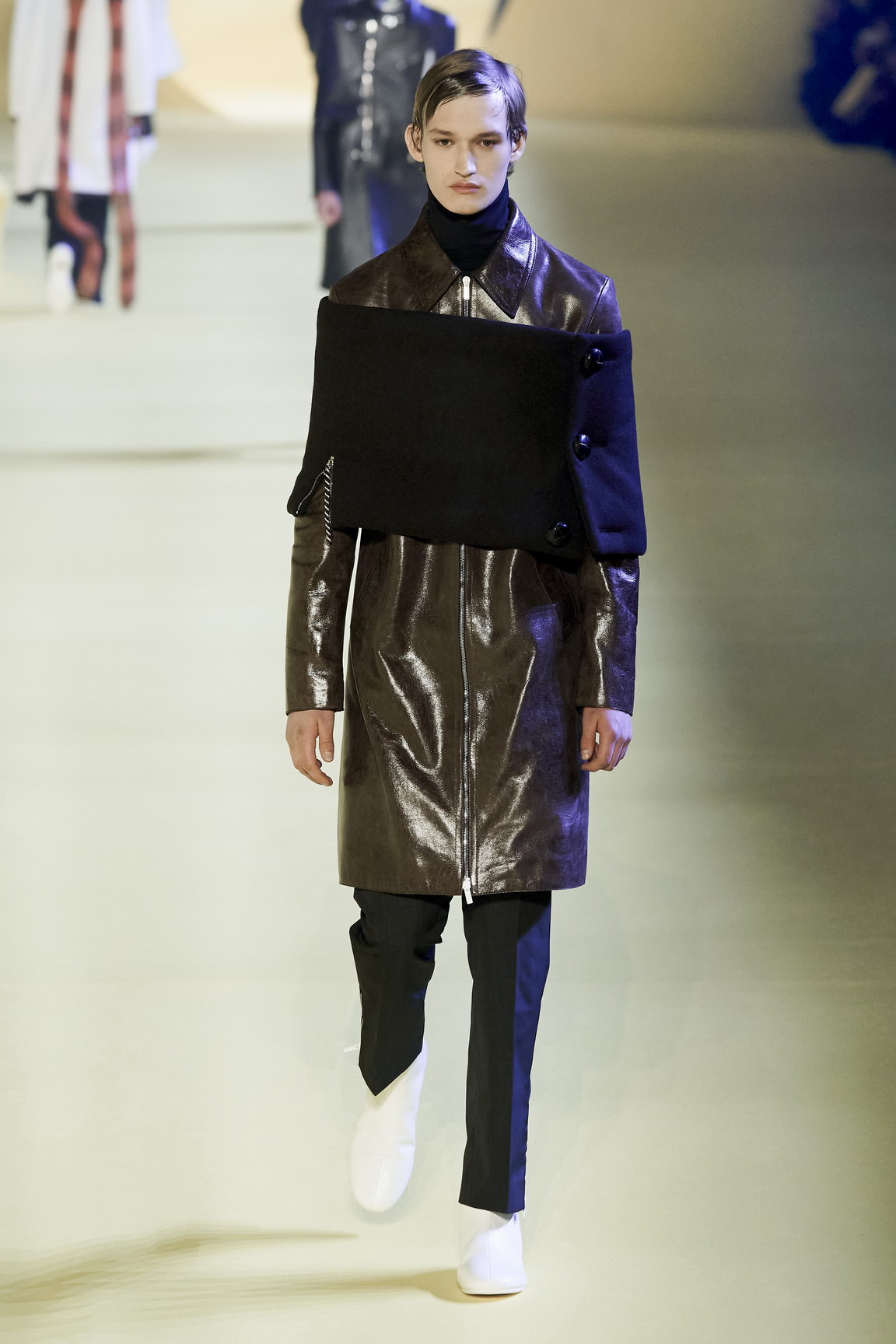 It was all there with this show, set against a bright sun-yellow backdrop in concrete warehouse on the outskirts of Paris. Here were perpendicular capelets zipped up close to the body, slim-cut trousers tapered by zips at the hems, clean-lined wool coats underscored by furry sweaters and crochet balaclavas lending a protective warmth to plastic shrink-wrapped silhouettes. Take it all apart and there's an extensive suite of desirable, easy-to-wear clothes. And yet it's impossible not to get carried away with the fantasy of the mood and story.