Photography courtesy of MM6
the legacy of martin margiela explored at mm6
This season, the MM6 designers used an anti-AIDS T-shirt designed by Martin Margiela as the starting point for a fresh re-imagining of the archives.
|
18 September 2018, 11:01am
Photography courtesy of MM6
The first thing to greet you when entering the dilapidated Maison Margiela MM6 showspace were the words "THERE IS MORE ACTION TO BE DONE TO FIGHT AIDS THAN TO WEAR THIS T SHIRT BUT IT'S A GOOD START" printed against a brick wall. The slogan, which first appeared on a Margiela T-shirt in 1994, has been reissued every year since. A portion of the profits from each sale goes to the French nonprofit AIDES, which looks to improve the lives and defend the rights of those suffering from HIV/AIDS.
For spring/summer 19, MM6 took inspiration from these words, as it attempted to better understand the political and social responsibility of a brand. With profits from each item in the collection also going to AIDES, the brand took the slogan, and archive items purchased at the Paris flea markets at Clignancourt, to begin with. Then MM6 built out a collection with repurposing, recycling and the reimagining of Martin's ethos at its core. It's a methodology they've long explored, especially since they began presenting on the London schedule back in 2015, but with their first runway show, something felt a little grander.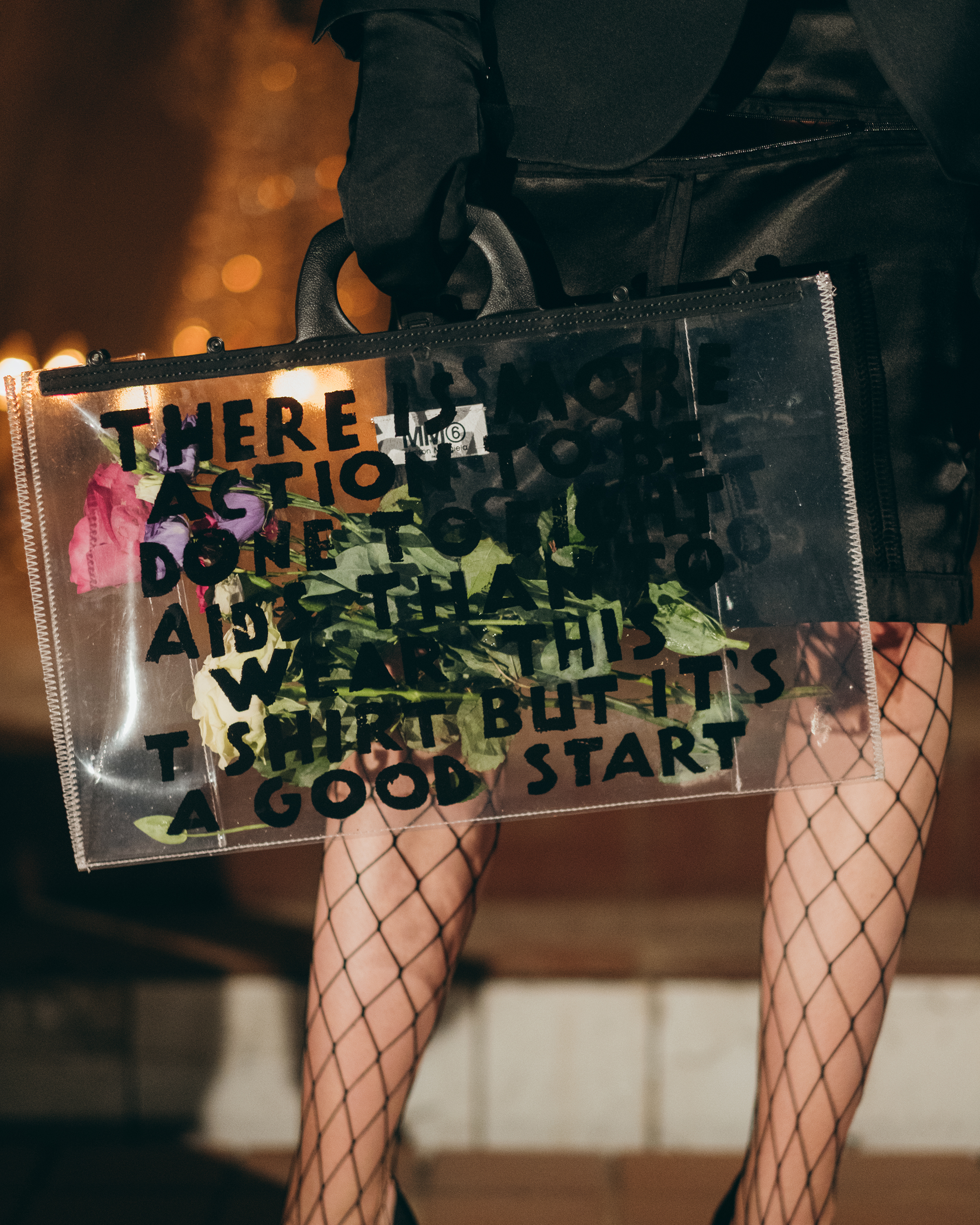 Over in Paris, Galliano is propelling the Margiela mainline and couture line using a similar ethos. Using décortiqué -- the dissection and deconstruction of something to its core -- as an homage to Martin Margiela's penchant for upcycling and deconstruction. In London, MM6 was reworking these Margiela codes for a younger, less initiated audience, even using original archival garments as photographic prints.
There were transparent tabi boots, lavender and pale green satin dresses, lurid neon socks, distressed denim jackets, chandelier-esque jewellery, hot pink satin, heavy black glasses, graphic print leggings. The combined effect of the entire collection was a sort baroque glamour meets 80s wild child, but many of the individual pieces -- slogan black hoodies, transparent plastic handbags, ripped black denim jeans -- carried a London streetwear-friendly wearability.