nordic prince: nils bech is the queer musical genius you might not know yet
Nils Bech tells i-D about his heartbreaking falsetto, facing fame and why, a decade into his career, it's still hard to be a human.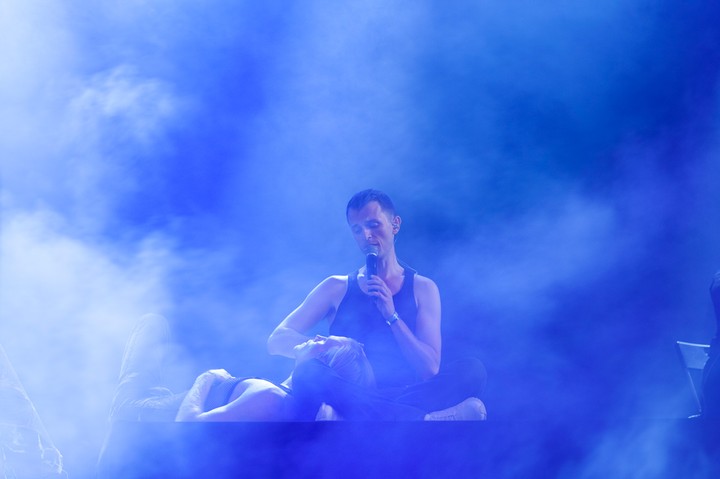 Nils Bech's songs plant minefields in your heart. Slowly, they start to implode, taking your emotionally-fraught soul with them.
The 36-year-old artist behind the music is a striking pop star in his home country of Norway, and though his 2016 album Echo was released on DFA, the further you stray from Scandinavia, the less likely you are to hear his striking falsetto on the radio. Having been a musician and artist for the best part of 10 years, his mainstream break came just recently when he was asked to provide a song for the soundtrack of Norway's answer to Skins: a gritty and hedonistic teen drama Skam last year -- his version of the Swedish hymn O Helga Natt slid into the Norwegian charts, his singular brand of operatic electro-pop sending shivers down the spine of everyone who encounters it.
After leaving a crowd of festival goers stunned by his live set at ØYA -- complete with a string quartet, strobe lights and an inflatable ex-girlfriend -- i-D sat down with Nils to discuss the seeds of his latest record, encountering Arca and singing songs while sick for the Queen of Norway.
Hey Nils! How's ØYA been so far?
Now it's great because I'm done! I always get so nervous, and come up with ideas at the last minute. My best friend Ida Ekblad is the artist who made all of the stage props. She arrived five minutes before my car came and said "Oh sorry, I thought I had a babysitter for my daughter!", so her five-year-old was helping to set up the stage. There were a lot of things to remember!
But it all paid off in the end! It's so beautifully put together. The new album Echo is gorgeous. What's it like performing it live?
Because I really push myself on the vocals with the falsetto, I feel like I'm doing the Olympics every time! To avoid getting sick, I put antibacterial gel on everything. I recently did Roskilde and later in week I was asked to sing at the Queen of Norway's 80th birthday. On the Friday of Roskilde, it was raining and I was like 'I need a drink!'. In the end I was so wet and so drunk that I got such a heavy cold, sniffing and coughing. For the Queen's birthday, we had to take two of the songs one key down. National TV stations were there! Can you imagine how nervous I was?
I can imagine! Do you find music freeing? Your live show feels quite like an exorcism, as if you become a new person seeing it.
In a way I do. But on this album, most of the songs except for the last two are about my friends. I've done three albums about me and I've had this shit, crazy, insecure love life. Now, I've been with my boyfriend for six years and I don't have as much source material! I noticed my friends were having kids or breaking up, or were 35 and hadn't had a boyfriend. They had all of these angles.
Every topic that I had chosen for the songs I could heavily relate to, but I could also see it in my friends. It's a human thing, and so I thought it would be interesting for everyone else as well.
Is it easy to be so proudly queer in a city like Oslo?
I'm from a tiny village two hours outside of Oslo, and when I grew up it was like there were no gays in the village! I always thought that, in a way, thanks to my upbringing I became so used to being judged for it that I began to judge back. I feel as though I often find the worst in people, especially in men, but time after time I get proved wrong; that it's actually my insecurity that makes me think that others think negatively about me being gay.
During a panel talk on Tuesday, we discussed gender in the music scene and there were three female artists. They asked me if I had any examples of mistreatment, and I realised that I don't, because people in Norway know that you shouldn't make fun of gay people anymore, but female artists still suffer.
Did Skam change the way you approached your music, considering you had a much more mainstream audience then?
I'd never had a hit song in Norway until I was on the show, and it wound up being a Christmas carol! Like what the fuck happened? We've been doing this for 10 years, I'm 36, and my big break is O' Holy Night?!
When I made Echo, I thought it would be really mainstream, you know? It frightens me a bit; the urge to sing has never been to become famous. Ever since I was eight years old, singing felt like the only thing I ever wanted to do. So, the approach hasn't changed but the pressure has.
Your lyrics are quite literal. Is there a reason behind that?
I want my music to be the kind of thing you immediately respond to. I always think of the lyrics as though if you've never heard the song before now, would you get the message? My writing is all inspired by love; I still find it so interesting. Now, I'm 36 and I find it extremely difficult to be a human being. To try to be honest to yourself and to those around you, it's so fucking difficult.
What are your thoughts on your queer musical peers, like Arca and Perfume Genius?
Of course, I love Arca and Perfume Genius. I actually stood a metre away from Arca at this dinner, and I really wanted to say hello but I thought I'd get another drink first, then he left! They're both amazing.
What's your favourite kind of place to play?
I like singing in small rooms! I was part of the Bosnian Herzegovinian Pavilion at the Venice Biennale, and I was asked to perform in a palazzo, but it wound up being in a bedroom in the palazzo! That night was a great experience, because you were able to make it so personal. There's something about small rooms that helps people stay focussed. In those spaces, that's when I feel most complete.
And your least?
I really don't like being an unannounced, pop-up act. Many years ago, I was asked to sing at the Acne menswear presentation in Paris. It was in a restaurant, and I thought it was a seated dinner before they did their first show. When I arrived, people were standing eating nibbles. The organisers were saying, 'Maybe you could sing on the bar?' I agreed, and they asked me to start singing whenever I felt like it. People thought I was being like, "Wooo! Look at me!", so I don't do that anymore.
Your shows are as much works of art as they are concerts. How do you like your audience to react to them?
I go into this zone where I don't notice what they're doing! My only wish is that they do whatever they feel like, but I don't like when they talk. I remember one time I did a show at the Venice Biennale, and somebody started whispering. I was just like, "Shut. The fuck. Up. It's ten minutes long, I'm currently crying all of my emotions out of me, and you're talking? Get the fuck out, you motherfucker!" He made me so angry . Leave if you want to, dance if you want to, stand still if you want to – I don't mind. Just don't. Fucking. Talk!
Echo is out now on DFA Records. For more information about ØYA, head to the festival's official site.