talking levi's, love and aussie soaps with fortunes
Get the down low on the lyrics and unusual hobbies of the talented R&B duo.
|
08 December 2017, 1:33am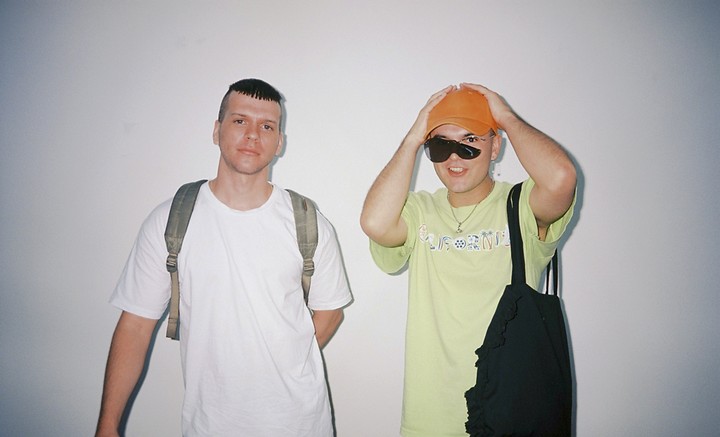 Photography Ash Goodall
Fortunes are a band making music straight from the heart. For the past few years, the Melbourne-based Kiwi duo — vocalist Conor McCabe and producer Barnaby Matthews — have been winning over fans with their serene R&B, crooning about the things that really matter to their generation. Love, friendship, freedom, parties, clothes and haircuts are all central to Conor's soulful lyrics, delivered with a Kiwi twang and a welcome lack of irony.
By way of background, Conor and Barnaby grew up in the same small town in New Zealand but didn't join musical forces until they moved to Melbourne independently after university. Conor went to jazz school for a stint, and despite finding the methods overly rigid, made valuable bonds with lots of other talented musicians. Barnaby also drummed in a number of jazz and punk bands for a time, before landing on Fortunes with Conor.
Now the pair regularly appear on the lineups of some of the biggest festivals in the country. Anyone lucky enough to see their recent Melbourne Music Week show at Saint Paul's Cathedral would surely agree how brightly they shine onstage. We sat down with the guys to find out what's in store, and what they get up to when they're not writing, recording or performing. You may be surprised.
You have songs called 501s, Bomber, Hoodie, Jacket and Undress. Clothes are quite the preoccupation?
Conor: I do like used clothes. A lot. I'm obsessed with clothes actually. They give me ideas.
The video for 501s is really great.
Barnaby: Thanks. It's based off an old Levi's ad – a famous ad for their stone wash Levi's. We were inspired by a lot of the characters and many of the shots are directly inspired by it too.
That's cool. What else do you write about?
Conor: Mostly about love or sad love songs. Most of them are about the same person.
Ooh, do they know it's about them?
Conor: He definitely does. I just try to tell stories in different ways through our songs. Sleeper is about a friend who was notorious for falling asleep at parties with his hoody on. I made up three words in that song: 'faller', 'asleeper' and 'hoodied'.
Why not? You're held to no journalistic standards and it's actually very creative. Surely that's one of the beautiful things about what you do.
Conor: Yeah, I should do it more. The song In My Hair is basically a history of my hair styles but using the hairstyles to describe my life. Then the idea for Bomber came from a jacket on the back of a chair. I was having a really emotional day and I put the arm of the jacket around me. It's about an imaginary world inside a jacket in a way. I wish we could have an animated video for some of our songs, that would be the only way of really showing what I'm describing.
Who are your favourite New Zealand designers?
Conor: I love Zambesi, Jimmy D and Stolen Girlfriends Club. There's a lot of great fashion in New Zealand.
On that note, how good is your new Prime Minister?
Conor: We love her. Mum recently reminded me that when I was like 15, Jacinta, who had seen me sing somewhere, invited me to sing at an event. It's so funny. I was singing Alicia Keys. I wonder if she'd remember my name.
I would pay good money to see footage of that.
Conor: Unfortunately I don't think that exists.
What do you guys do beyond your amazing band?
Barnaby: I used to do Parkour. I coached it for over a year and I was the fittest I've ever been. Conor: I'm an extra on Neighbours. I work at Harold's café.
Okay, wow, please go on.
Conor: I basically go on set, I listen to the scene and map out what I'm going to do and then I need to repeat what I did over and over for continuity. One of my friends, who also does the label Alabama Blonde, is the casting director.
How long will your character be on Neighbours?
Conor: I don't know, I just come in and out.
I guess it's unlikely they're going to kill you off in the script.
Conor: Ha, no. It's so much fun. I have to catch two trains and an Uber to get there but it's worth it. On the show there are lots of dress up parties thrown at the café. Our masquerade party episode just aired where I was wearing a hilarious Margiela wig hat. Then we had a 90s party and I wore my Alex Mullins jacket and my Ffixxed sunnies and everyone kept asking who I was supposed to be.
Do you often spot yourself on the TV?
Conor: Oh my god, do I? I watch it live now and make my friends watch it with me. I've even been doing over the top reactions in the background of scenes, which is fun to watch bacl. I just want to develop my role a little and be able to comment on what's going on [in the show] — to give advice to [other characters] and stuff.
Like a real café owner!
Conor: I dream up ways I might get written into the script. Starting work on Neighbours was the first time I really felt like I lived in Australia. It's awesome.
It definitely is!