"this is me": today's creative directors renovate their houses in paris
From Demna Gvasalia's Croc moment at Balenciaga to Clare Waight Keller's tracings of Hubert de Givenchy's sketches and Sarah Burton's garden landscaping at Alexander McQueen, it's all about making a house a home during Paris spring/summer 18.
Givenchy
This article was originally published by i-D UK.
How much should a creative director pay homage to the heritage of the house they've been tasked to lead? Are they code custodians, trope teasers, signature shakers, or ego explorers? Will they be known for their evolution or revolution? How much of themselves should they weave into fashion history? Right from Anthony Vaccarello's retelling of the story of Yves Saint Laurent and Pierre Bergé, these are the questions that we have been asked throughout Paris Fashion Week and the answers have varied from house to house.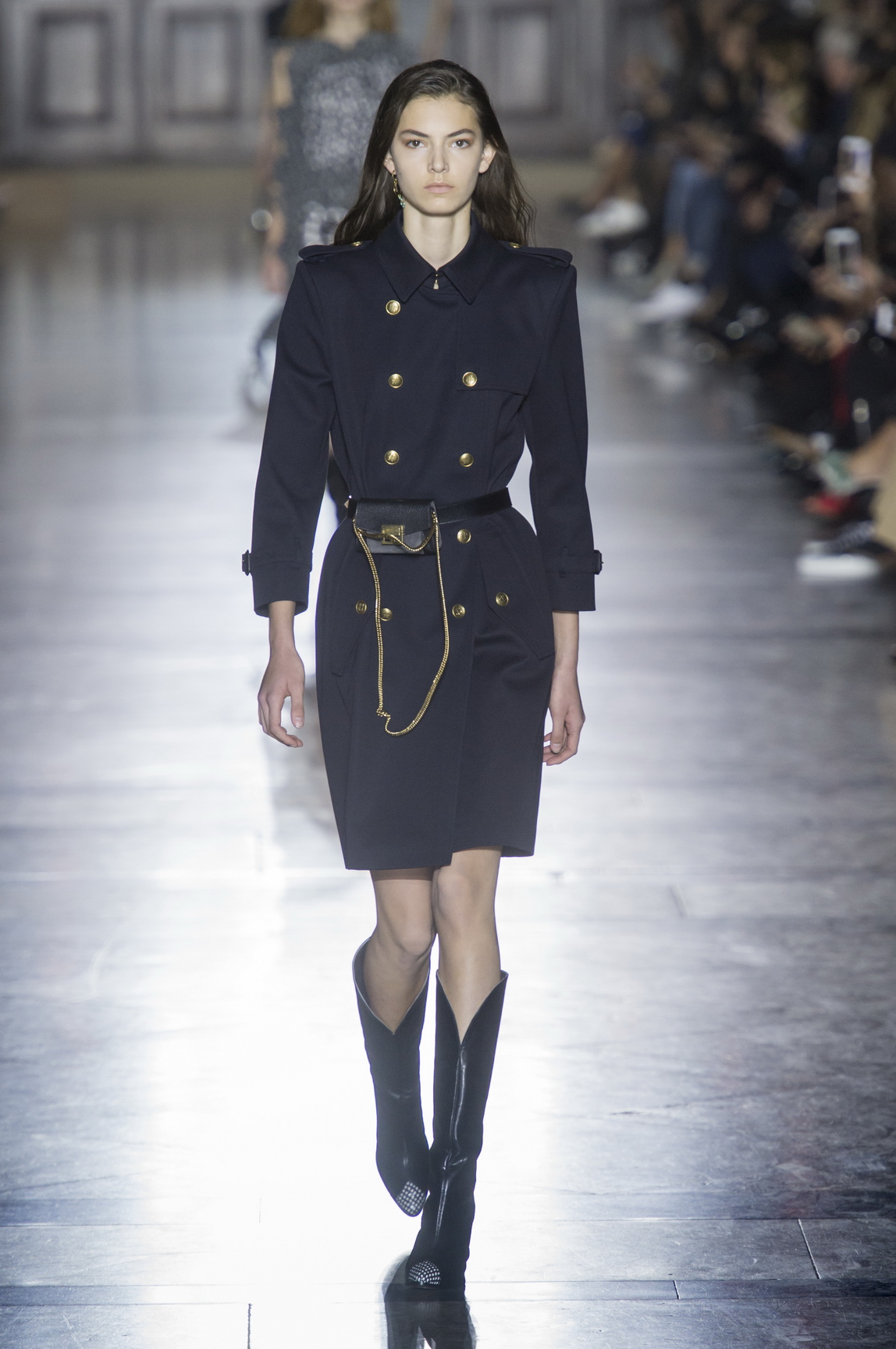 The new dawn at Givenchy was the most anticipated of the season. Following 12 years of Riccardo Tisci and his repositioning of the house, we all wondered what Clare Waight Keller — the house's first female creative director — would do. The British-born designer included. On each of our seats inside the Palais de Justice — the first time the court had ever been used as a show venue — was a thoughtful letter penned by Waight Keller in the new handwriting of Givenchy Paris. "In the world of physics, transformation describes the sublime process when one element becomes another," she explained. "Fashion is a tool for self-metamorphosis, I can transform the spirit through a new attitude for a new beginning. I wanted to bring a seductive quality here. Fashion itself is transforming, and by coming in here I'm transforming the image as well — something I started to muse on," she confessed. "Who the boy could be, who the girl could be. What was the tension between the two of them?" Her answer was a lover's tryst but her starting point was a name that has rarely been mentioned during the reigns of John Galliano, Alexander McQueen, Julien Macdonald, and Riccardo Tisci: Hubert de Givenchy.
"I wanted to explore the sense of Monsieur de Givenchy," she explained later. Rather than the dress archive, Waight Keller found inspiration in the dynamic sketches of its founder. After her research, she decided that Givenchy began with the shoulder and that he was a fan of graphic print, so this is what she explored. The flou and flounce signatures that she honed at Chloé were gone, this was sharp-shouldered, tight-tailoring for men and women in a Hubert-honoring palette of black, navy, white, vermillion red, and a touch of mint. The 1961 clover print was present but "clawed by the cat," while the 1981 animal prints ran through the collection as it danced from day-to-night. To achieve the sense of "ease and simplicity" that she had envisaged for her new house, Waight Keller celebrated the playfulness of its founder. With her couture debut in January, we will wait to learn more about new Givenchy.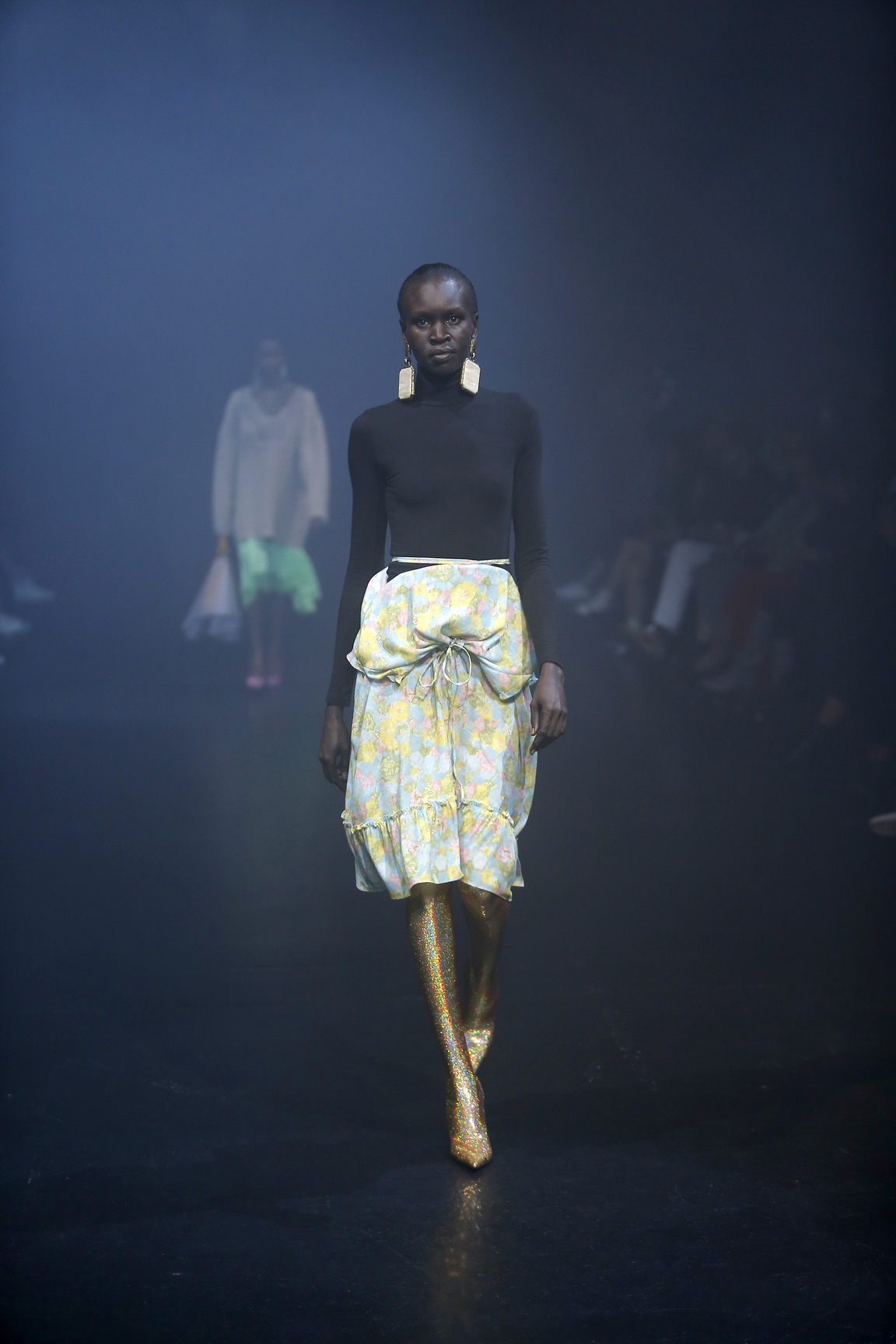 Onto Balenciaga and the latest captivating chapter in the Demna Gvasalia narrative. From the moment he took control after the departure of Alexander Wang in 2015, the Georgia-born creative director has gone about revolutionizing the house from the inside out. From its branding right through to its campaigns, it was Demna Gvasalia for Balenciaga from the get-go. However, while he's established his own vision across the business, he has paid homage to the house's past — most notably by marking last year's 100th anniversary of Balenciaga with nine haute couture dresses that had been lost from the archive and were recreated from scratch. For spring/summer 18, Gvasalia had eyes firmly in the here-and-now. "This is now what I wanted to be about — things that I like and things that I value," he explained backstage, dressed in an FBI hoodie. He was in investigative mood. "I wanted it to be more Demna, less Cristóbal this time. This is me, my story for Balenciaga," He no longer felt shackled to the past. Balenciaga's archive is undoubtedly rich but for Gvasalia, the world around him is so much richer. "I could feel myself getting restrained by homages but now, this is me." This is now.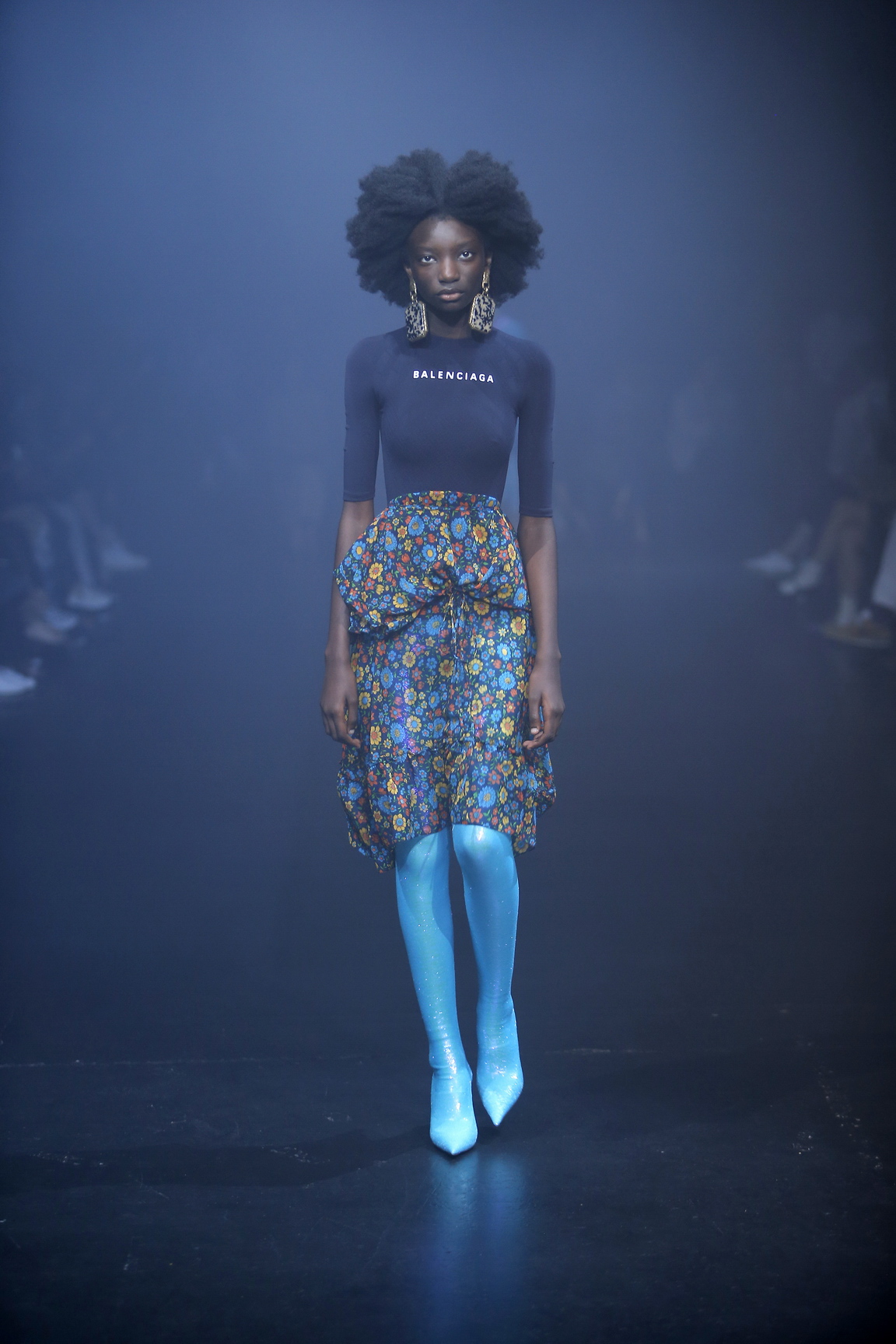 "I looked at a lot of images from bourgeoisie society initially, something I don't know, then returned to something that I do know, streetwear," he explained. From our wardrobe staples to tourist-tat, your mom's favourite house shoes to screen-saver prints, the resulting collection was a study of the inherent possibilities of recognizable products and objects. At its most powerful, self-alterable silhouettes were created through the draping of necklines in which two garments were fused. What initially appeared as clever styling soon revealed itself as canny craftsmanship as "garments were joined by the neckline and could be changed to the wearer's preference. A trench coat with a jean jacket, a nightdress with a leopard spot dressing gown, a shirt with a long sleeve T-shirt, a utility coat with a biker gilet, this was two-for-one, multi-function attire. As Gvasalia pilfered from the world around him, banknotes were scanned and appeared on shirting and dresses, as were screen scrabs and newspaper print.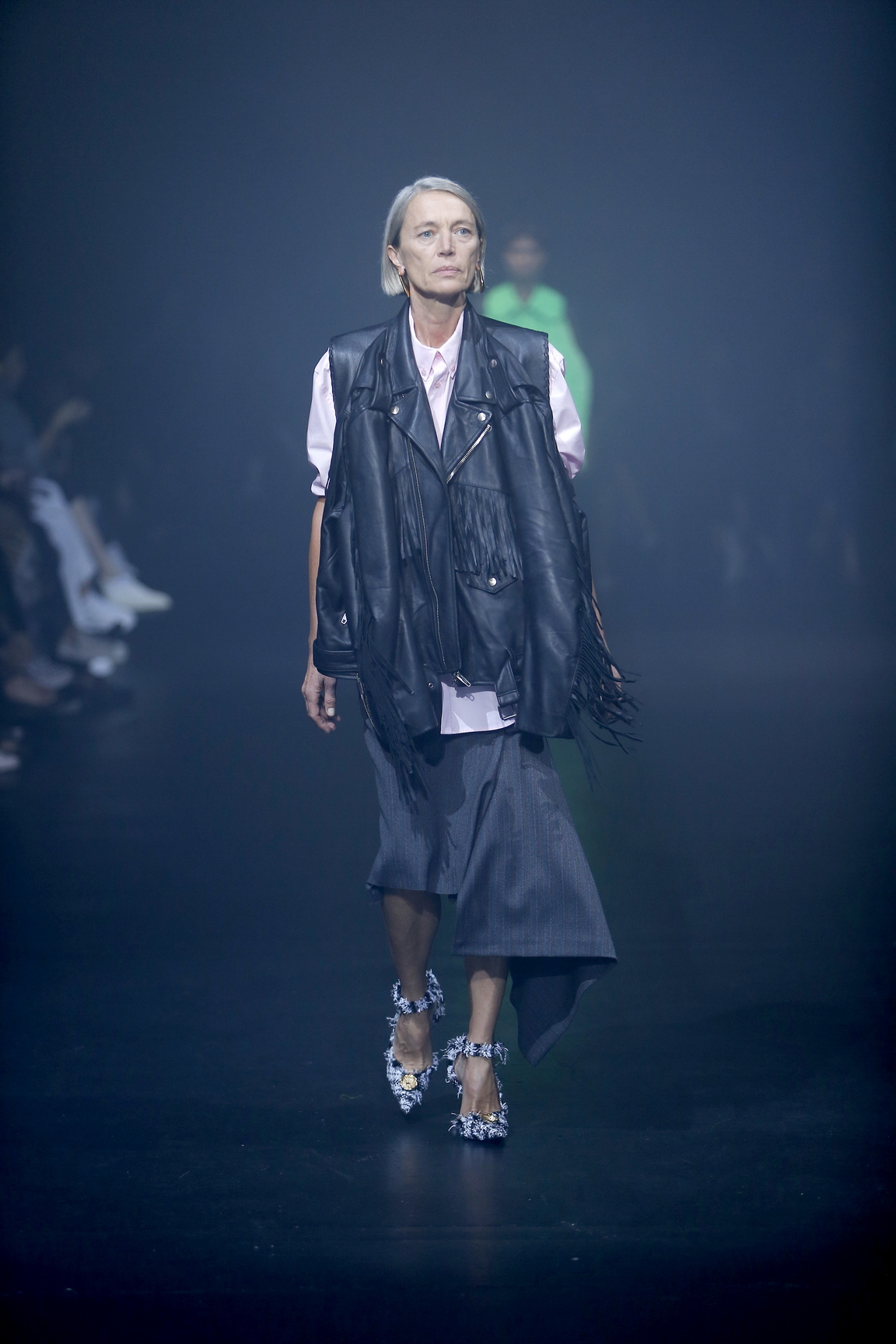 "We created stories and made our own fake news," he explained. "Good fake news, there's already too much bad fakes news," he quipped. The aspect that stole this show's headlines were the Crocs collaboration. It was here where the exaggeration of everyday styles introduced the season's severe shoes — super-spiked stilettos and the super-high platforms inspired and produced by Crocs. Reality remixed with his fantasy. "Fashion is a reflection of the way we live. I wanted to capture this feeling that something dangerous could happen at any moment." He delights in the danger. As he walks the tightrope of taste, balancing himself with considerations of what is deemed ugly and pretty, expected and shocking, he is forging his own future for the house that Cristobal built.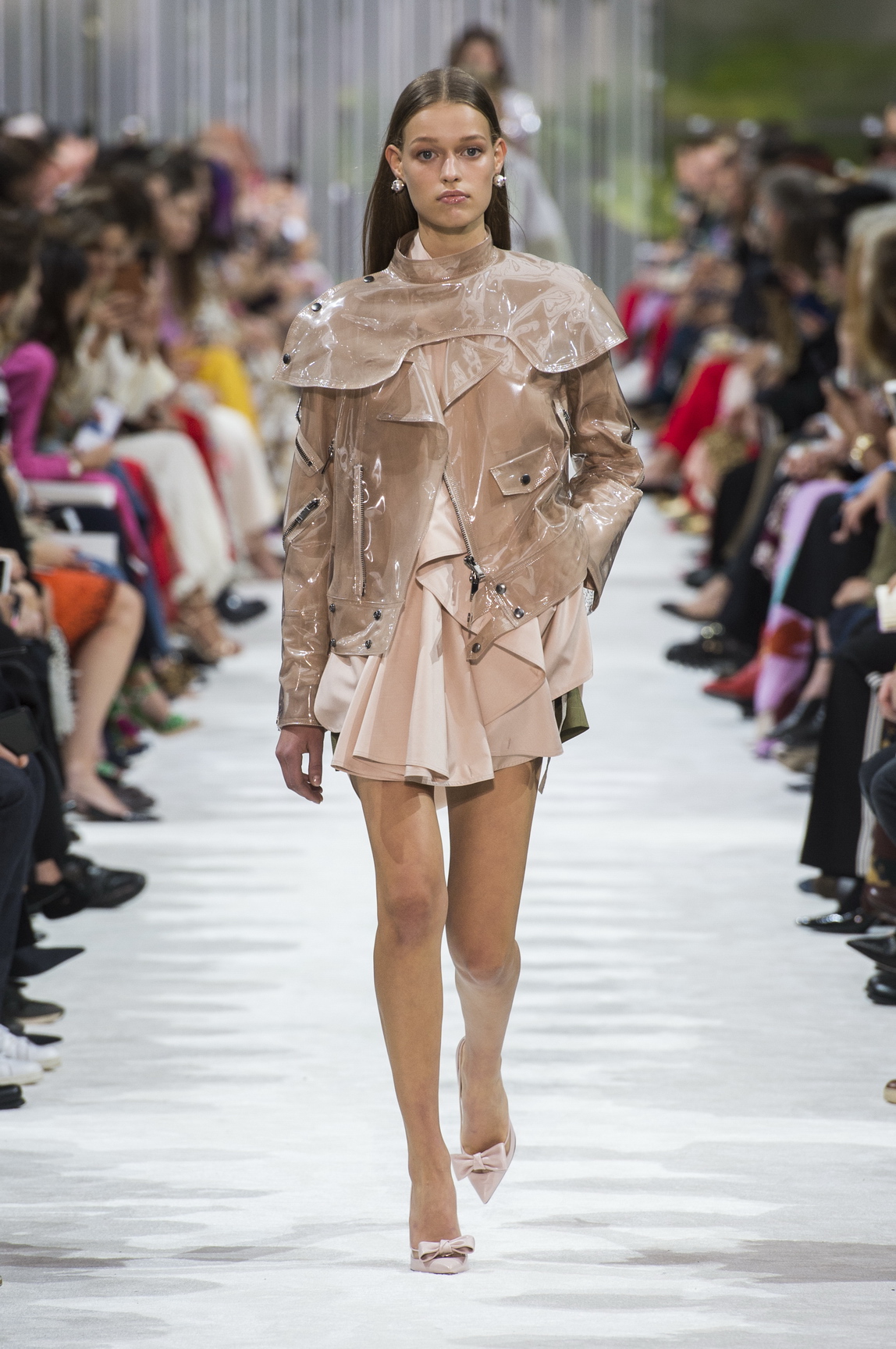 "I wanted to get back something of the glamour of the 80s that Mr. Valentino himself did so well," Pierpaolo Piccioli explained after presenting Valentino spring/summer 18. "It added a gloss to normal life then and we need it now too." Longing to escape the threat and fear of today, Piccioli's Valentino craved fantasy. Inspired by the rediscovery of Ludovico Ariosto's The Frenzy of Orlando and images from NASA's Apollo 8 mission, the Italian creative director looked to the moon to encourage him to see the world around him differently. The following quote from astronaut William Alison Anders was pinned to the moodboard: "We came all this way to explore the moon and the most important thing is that we discovered the Earth."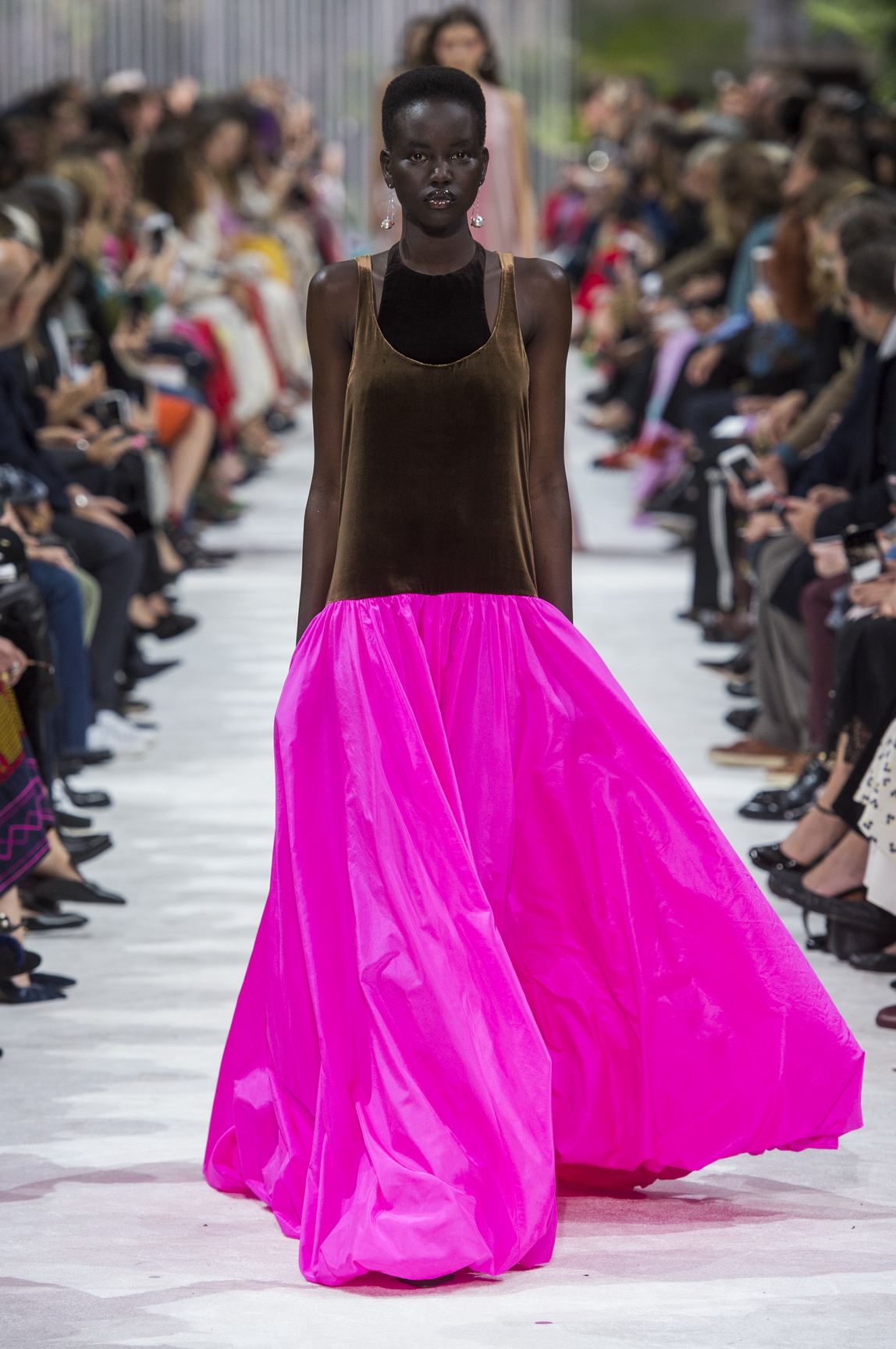 Here, Piccioli delved into the house's archive and reimagined the familiar. "Lots of fashion, super Valentino, ruffles and symbols but to see them from a different perspective and make extraordinary ordinary things," he explained. The blouson to cargo trousers, the tank top to the bermuda shirt and the dress, elements of a wardrobe were reread with a metaphorical interpretation. They were volumes that moved, details that mutated, PVC that revealed, and shone and embroideries that narrated. The collection was another world just waiting to be explored. For this creative director, fashion is a free fantasy exercise and he's happiest when he's transforming the ordinary into the extraordinary.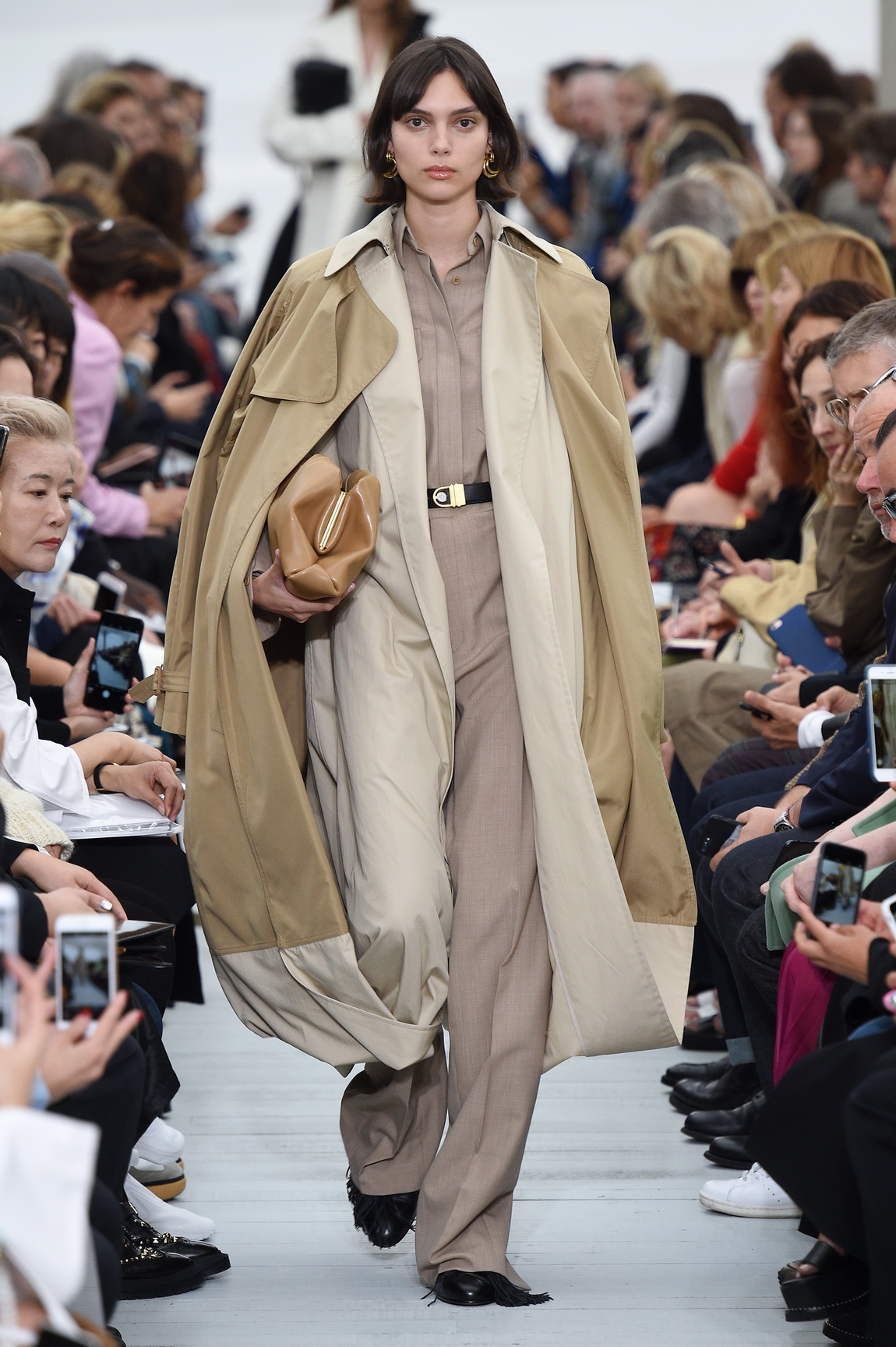 As does Céline's Phoebe Philo. A crafter and curator of chic, she has long elevated the everyday and brought magic to the mundane. Throughout her nine-year tenure at the house, she has continually redefined what women wear and dream of wearing. Under the cloudlike Smiljan Radic-designed tent that seemingly floated into the grounds of the Tennis Club of Paris, she was at her brilliant best. This was the wardrobe the 21st century women wanted. "It started with customizing trenches and just draping them, playing with them, putting them on the shoulder," Philo explained. Trenches have been cut, pasted, and manipulated throughout the spring/summer 18 catwalks but here, they were at their chicest.
"I was interested in the 70s Céline woman. The idea of that woman is one of the reasons why I wanted to work at Céline." However, despite reminding herself of who that woman was by returning to advertisements from that decade, this was far from That 70s Show. The woman has shapeshifted under Philo, she belongs to the here-and-now. As Mary J. Blige's " You Bring Me Joy" blasted from the speakers, we were all left with smiles on our faces. "I wanted to be optimistic," Philo explained. "It felt personal to me. I felt like celebration. If there is anything to say at the moment, let it be with love. Let it be joyful." The collection was a celebration of Céline's craftsmanship and the fluidity of movement. What appeared as striped printed shirts and trousers were in fact, individual panels that had been seamlessly constructed as one. Elsewhere, a shell-embellished leather jacket took a solid ten days to create in the studio. It was joyful. It was chic. It was Céline. It was Phoebe Philo. As other creative directors make themselves at home in their new houses, they should look at how Philo has tastefully redecorated the 70 year old luxury label.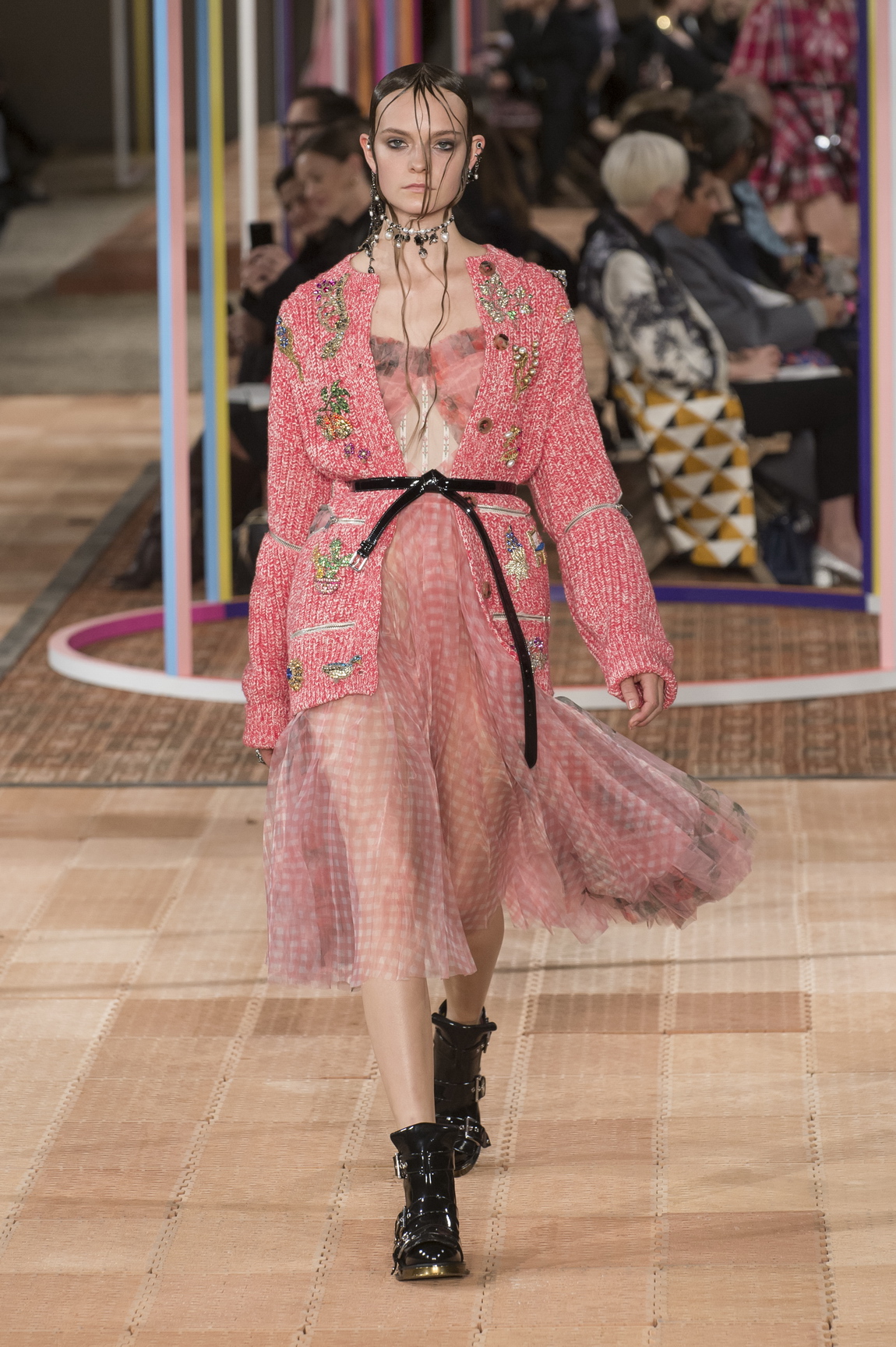 More home inspiration should be sourced from Sarah Burton at Alexander McQueen. After Lee McQueen took his own life in 2010, Burton — who had been working alongside him for 14 years — was his natural successor, but her task of stepping out of the shadows and continuing the footsteps of a genius was not a simple one. Her answer was to tread her own path. Each and every step has been scrutinized but over the last seven years, her renovations, which have always been sympathetic to what came before, has meant she has left her indelible mark on the house with poetic collections that continually draw on British history, culture, and craft.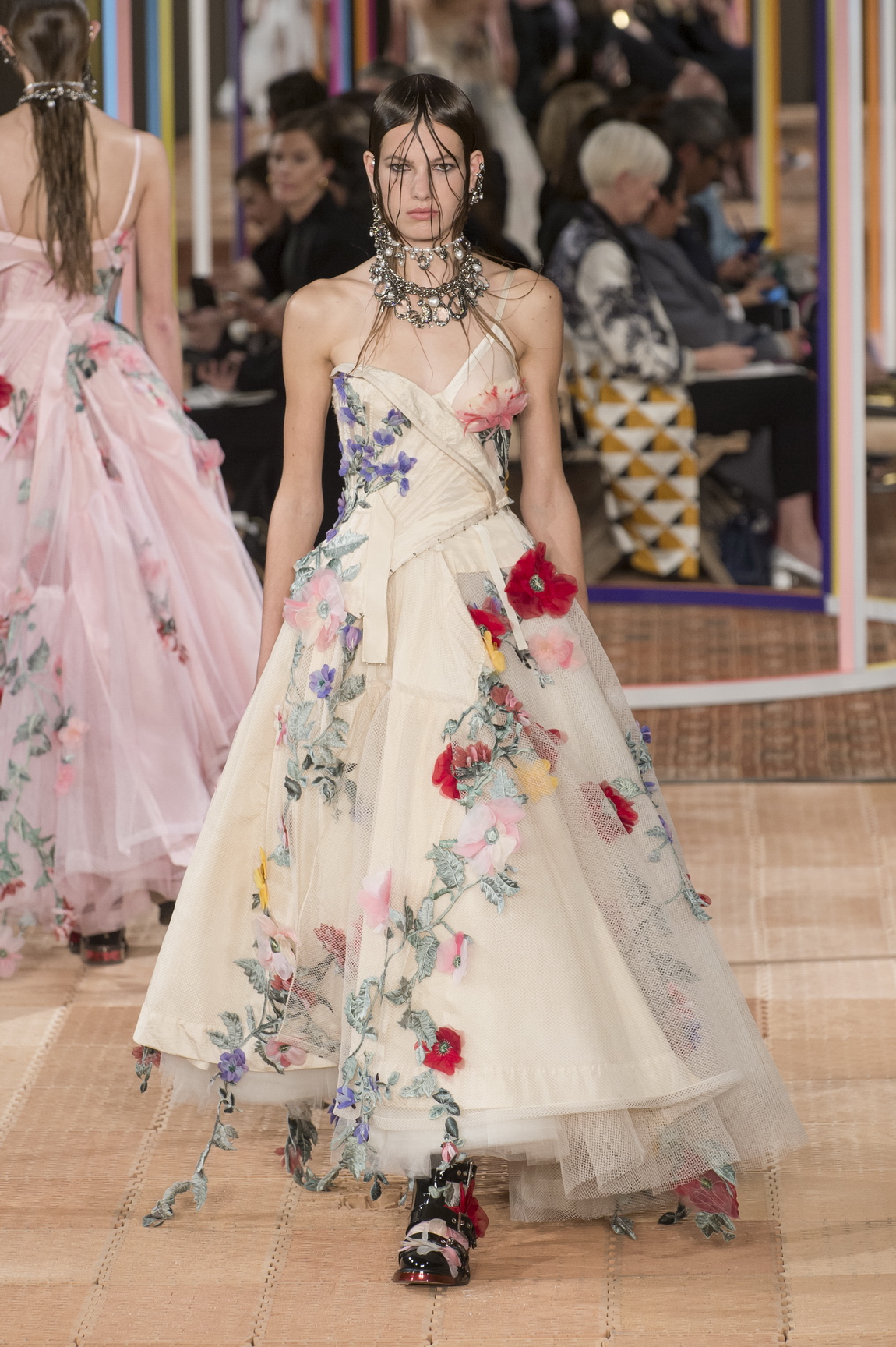 For spring/summer 18, Burton looked to the quintessentially English gardens of Great Dixter, East Sussex and found inspiration in its uncontrived floral planting, meandering borders, and tangles of colored blooms. From deconstructed trenches to make-do-and-mend patched-up leather jackets, silk tuxedo jackets with exploded rose taffeta sleeves to ruffled knit dresses with 50s lingerie detailing and vintage washed denim, she crafted a wardrobe of worn-and-torn couture inspired pieces and men's tailoring. Pieces were reconstructed, reclaimed, and reimagined. It was achingly beautiful at times. This was Sarah Burton for Alexander McQueen at her most poetically powerful and persuasive. Go and lose yourself in the house's inviting garden.