simone rocha turns up the teenage angst in punk plaid and kinky tweed
The who, what and where of Simone Rocha autumn/winter 18.
|
18 February 2018, 12:02pm
Photography Mitchell Sam
Who?
Simone Rocha. In the last few years the designer has grown her brand, world and aesthetic so magnificently that her show has become possibly the most exciting at London Fashion Week. An unmissable parade of dark, rich and pretty gorgeousness. As a designer Simone is technically masterful and matches it with depth and fullness of vision. Organically growing into something incredibly assured, which continually delights and astounds, growing more profound and more confident in her modes of expression and thematic concerns each season. For autumn/winter 18 the ever poetic show notes spoke of "tied up tailoring and tulle plaid" and "bedtime prayers, socks and slippers" and "The unravelling". Pixie, Alexa, Greta Bellamacina and Daisy Lowe were all on frow in big gorgeous Simone dresses. But Simone's world takes in multitudes, not just celebs; i-D cover star Adut Akech was the starring girl on the catwalk, looking absolutely incredible in black layers of tulle.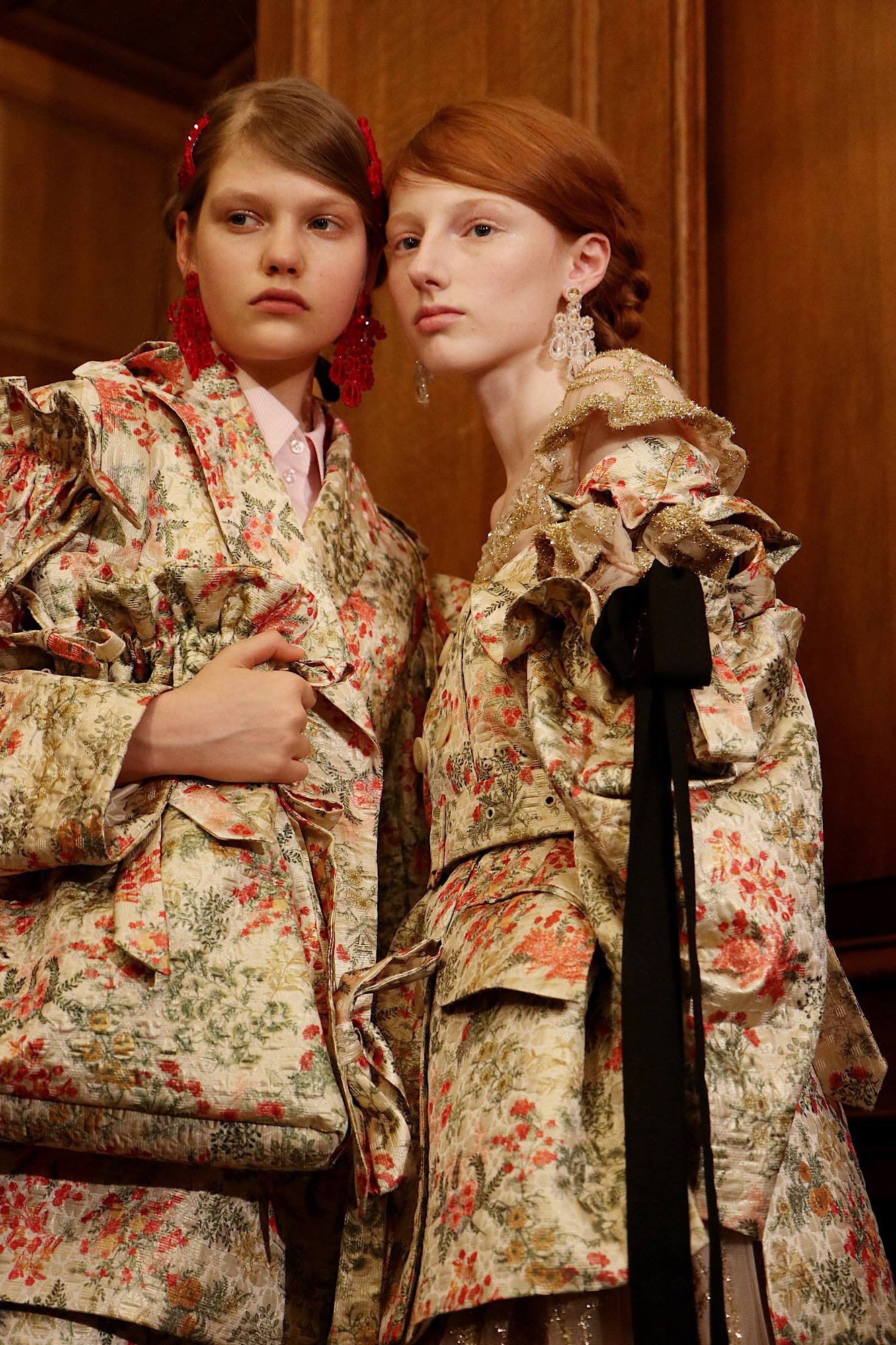 Where?
Goldsmiths Hall near St Paul's. An exquisite baroque building that mirrored an exquisitely baroque collection. Plush patterned carpets, gold trim on the walls and majestic chandeliers hanging from the ceilings. Tapestries lined the walls -- scenes of antiquity and cherubs in Edenic gardens, set the scene.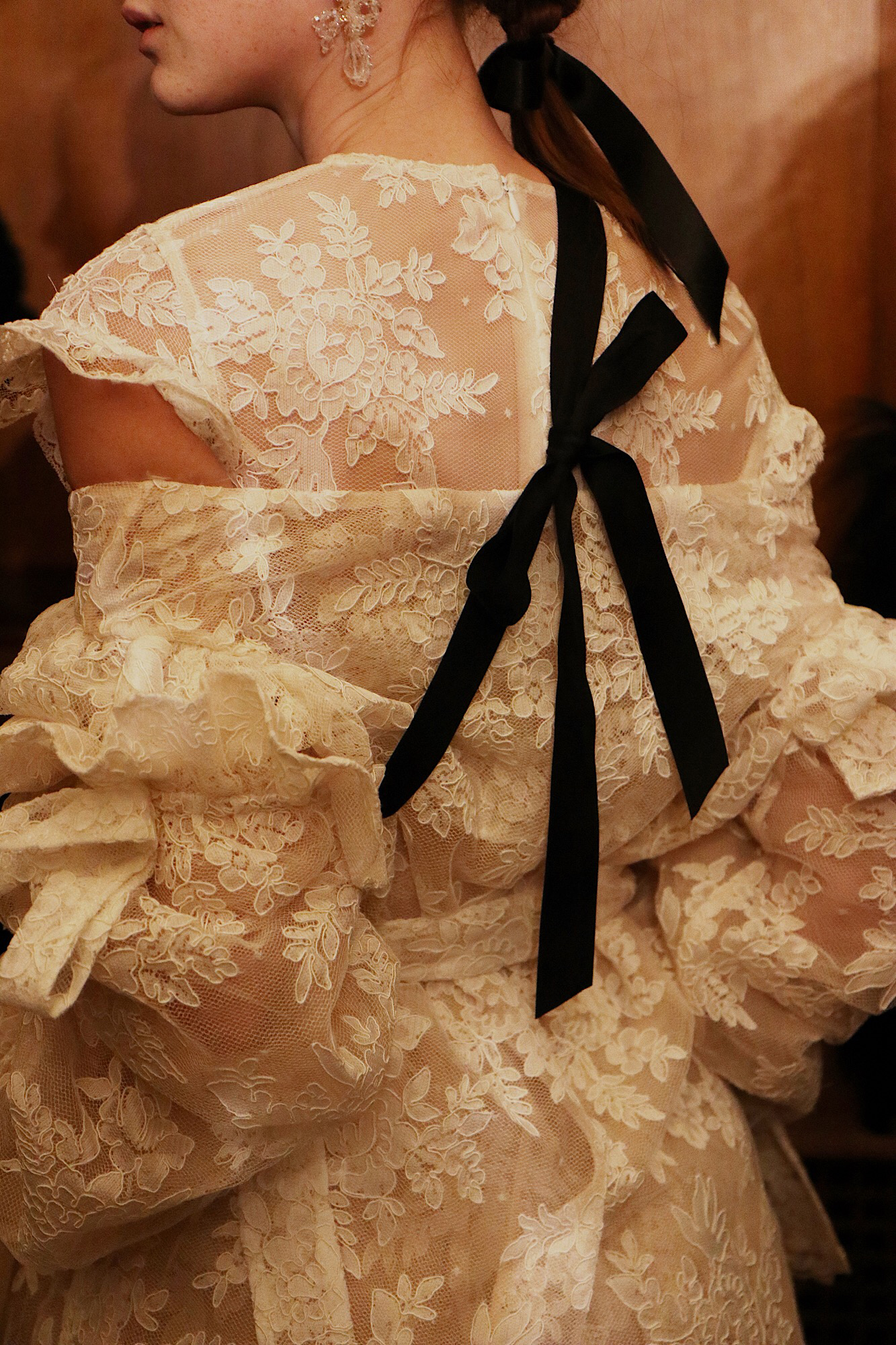 What?
The soundtrack began with harmonious violins before giving way to the motorik krautrock beats of experimental rock band Can, fading to washes of shoegazey drone. Somewhere in that mix lies the idea at the heart of the collection; fussy niceness turning angsty -- and revelling in it -- elevating it into something full of intensity.
The clothes were almost Pre-Raphaelite in their resplendent gorgeous and Victorian romance. Constable was mentioned in the shownotes, but Millais' Ophelia still feels like a touchstone for Simone. The collection began in classic Simone Rocha territory, all bows and delicate frothy gothy decoration. Picking up from the end of last season's. Backstage Simone talked of growing up and a desire to give a lot out -- about "going deeper" than last season and "searching for weight, heaviness and depth". It seems last season's naive young girls have grown up into rebellious headstrong young women.
From those opening looks it plunged into a new world; punky tartans and kind-of-kinky laminated tweed. There was colourful floral embroidery and piling on layer upon delicate layers to form some protective shield. Texture ruled; gold stitching overflowing out of seams; sheer layers contrasting with thick jacquards.
But the teenage angst was tempered with the obvious beauty Simone so skillfully subverts in that Louise Bourgeois-esque way.