jennifer lawrence was told to use degrading nude photos as diet inspiration
The actor was just starting out in Hollywood when she was told by producers to drop 15 pounds in two weeks.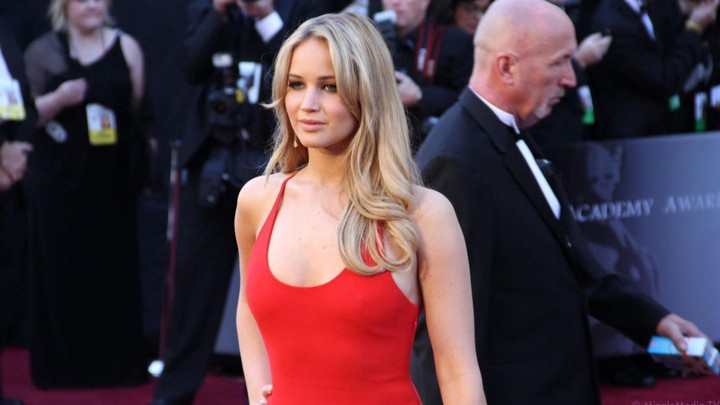 In 2012, Jennifer Lawrence copped a fair bit of side-eye when she referred to herself as a "fat actress." "Obese," even. The then-22-year-old had just wrapped filming on the first Hunger Games movie when she made the comments during an interview with Elle magazine. "In Hollywood, I'm obese," Lawrence joked, seemingly unprovoked. "I'm considered a fat actress, I'm Val Kilmer in that one picture on the beach."
Some people found the comments relatable and funny. Others thought they were just fat-shaming the majority of American women who wear larger than a size 6. (Kilmer did not chime in.) Five years later, Lawrence appears to have explained what exactly led her to be so self-critical. "When I was much younger and starting out, I was told by producers of a film to lose 15 pounds in two weeks," Lawrence told the audience at Elle's Women in Hollywood event last night. She added that another actress had been fired for failing to lose weight at such a dangerous speed.
"During this time a female producer had me do a nude line-up with about five women who were much, much, thinner than me. We are stood side-by-side with only tape on covering our privates," she continued. "After that degrading and humiliating line-up, the female producer told me I should use the naked photos of myself as inspiration for my diet." At that point another male producer attempted to comfort the Hunger Games star, saying he "didn't know why everyone thought I was so fat," as he thought she was "perfectly fuckable."
Lawrence's is only one of countless stories of harassment that women have been sharing over the past two weeks, spurred by the allegations of sexual assault brought against Hollywood producer Harvey Weinstein. The mother! star has faced her share of sexual harassment before — in 2014, she had her nude photos stolen as part of a 4chan hack that finally sparked action from Apple and the FBI.
That Weinstein wasn't involved in Lawrence's harrowing early career ordeal only proves that the industry's harassment problem is systemic. Now the highest-paid actress in Hollywood, Lawrence wants to provide support for harassment victims who don't have that sort of leverage. "I will lend my voice to any boy, girl, man, or woman who does not feel like they can protect themselves."