over 300 women in hollywood back a campaign to fight sexual harassment
"A unified call for change from women in entertainment for women everywhere."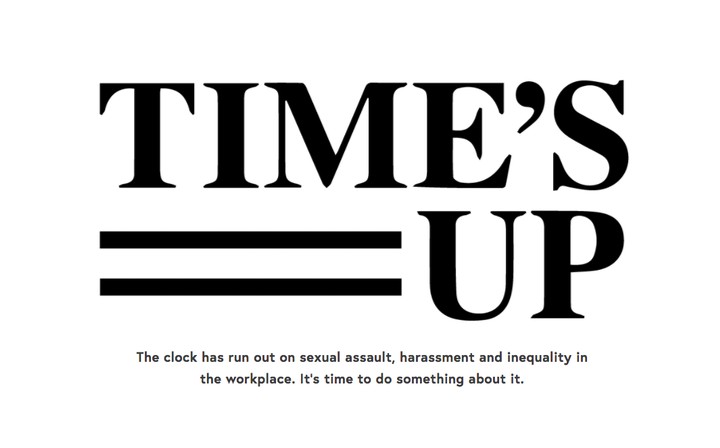 Happy new year, courtesy of a new campaign backed by over 300 women in Hollywood in response to the landslide of sexual assault allegations that marred the latter half of last year. The initiative, called Time's Up, was announced in a full page ad in both the New York Times and Spanish-language paper La Opinion, and brands itself as "a unified call for change from women in entertainment for women everywhere."
The letter's signees are all actresses, directors, and other entertainment industry professionals, and include the likes of Emma Stone, Meryl Streep, Rashida Jones, Natalie Portman and Reese Witherspoon. However, the initiatives outlined notably -- and welcomely -- extend to women beyond the more privileged confines of Hollywood. Donations have been fielded to form a $13 million USD legal defence fund for women working in less privileged and highly paid jobs such as cleaners, farmers and restaurant workers, to help them afford the legal costs that come with sexual misconduct allegations. As this New York Times article outlines, much of the #MeToo campaign focused on rich and powerful white men, neglecting to shine a light on the plight of women working in blue collar industries -- which are similarly affected by systematic sexism. This was highlighted in a letter of solidarity to the women of Hollywood sent by the National Farmworker Women's Alliance. "Even though we work in very different environments, we share a common experience of being preyed upon by individuals who have the power to hire, fire, blacklist and otherwise threaten our economic, physical and emotional security," the letter reads, continuing, "complaining about anything -- even sexual harassment -- seems unthinkable because too much is at risk, including the ability to feed our families and preserve our reputations."
It's refreshing to see the Time's Up campaign address this, with it stating, "we also recognise our privilege, and the fact we have access to enormous platforms to amplify our voices. Both of which have drawn and driven widespread attention to the existence of this problem in our industry that farmworker women and countless individuals employed in other industries have not been afforded."
The campaign is also pushing for stricter legislation to penalise workplaces that tolerate sexual harassment, and to discourage the use of non-disclosure agreements that prevent victims from speaking out. It also demands pay and gender parity in key entertainment related workplaces like studios and agencies, and pushes for "greater representation of women of colour, immigrant women, and lesbian, bisexual and transgender women, whose experiences in the workforce are often significantly worse than their white, cisgender and straight peers".
Finally, it asks that women wear black to the upcoming Golden Globes to protest sexual harassment and raise awareness of the insidious issue. This has already received a fair bit of criticism, including from Rose McGowan ("You'll accept a fake award breathlessly and affect no real change. I despise your hypocrisy. Maybe you should all wear Marchesa."), and people pointing out that men wearing black in solidarity with women doesn't really mean much seeing as that's basically what 99.999% wear to all these functions anyway. Either way, it's encouraging to see so many women come together to push for tangible change and action. Long may it continue into 2018 and beyond.
This article originally appeared on i-D UK.