nike and off-white collaborate on logo-focused football capsule
Virgil Abloh's newest Nike collab is an homage to the sport he grew up playing.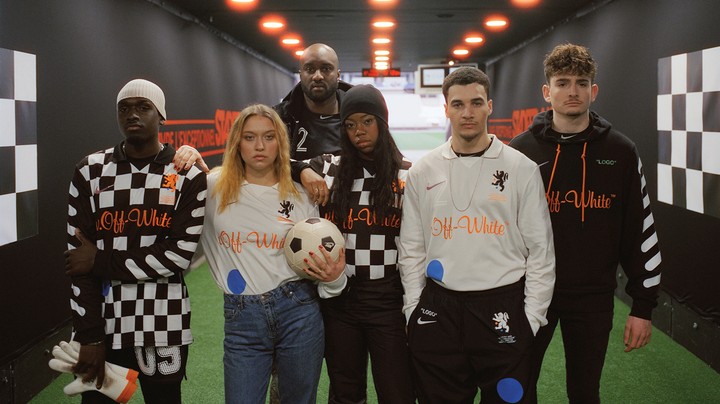 All images supplied by Nike
It's been a hectic year for recently appointed Louis Vuitton menswear designer Virgil Abloh, who apparently can't say no to new projects. The latest in his long line of collaborations is an Off-White partnership with Nike titled 'Football, Mon Amour' (Football, My Love), just in time for World Cup hype. The collection is inspired by 90s European football jerseys like Chelsea's iconic black and white checkers.
In news that will surprise nobody, Abloh was particularly fascinated by football jerseys that feature blatant sponsorship logos. "There is something unique about football jerseys. It's just the same as race car driving. There is a language to it. It's definitely something that I was intrigued by," Abloh said in an interview with Highsnobiety.
Abloh is not stranger to football, having played since he was 8 years old. The designer sees the collab as an opportunity to blend streetwear with memories of his youth. Like his teenage days of bumping hip hop tracks on the way to high school football games, for example. And to pay even more homage to Abloh's teen years all the numbers in the collection are ones the designer wore during his playing years.
The collection consists of a hybrid sneaker, the Flyknit Zoom Fly, that features a visible white dot for aesthetics but also functionality. The dot is to help the wearer recognise where the boot needs to hit the ball. As Abloh explains, "I wanted to communicate where a player strikes the ball. So, I put dots on the boot; if you're going to strike the ball, your foot/eye coordination is basically the only variance of chance." Meaning you can write off your spend on the sneaker as an investment in performance as well as fashion.
The Nike x Off-White 'Football, Mon Amour' collection drops June 15 via Supply Store.