Photography by Jordan Drysdale
this graduate collection is inspired by 'choose your own adventure' books
Helena Dong's performance-based design can be configured in 62 different ways, all guided by an interactive game.
|
14 November 2018, 9:54am
Photography by Jordan Drysdale
From the outside RMIT graduate Helena Dong's designs look relatively simple: a beige trench coat, a white shirt and a black pair of pants. The unassuming passerby would find nothing out of the ordinary about them, but those familiar with Helena's work know better — that inside these pieces is a hidden world of possibility. Through an array of zip-off parts, invisible compartments and hidden elements, these seemingly simple garments can be reconfigured into 62 different looks.
Transforming them is an act of performance guided by an online Choose Your Own Adventure-style game, another element of Helena's design. In the game the viewer is presented with a series of choices and each decision is reflected by a change to the garment. "For example, in the scenario you're asked to either comply or rebel. Complying is about removing an under layer from the pants, which becomes a skirt that almost that wraps around the body. But if you choose to rebel then it's about pulling this glove out of the sleeve and then the storm flap of the trench coat opens up to become a shield as well," Helena explains.
"There's all these little subtle moments — there's nothing extravagant that just changes in a second. It's all these little moments, you know, combined together to create something different in the end," she continues. At the centre of those movements is the wearer and the garment, but involved along with them is Helena herself.
The transformative nature of the collection is a nod to Helena's childhood, particularly migrating to Australia with her mother when she was eleven. This influence is also present in the online game's scenarios, which interrogates how we interact with ourselves and those around us. "A lot of that comes from my childhood, which this collection is pretty much based on. It's my experiences growing up in Australia and being compelled to be independent and resourceful. My living environment wasn't always static. It was always shifting. I think that has been translated to my work as well."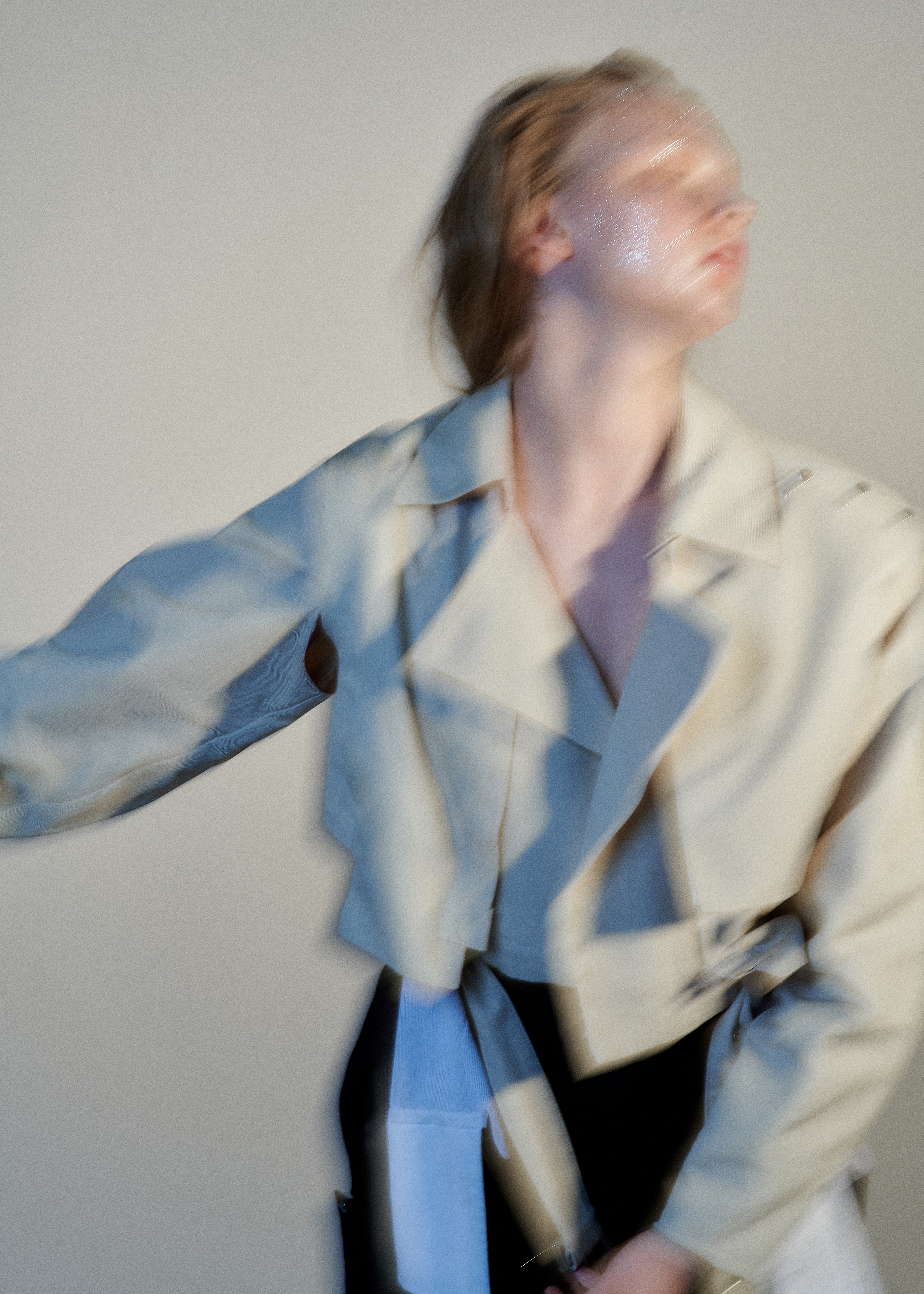 The ingenuity and storytelling of Helena's collection saw her take home this year's student award at Melbourne Fashion Week. She received the award at the end of a jam packed group show that saw graduate designers from various fashion schools all get their turn on the runway. Although the audience had the opportunity to see Helena's designs in the show, she admits that their performative-nature means this wasn't the best way to experience them. It was this same reasoning that lead to Helena forgoing a group graduate show at the end of her studies, which is how most grad designers present their work, instead opting for an online video presentation. At just over nine minutes long the video allows the viewer to see the transformation of the garments in the performance context that the were designed for.

With awards under her belt and university behind her Helena now turns her attention to the future. When asked whether she hopes to someday launch her own label she explains that she's currently more interested in learning from other designers first. Heading overseas seems most likely, she suggests Stockholm or London (where she's previously interned for Marques Almeida) as options. There are a multitude of choices coming her way, with each determining the path she will eventually head down. Helena's adventure has only just begun.