i-D's guide to australia's fashion kids: city by city
Style starter packs: do you line up with your city's fashion profile?
Every city has a crew of fashion kids. It feels like there's no other way to describe them. They might not work in fashion — in fact, they rarely do — but it still manages to be their defining trait. You can find them all over Australia, though they differ wildly from place to place. After all, each town comes with its own retail landscape, climate and local labels worth wearing. i-D's taken a look at each of our eight capitals to see what the fashion kids are really sweating. Did we catch you?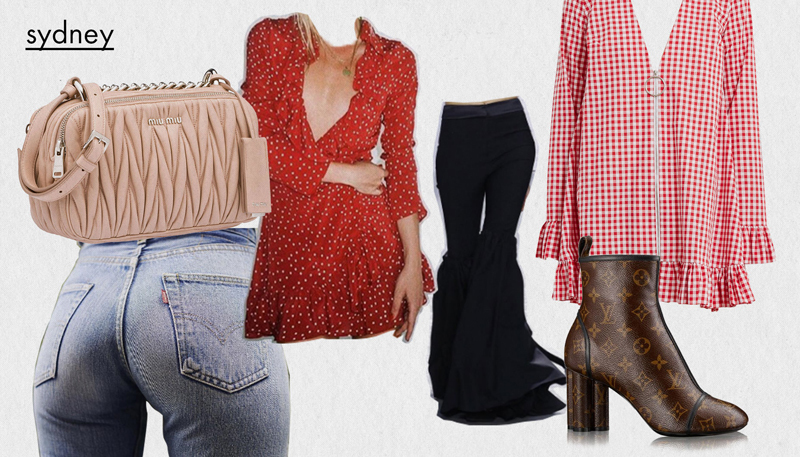 Sydney fashion kids differ from the rest of the country's in that they don't hide the money the spend. There's no derelicté designer clothes masquerading as thrift shop finds: if they worked for it, they'll show it off. The classic LV monogram is everywhere — on a belt, a wallet, even a shoe. We're diagnosing them all with a case of logomania, though that's not to say they look gaudy. Luxury staples are often paired with simpler pieces, like a pair of Levi 501s. The cult jean is really the centre of every chic Sydneysider's wardrobe. Several pairs hang in their closet, beside something from Realisation Par or Agent Provocateur. Of course, there's lots of Daisy — perhaps a personal gift from Renee and Gibson. Every look is paired with ankle boots, and their cross-body bag is decidedly the most expensive element of their outfit: it's usually Louis Vuitton, Prada or Miu Miu.
Sydney's Ellery-clad PR girls deserve a shout-out too. Kym's disciples pair their extra-wide bell sleeves with an A3-sized clutch and a Senso boot, or maybe a Ghillie Lace Up — just don't tell anyone it's Tony Bianco.
Because of Perth's high export rate, the average age of the fashion crowd hovers permanently around 20. Their look is directly influenced by Tumblr, 'cause they're still young enough to use it. The 90s are everything: expect to see vintage Adidas and Tommy Hilfiger, Pastel Colours and Shell Toes everywhere. Perth's fashion kids will wear a tracksuit when the weather allows, but you'll never see a coat. Being 25 degrees all year, layering is a sartorial luxury reserved for other cities. You shop at Dilettante if you have money, and Salvos if you don't. If you're a Hypebeast, Cabinet Noir or Highs and Lows are your spots. That is, until move to the other side of the country.
All the talk of Canberra being exclusively populated by politicians and public servants is a little misguided. It's also a university town, so there's a seizable cohort of students, who are fiercely proud of their city. They love homegrown labels, and will rep them wherever possible. Girls in Canberra wear Hunter; if not head to toe, it's ostensibly three-quarters of their wardrobe. For boys, the look is more Young Labor in the 1980s. Tight black Dejour jeans are belted, and the shirt is always tucked in. Band tees are staples — something from local act is best, like California Girls. Everything else is from an op shop: you'll notice a lot of Fred Perry, CDG and Driza-bone. Doc Martens are the go-to shoe; usually in black though occasionally oxblood. Blundstones and RM Williams boots come out in winter, and get swapped out for Adidas trainers come summer. Their bag is Kanken, or a canvas tote from a local record label: probably Lacklustre.
All the fashionable kids in Hobart wear Military style jumpsuits and bombers but only because that's the uniform of the Mona ferry they apparently all work on. It does seem that utilitarian spirit has carried into their wardrobe, because dungarees and pinafores are popular outside of work hours. Here the fashion crowd is a crew of art school babes with mullets. Their palette always matches Tasmania's gothic landscape: everything is dark, usually black. COS sack dresses and Alpha60 Pinafores are staples, as are huge down jackets — but Hobart kids don't wear Kathmandu or Northface 'cause they like the brands, they wear them because they don't want to loose any extremities to the cold.
Adelaide has a similar cultural cachet as neighbouring Melbourne — they're less than an hour away by plane. Their closeness is likely why certain Melbourne labels have migrated there so successfully: think Verner, Gorman and Pageant. That said, the cities certainly aren't identical. Adelaide's crowd is little younger, and, correspondingly, less monied. There are fewer big-ticket designer items in rotation. Everyone draws from a neutral palette of black, beige, white, nude and grey. If they ever play with colour, they go with pastels. The popular silhouettes are very 'Kate's first Calvin Klein campaigns' — that is, 90s minimalism and miniskirts. American Apparel basics are popular, if only because there's a storefront in town. Expect to see silk camisoles paired with monochromatic sportswear, like bike shorts or a simple three-stripe trackpant. A puffer jacket in white or black is thrown on if it's cold, with Nike Rifts or a New Balance 574 on on the feet.
Darwin is so hot it's hard to be fashionable: you can't even wear socks. Sandals and thongs are the only shoes weather allows. The city is at the behest of the equator, and so are its people. Expect to see plenty of camisoles and sarongs — the look is decidedly bohemian. It seems like fashionable kids rolled out of bed and straight through some kind of Sunday morning beachside market stall. There's plenty lot of jewellery and miscellaneous trinkets; perhaps because they're the only outfit additions that won't leave you sweating.
Brisbane kids are decidedly more colourful than their counterparts down the coast — perhaps the tropical climate helps. At least one piece in a bright red, pastel yellow or soft pink will usually appear in an outfit. Sailor stripes and gingham are in too. In summer, jumpsuits and rompers are especially popular. When the temperature does drop, turtlenecks tucked into vintage jeans come out. On the feet, Converse high tops or a Maryam Nassir Zadeh heel is routine. A lot of thrifting goes down in this city: expect to see corduroy jackets, 90s block heel boots, and silky camis picked up second hand. Brisbane has more fun with accessories than other cities do — they enjoy a constant rotation of chokers, earrings, neckerchiefs, sunglasses and the odd beret.
Pleats Please, so much Pleats Please. It's the bedrock of the Melbourne fashion world. You can catch this city's crew at P.A.M or Dot Comme, marching up the stairs of Curtain House in Tabi boots. If they have to wear a sneaker, it's Common Projects — maybe a TN, if they're club-inclined. Everything is worn loose: from P.A.M's oversized silhouettes, to Jacquemus' abstract shapes and XL CDG streetwear. You'll spot the fray of Marques'Almeida distressed denim against the sheen of Bao Bao bag more than once. For this congregation, Shifting Worlds is their temple, and champagne on the night of a pre-sale launch is the blood of Christ.
Then there's the post-fashion crew. Dried flowers are stapled to a hessian skirt and hung on the exposed frame of a wire mattress in an off-site installation. Fashion is disgusting.
Credits
---
Illustration Ashley Goodall