the unbridled joy of the alternative miss world
Alternative Miss World began five decades ago, and has grown to become a fanatical haven of exhibitionism and voyeurism. Returning to London last weekend, we met its founder Andrew Logan.
|
25 October 2018, 11:12pm
Photography Alex Gerry
Returning to London last Saturday, after a hiatus of four years, devout lovers of Alternative Miss World were jumping for joy, having missed the overdrawn, barely organised chaos and its outrageous shenanigans. Taking place at Shakespeare's Globe with the theme "Psychedelic Peace", it delivered on the signature spectacle of outré behaviour we've all come to expect. To call it another triumph would be no overstatement.
Despite its success, little is generally known about the man behind Alternative Miss World. By all accounts artist Andrew Logan is a charming and affable man, often wearing a big ear-to-ear smile on his face. He's mastered the art of showing great sociability, while still retaining a carefully measured guardedness. Surrounded by a group of long-time close friends and family members, he shares his life with his supportive partner Michael, whom he's been in a relationship with since 1972. Away from the madness of the show, Andrew loves nothing better than creating art, be it jewellery design, mosaic and glass work or sculpture. And, when not spending time in India, he enjoys the peace and quiet of the Welsh countryside, where he founded the Andrew Logan Museum of Sculpture, way back in 1991.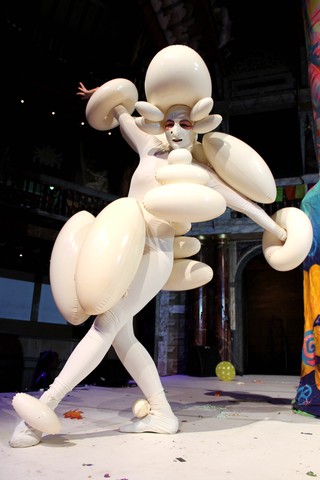 After training as a sculptor in Oxford Andrew moved to London. The creation of Alternative Miss World was informed partly by two experiences of his. First there was a one-off time taking acid, then a visit to the Crufts Dog show. But mainly Andrew basically wanted to subvert the antiquated, sexist TV show, which drew a massive audience of mainly older men with pervy minds.
Andrew wanted a celebration of life, involving humour, irony and transformation. A spotlight needed to be turned on all the flamboyant show-offs who were bent on living out their fantasies onstage. Gender, race, colour, age, size, background or beauty standards were never an issue. There would be no restrictions and no stereotypes.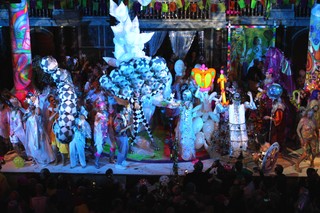 As Andrew poses for me in Zandra Rhodes' rainbow penthouse, dressed in a mandarin collar suit, with two of his own brooches pinned to the front, he contemplates the importance of his alternative contest. "It truly comes from the heart, something I feel every time I walk on the stage", he explains. "I mean, I don't even get paid and most of the people involved do it for nothing else but the joy of it. It's a celebration and that's quite rare."
It all started very low-key in 1972, in the small Hackney studio Logan worked from. The contestants catwalked the usual daywear, swimsuit and eveningwear categories. Around a hundred punters turned up and the judges included David Hockney. The following year a second event came about, again at the studio. The crowd grew more illustrious, featuring the likes of Zandra Rhodes, Ossie Clark, Tim Curry, Richard O'Brien, David Bailey and a disgruntled Angie Bowie. She was famously fuming as David, her then-other half, couldn't gain entry because of "overcrowding". Fancy that. The winner got a custom-made cardboard crown from Andrew Logan and the event was filmed (on a Super 8 camera) by none other than the late Derek Jarman.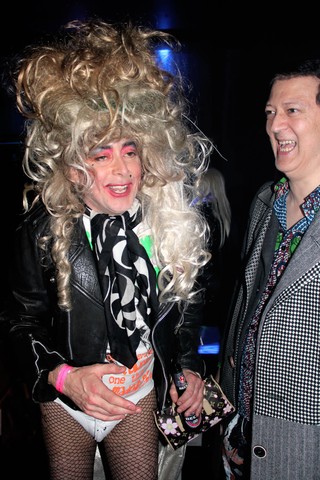 Over the years Alternative Miss World grew more and more outrageous. In 1978, Andrew's co-host, Divine, was making her grand entrance at the top of the stairs of the giant circus tent that'd been erected on Clapham Common when, suddenly, the sound system broke down and he had to do it all in stunned silence, grimacing, grabbing his crotch and waving his wig around in defiance. 1986's Earth-themed event saw Leigh Bowery in a red tutu and a matching red bucket over his head, flanked by the hilarious Fat Gill, totally naked apart from a strategically placed giant fried egg. Then there was the time Grayson Perry took part as a contestant as Jesus on the Cross in 1986.
Certainly one of my favourites of all time was 2004, at the Hippodrome. Co-hosted by Julian Clary, Matthew Glamorre and Andrew himself, it attracted London's new fabulous crop of club kids which ensured a jam-packed, fun-filled night, peppered with countless celebs and performers.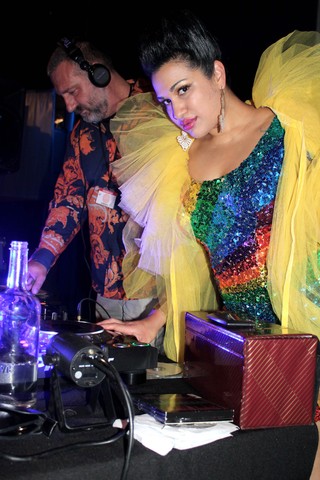 Besides Hockney and Jarman, many a legend has sat on the judging panel over the years. Brian Eno, Peter Blake, Divine, Sian Phillips, Amanda Barrie, Richard O'Brien, Fenella Fielding, Molly Parkin, Jarvis Cocker, Zoe Wanamaker, Duggie Fields, Nick Rhodes, Rula Lenska, not to forget Zandra Rhodes. As for the 14 winners, one of whom was a robot, does Andrew have a personal favourite? "No," he chuckles, "everyone's a winner, remember?"
"Life is a wonderful experience," he declares, "but we're only on this earth for a short time. I want to celebrate it while I can; that's what my work is all about." Andrew Logan promises to carry on the Alternative Miss World tradition until the day he dies. Please, don't let that happen for a long while yet!
This article originally appeared on i-D UK.