mindfulness matters with j.w.anderson spring/summer 18
"We have to go back to what we know to be humanly grounded."
|
18 September 2017, 2:47am
"We can all get hysterical, the media makes us hysterical. We have to step back and let things go by us," Jonathan Andersen explained to a iPhone-note taking, dictaphone-wielding media scrum. He had a point, from the fashion industry's calls of "more, more, more" to the realtime angst and anxiety of newspaper notifications, it can all become a little too much.
Designing a combined total of ten collections a year for his eponymous label and Loewe, Anderson is well placed to comment. So this season, the Derry-born, London-based designer and creative director took a step back to watch the ever quickening conveyor belt of collections pass him by and the cyclical nature of it became all too obvious. "I was drawn to the idea of circles, the world turning, everything coming around again," he explained.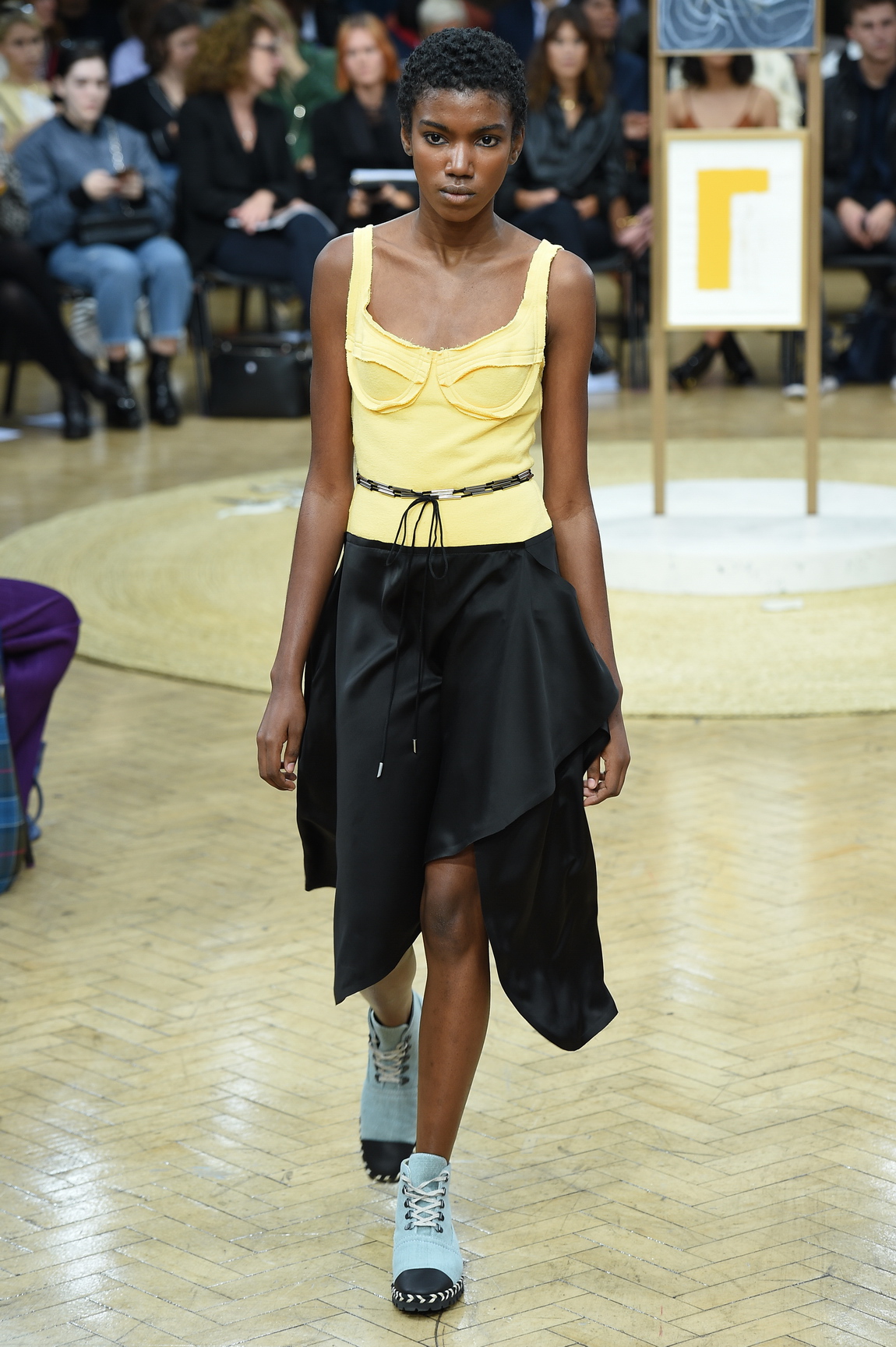 In an act of mindfulness, the panel-walled corridors that have been his recent set signatures came crashing down and instead, each concentric row circled a carefully considered and curiously curated homely environment. "I wanted art alongside everyday items, a basic chair and a raffia mat." Open and stripped of dizzying distraction, it was the perfect place for Anderson's meditations on comfort and celebrations of "domesticated fabrics". From Irish tea-towel skirts to washed-out cotton sweatshirting, marled knitwear to linen espadrilles, this was a collection that invited us to retreat into calm comfort. This safe sanctuary was a world away from the oscillating oddity odysseys of season's past that ordinarily leave us on the edge of our seats as he confidently treads the tightropes of taste. Here, as the models walked across the rush matting, we could all relax and appreciate the craftsmanship of the label. Whether Anderson thought this change of pace was needed most for himself or us doesn't, we all left with minds which were a little freer.