Photography: Fernando Uceda
simone rocha's personal, playful femininity at london fashion week
The designer took us from the Tang dynasty to the Chinese day of the dead.
|
17 September 2018, 11:32pm
Photography: Fernando Uceda
Simone Rocha's customarily sparse show notes gave away little of what delights were to come -- "Qing Ming, Team Ming, Ming Thing" -- but there was palpable excitement for this show, one of the highlights of LFW.

The show opened to the haunting, cinematic sounds of FM3, trailblazers of electronic music in China. Simone likes a grand old setting, and Lancaster House provided exactly that, with its ornate neo-classical architecture and cavernous gilded ceilings. The opulence amped up that of the clothes -- a heavy wallpaper brocade coat cinched at the waist, soft, folded tailoring in dense silk, strapless ballooning dresses in black or white and delicate embroidered flowers all over just about everything. An instant standout were the hats -- exceptionally chic beekeeper-meets-mourning-veil.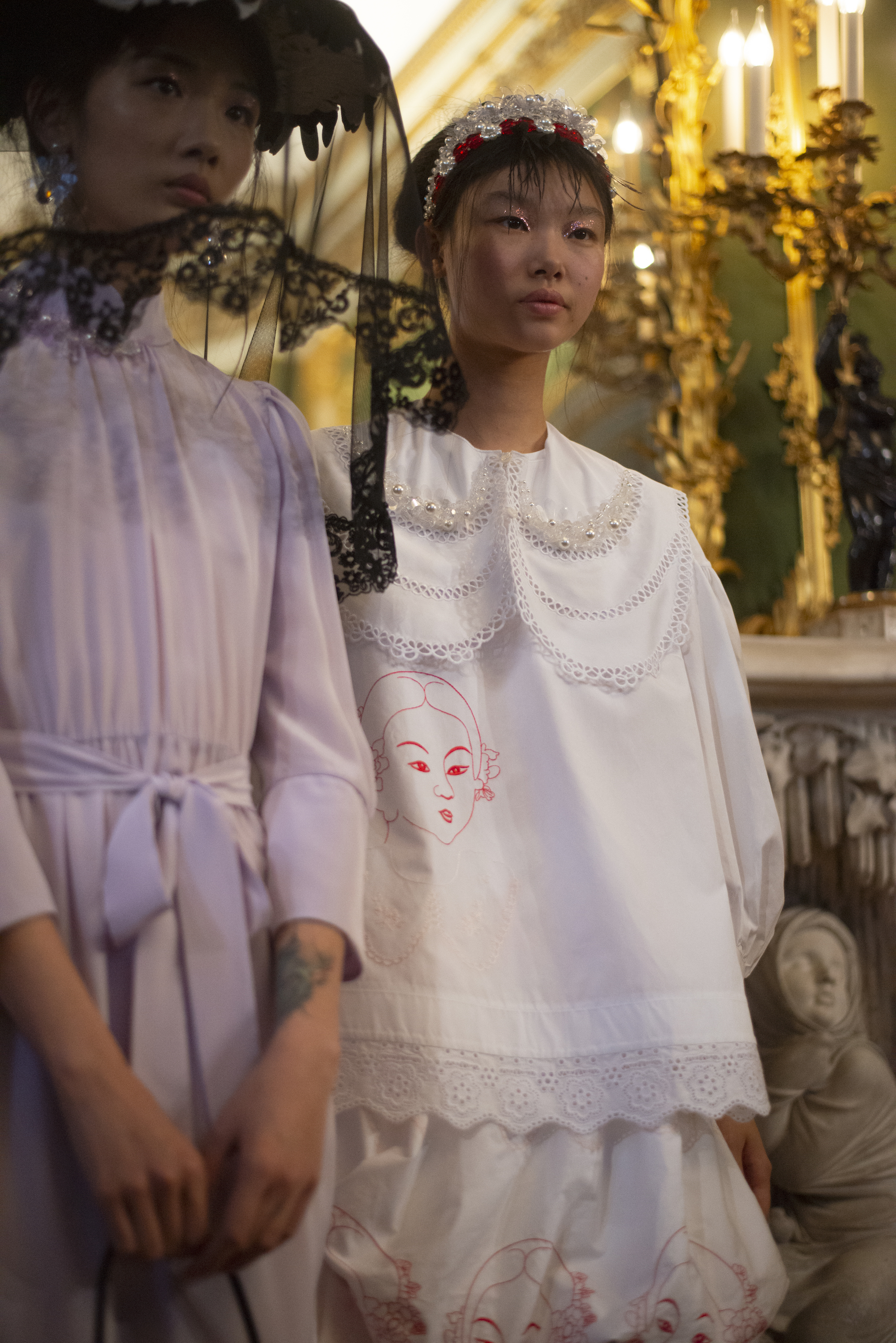 "I've been spending a lot of time in Asia and obviously it's my heritage but also my team's. I wanted it to be very playful, to play on that," Simone said backstage. Her team in question hail from Taiwan, Hong Kong and Japan, while Simone's own dual Chinese-Irish background regularly feeds into her designs. This time she went way back, drawing inspiration from China's imperial Tang Dynasty, which started in 618. "What was really special about the Tang dynasty was the hairstyles!" the designer said in her Irish lilt, among a feverish backstage scrum post-show. That's where the veiled hats came from, which will provide ample shade next summer. The designs also translated the intricate coiled hairstyles of the Tang Dynasty into dresses, resulting in bulbous proportions. Only Simone knows how to make voluminous shapes that feel extravagant and full of pomp, yet counterbalanced with a sense of modern, disruptive femininity.
Her approach to design is always personal, moments from her past woven into her work. For this collection, an annual family pilgrimage provided new ground. "My family celebrate every year something called Qingming, which is like the Chinese Day of the Dead. We all walk up a big mountain, and we wash the graves of my grandparents, so I was doing that this Easter. The mountain is split in two, one half in Buddhist, one half is Catholic. The Buddhists bring up effigies to burn and the effigies are little people in suits... and that's where the whole idea of the paper tailoring came from. So a lot of the cloth feels like paper." Rocha's own family are Catholic, so they go up the other side of the mountain without effigies, but she riffed on the idea of Sunday Best too, seen in the twinset elements of the collection, and the flowers dusting dresses and veils invoked the carnations the family bring to the graves of her grandparents.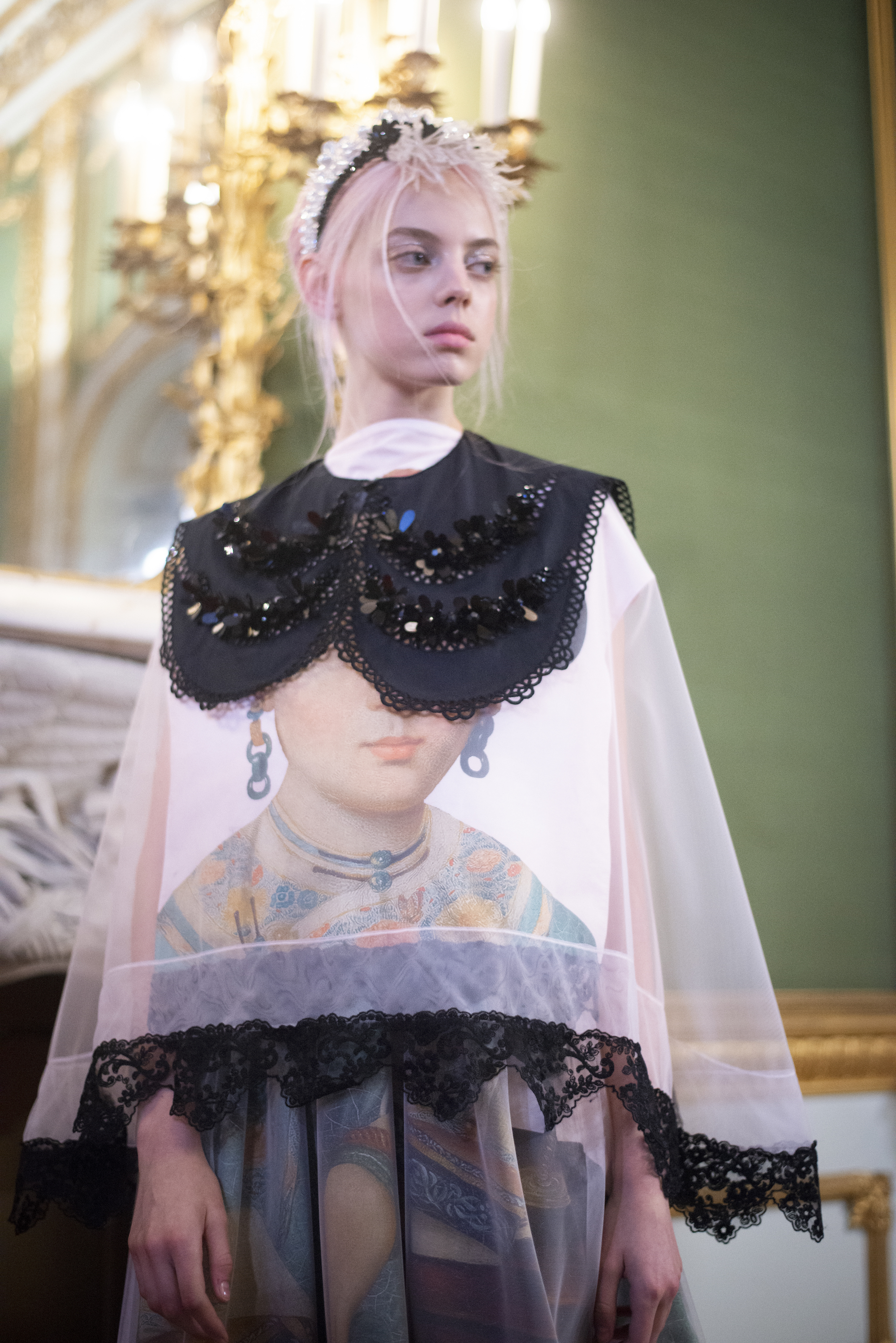 The label's signatures were plentiful, but there was a surprise in the form of graphic prints, not something Simone's known for making use of. Paintings of ladies faces were huge across dresses, and similar smaller illusions were repeated in embroidery elsewhere. With this the designer was having fun with the idea of reproduction. The faces were based of paintings she bought at antique markets in Hong Kong. "They're Chinese imitation portraits, so then we did Chinese imitations of imitations, and made them into illustrations and played with them."
Playfulness was, the designer reiterated, at the core of the collection. "We're very playful with our work in the studio and when we're developing we like to see things all over the body and I just really wanted to run with that." Simone's sense of the playful is a more serious interpretation of the word -- clever experimentation, thoughtful investigation. For spring/summer 19 personal and cultural exploration combined to brilliant effect, imbued with a sense of revelling in off-kilter beauty.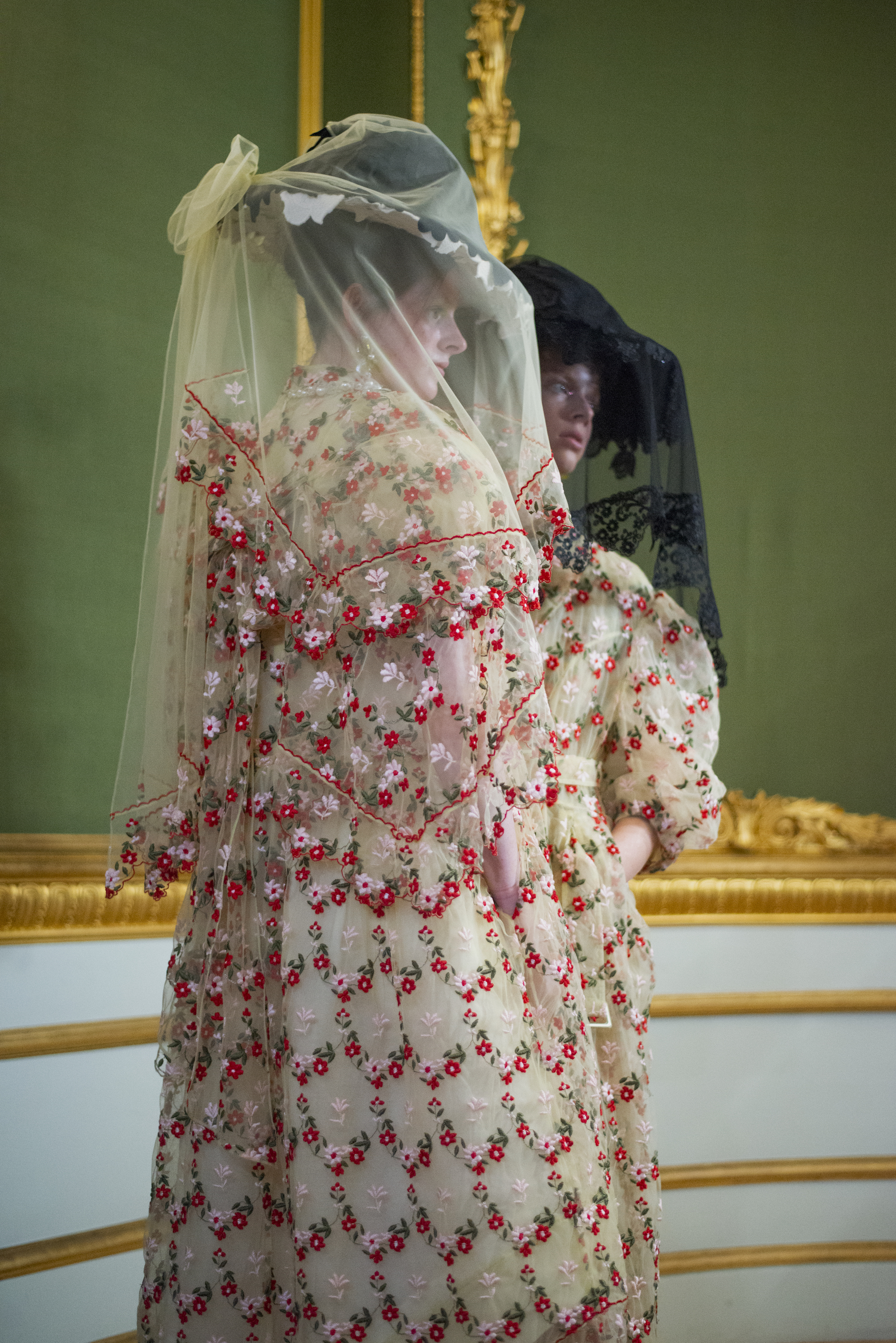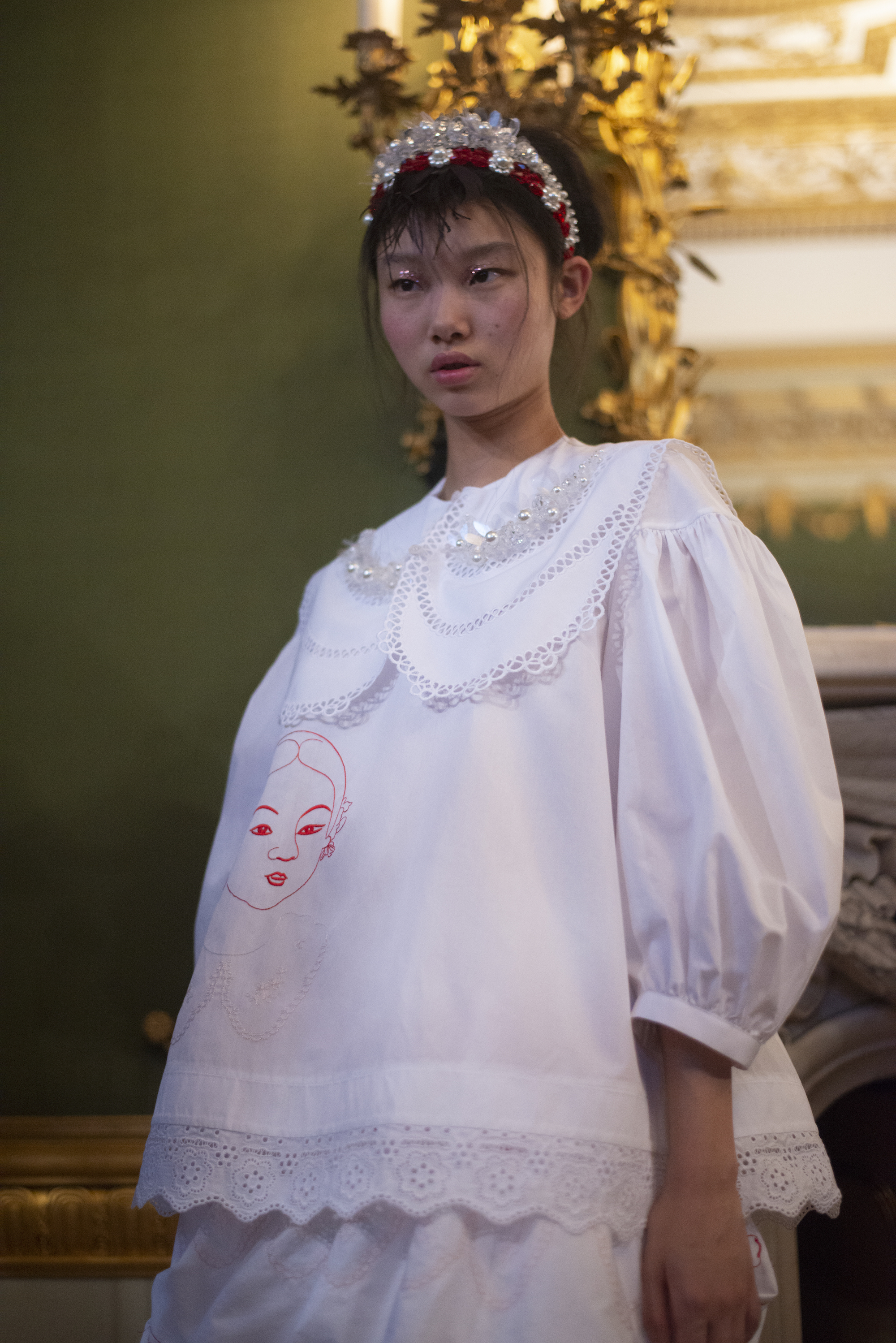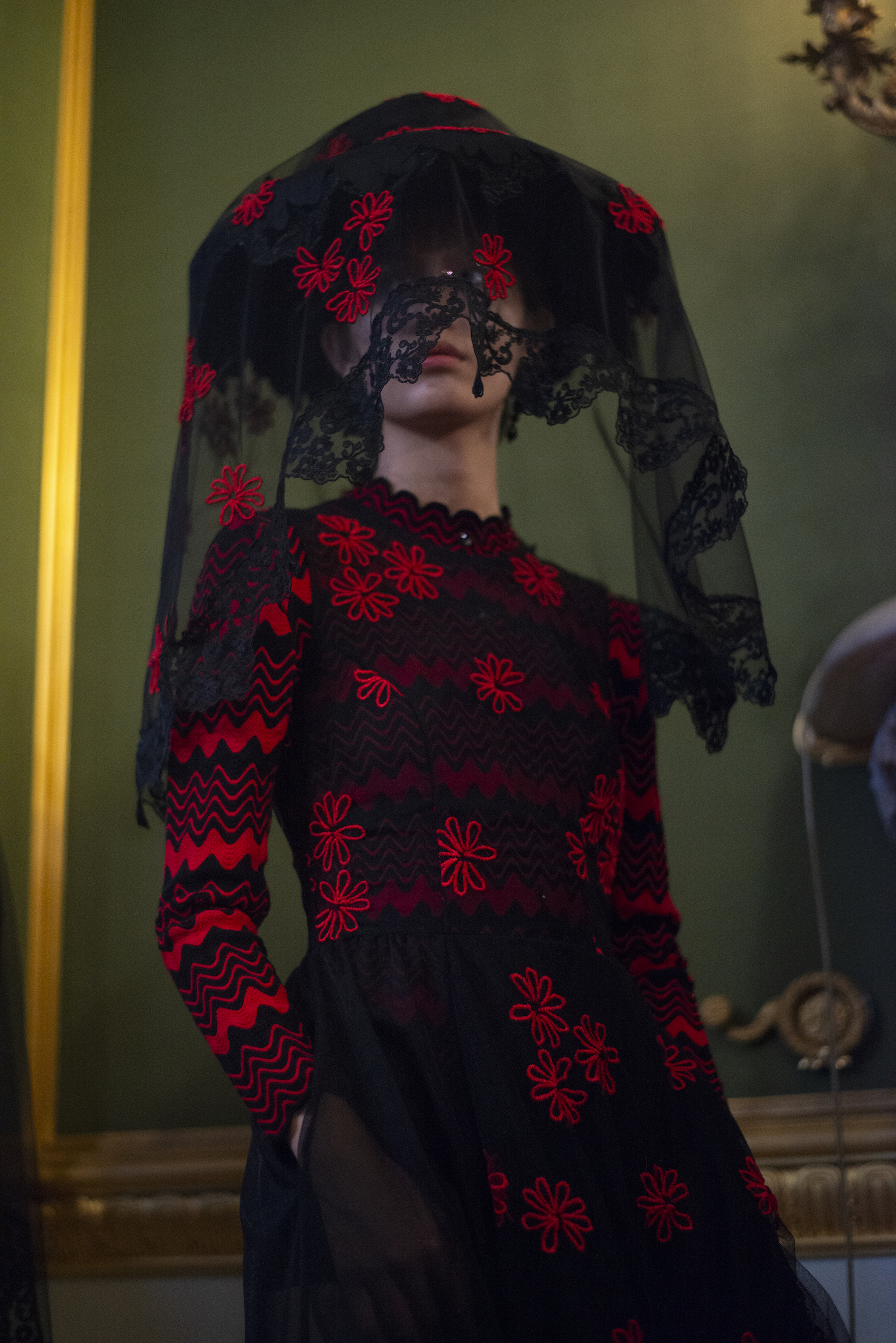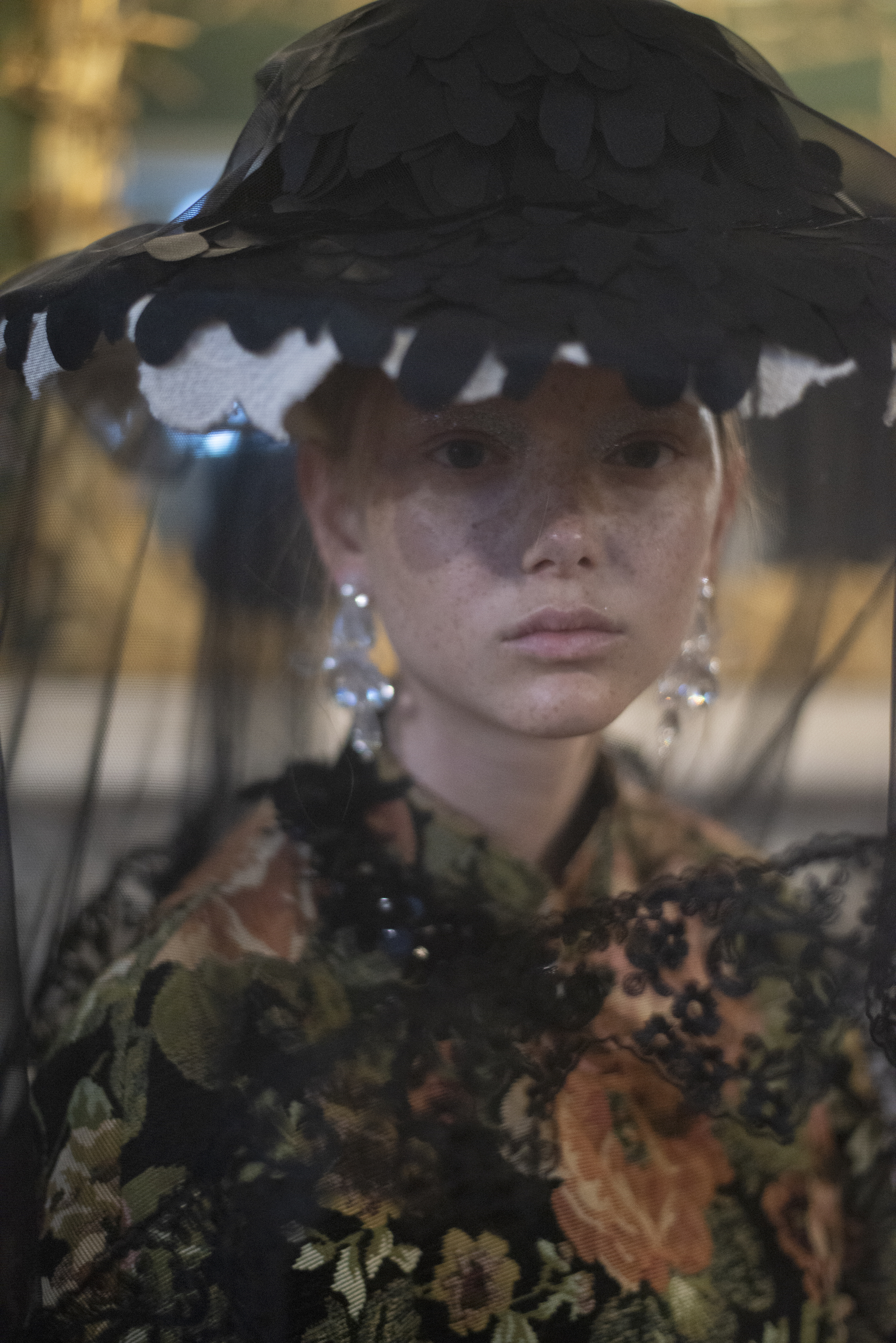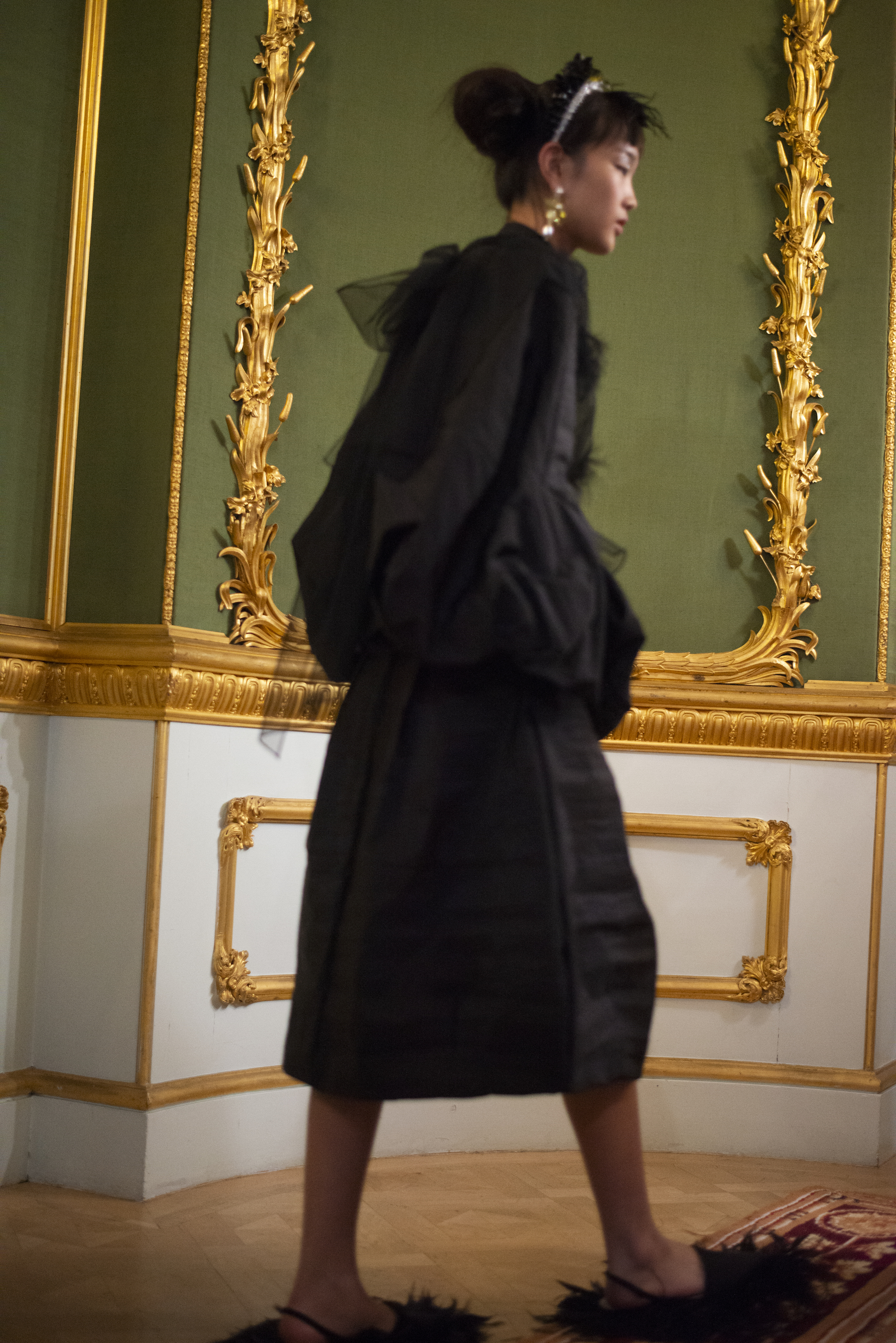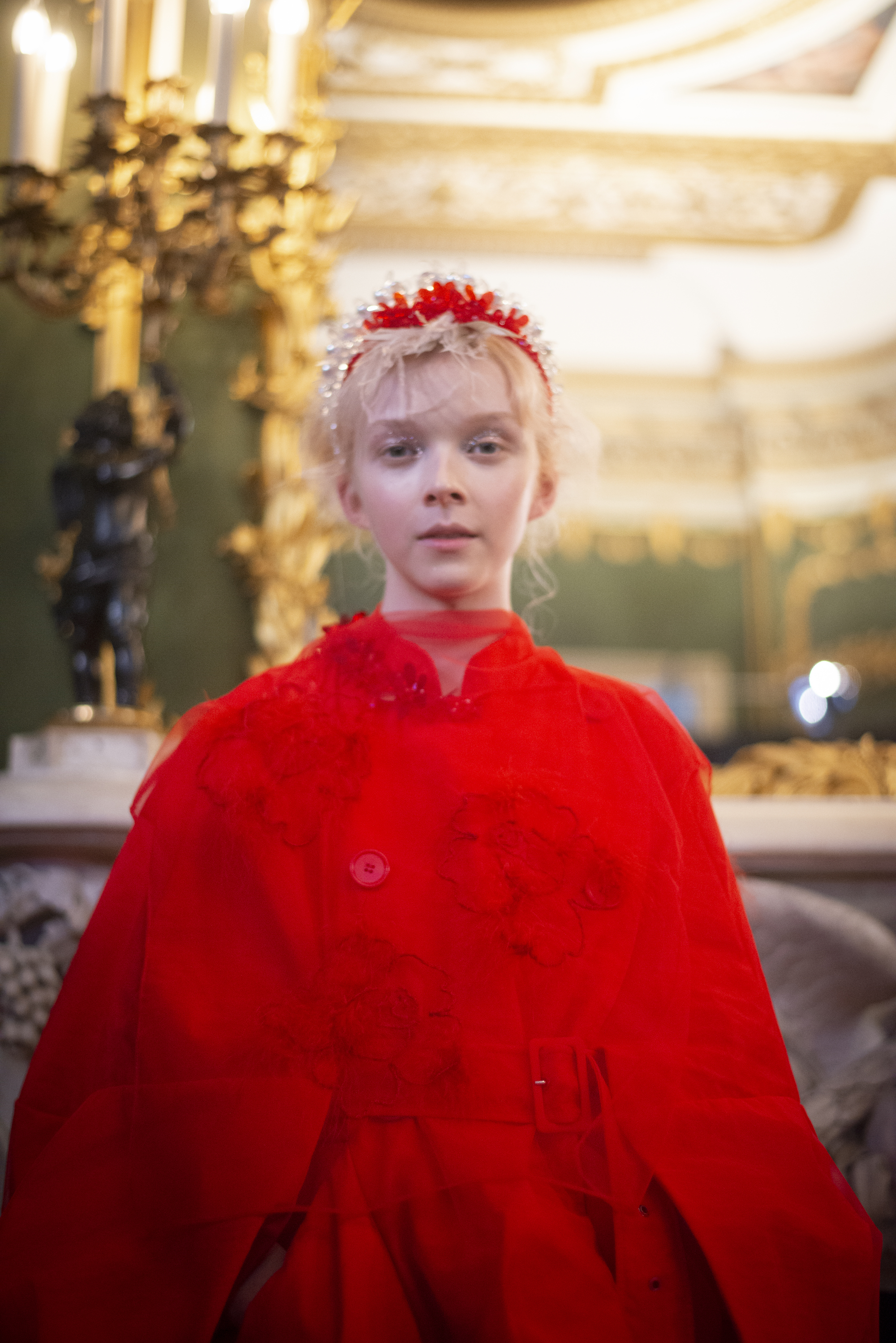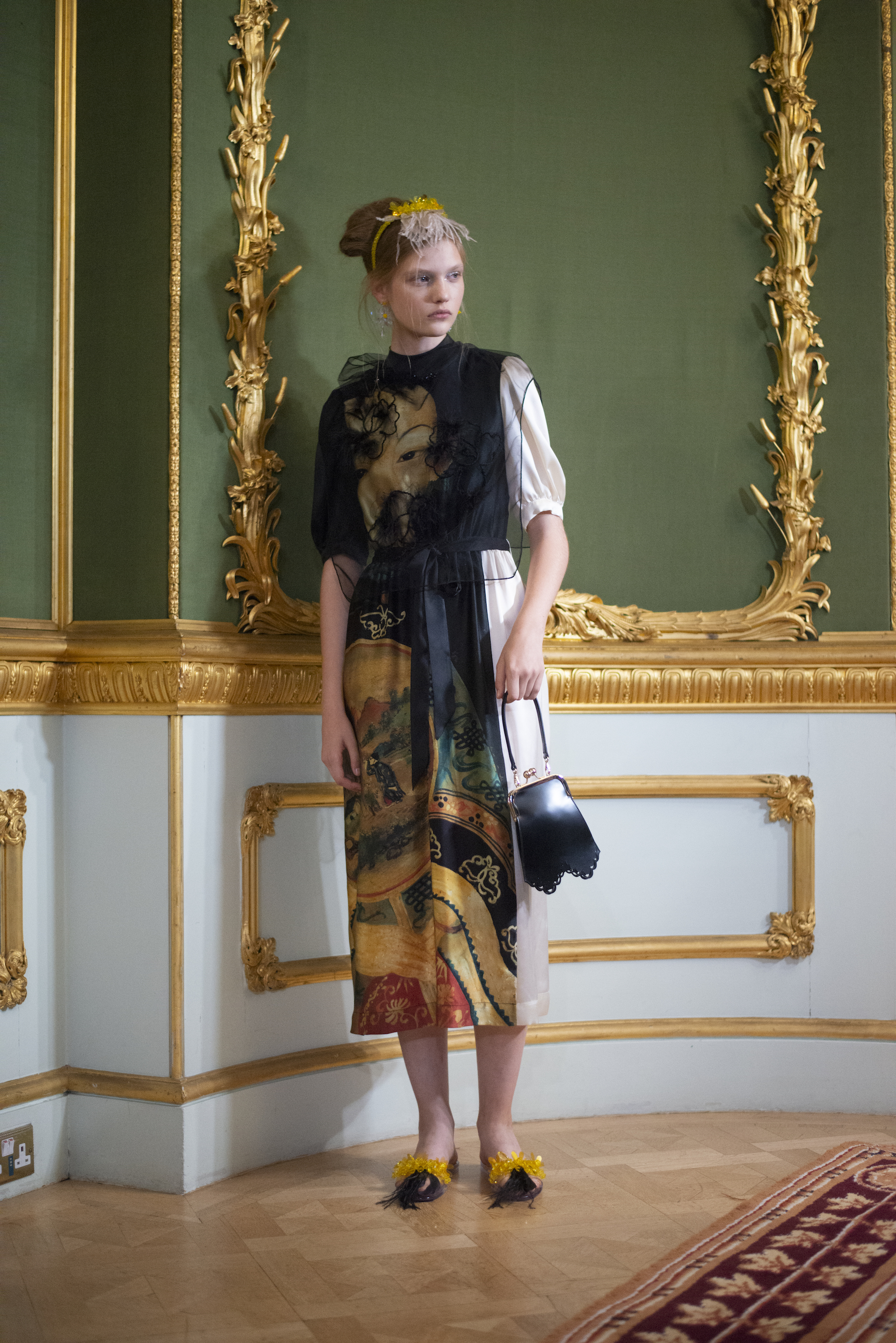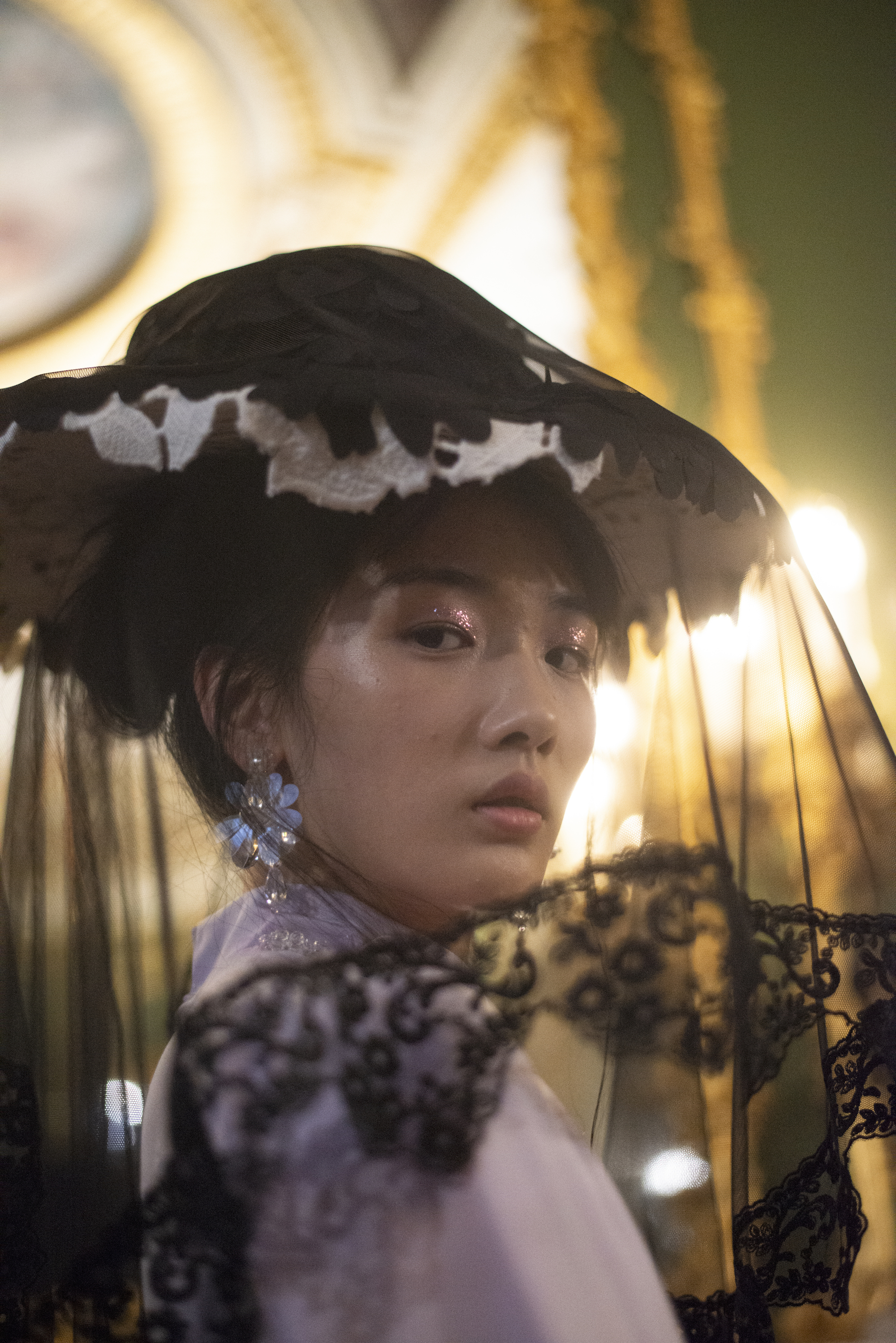 This article originally appeared on i-D UK.