Photography Oliver Hadlee Pearch
the designer reimagining americana in the trump-era
In reaction to the unfolding Trump nightmare, Matthew Adams Dolan presents his version of the American Dream for the brand's inaugural campaign. It's a MAD USA world.
|
09 February 2018, 9:41pm
Photography Oliver Hadlee Pearch
As stories are whistle-blown, fake news consumed and threats tweeted, American designers have begun to question what it means to be American today in light of Donald Trump's White House. One of the most optimistic responses came from Matthew Adams Dolan in his first catwalk show during NYFW who used his spring/summer 18 collection to remind us of the identity, energy and personality of 80s NYC street culture and the ubiquity of Ivy League prep. Ultimately, the Massachusetts-born, New York-based designer meditated on the changing idea of what it means to be American now. His answer incorporated and subverted traditional preppy sartorial signifiers before reimagining them as a modern American wardrobe for an inclusive and celebratory generation. There are no walls or closed borders in the MAD USA.
"I was really looking at this idea of an American identity, and the idea of the American brand which is so deeply connected with concepts of lifestyle and aspiration that offer a chance at a dream or fantasy," Matthew Adams Dolan explains over email, typing with one hand and sewing a skirt ahead of his autumn/winter 18 show with the other. So what does the American dream mean now? "It is this idea of self determination, the promise of success and prosperity that is at the core of the American dream," Dolan adds. "In times of such a turbulent political climate, with leadership that is constantly threatening the very values upon which this idea is built, I was really drawn to the ideas of re-empowerment, identity and community that are so prominent in the Lo-Life moment.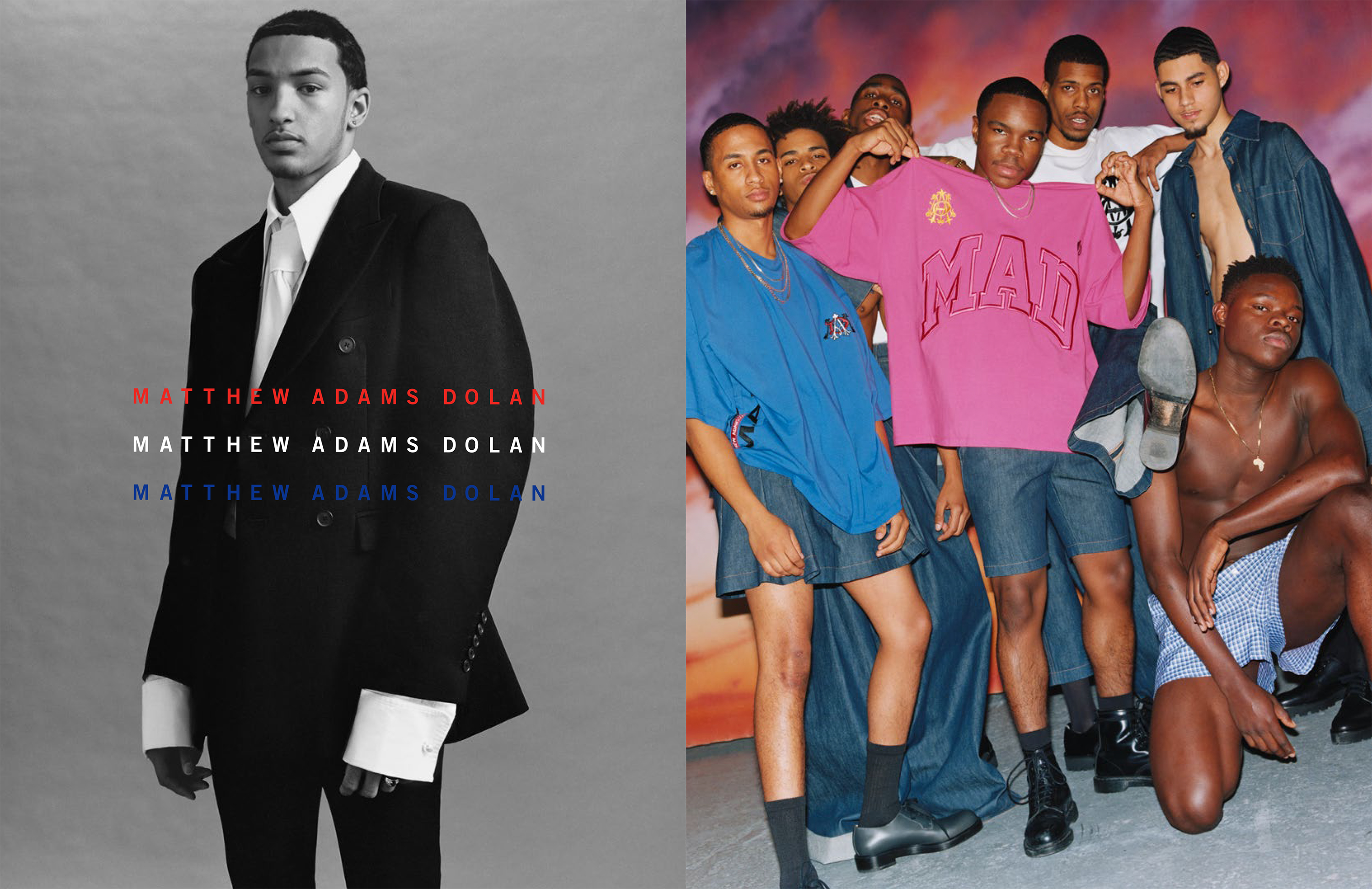 After the season marked his catwalk debut, the time was right to launch his first campaign as it allowed him to share his version of Americana using a mix of models and streetcast faces that evoke this time in NYC. "Building a brand is so much about creating a recognisable visual language that exists beyond a show, or even the clothes themselves, it's a chance to really define a world," he explains. Art directed by man-of-the-moment Christopher Simmonds, photographed by regular i-D collaborator Oliver Hadlee Pearch and styled by Carlos Nazario, the campaign and accompanying zine document this idea of a more inclusive American dream, one irrespective of race, class, or cultural elitism. "We wanted to create a world that reflected these beliefs, this idea of community and something that really felt connected to New York. It was amazing to work as part of such an inspiring team who were all able to approach the project from different viewpoints, how they saw New York and seeing how the interpreted the identity of the brand and the response they got out of the kids on the shoot, these beautiful images of them having fun together which I think is such an important part of fashion."
This article originally appeared on i-D UK.