Photography Mitchell Sams
fendi played its joker card as it kept it in the family
Exploring its own duality, the Rome-born house celebrated saints and sinners, friends and family, monogram mania, skort shorts and King Karl as the joker in the pack.
Photography Mitchell Sams
Who?
As James Anderson reminded us in our everything you ever wanted to know about Fendi feature, the Rome-born luxury house is "first and foremost about family". After its beginnings as a leather goods store and fur workshop by Adele and Edoardo Fendi, each of their five daughters pushed the family-business forward, most notably in the decision to hire a young German designer named Karl Lagerfeld to join them in 1965. Today, with Karl now a king and accompanied by Silvia Venturini Fendi (the granddaughter of the founders), it's one of the major Italian luxury fashion houses. In recent seasons, the men's line has harnessed the power and energy of creative collaborations. After fun and fruitful creative coming togethers with UK-born artists in Sue Tilley, John Booth and @hey_reilly, Fendi looked closer to home for its latest collaboration. Step forward Nico Vascellari -- partner of jeweller Delfina Delettrez and son-in-law of Silvia Venturini -- as its artist-in-residence for spring/summer 19.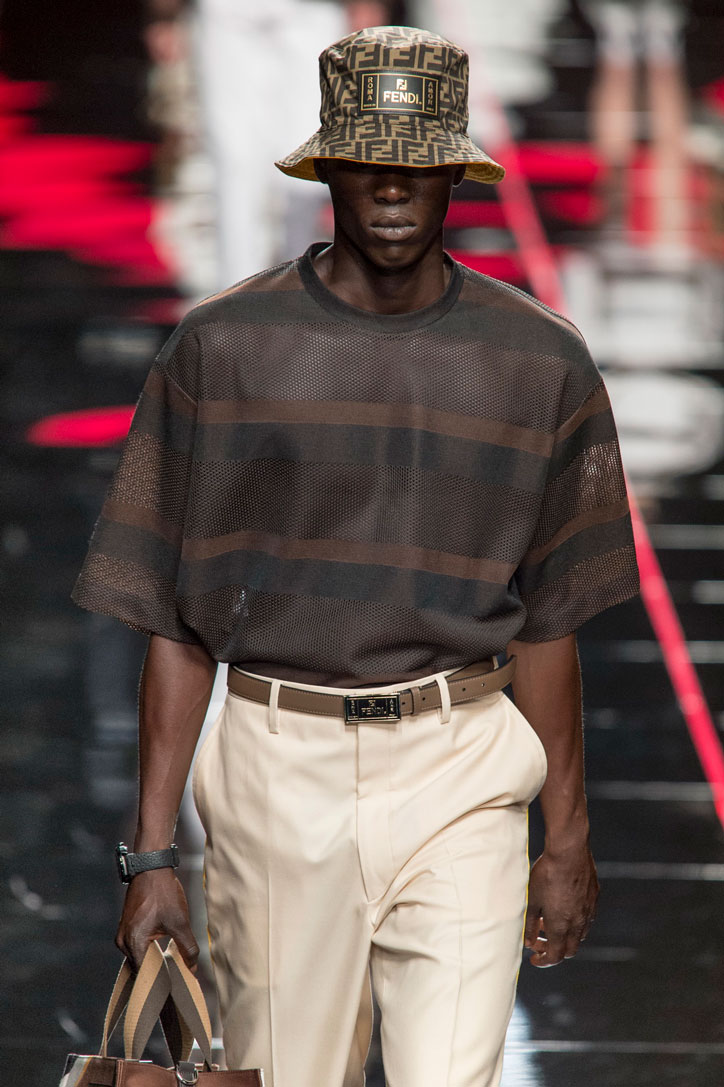 "For collaborations, you can either start with family or you can work with people who become family," Silvia Venturini Fendi explained backstage. "This time last year we were Instagram friends with @hey_reilly, now we're very close." After first working with the Glasgow-born graphic and new media collagist for its monogram-mad autumn/winter 18 men's show, the Rome-born luxury house opted to use its most striking elements across its ready-to-wear womenswear and accessories lines too. So, buoyed by this closeness, Fendi looked to the creative talent in its own family and the Rome-based sculptor and performance artist became its fourth guest artist. "I've been fascinated with Nico's work and personality because I see two sides to him," she teased. "When he's working, he's a demon, then when he's with his children he's so tender and calm. I was interested in these opposing forces, this duality." This duality is practically a house code. FF, after all, is double. "From FF to our mixing of contrasting elements and working with Karl too, there's a duality to Fendi. So we reflected on this and we decided to work together while he was working on his current exhibition, Revenge, at the Museo Maxi in Rome."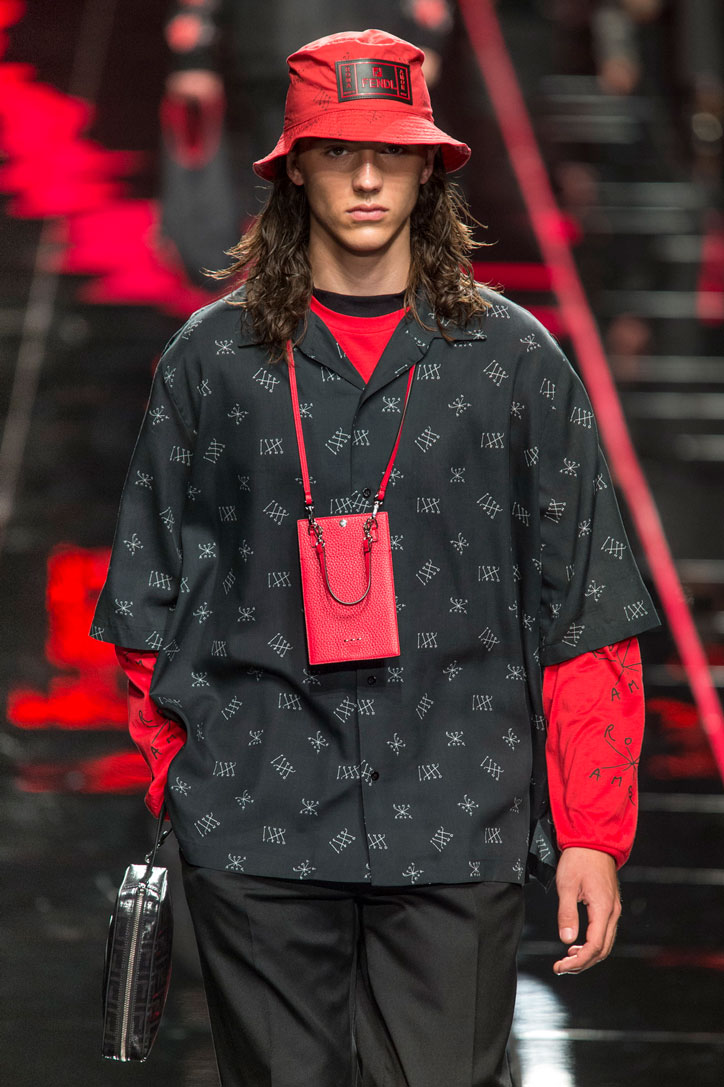 What?
From the graphic wordplay of FENDI/FIEND and ROMA/AMOR to FF-tongued snakes, clawed frogs and tiny demons, Vascellari's obsession with playful anagrams and his mythical take on the natural world took various fun and fantastical forms across the collection. Even the show set featured a blackout chamber, where models entered a trompe-l'œil Perspex cave featuring the artist's doodles in neon. This was a collaboration and collection that delighted in the duality of light and dark, good and evil, real and imagined. "Using an easy wardrobe of streamlined staples, we were able to play with the idea of double and opposites," Fendi explained.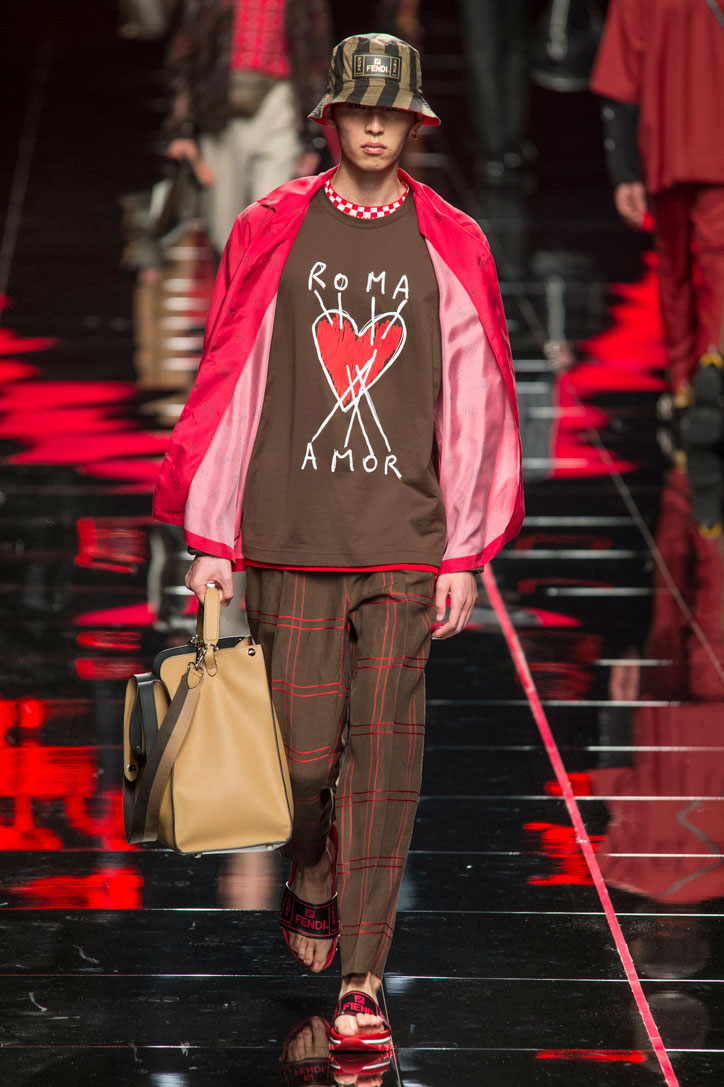 From surprising fabrications to technical treatments, these were garments that were deceiving. What looked like leather was paper, what was leather felt like paper. "Normally the FF logo garments are in all-leather but we wanted something light and organic," she explained. "If you don't know, you wouldn't notice it."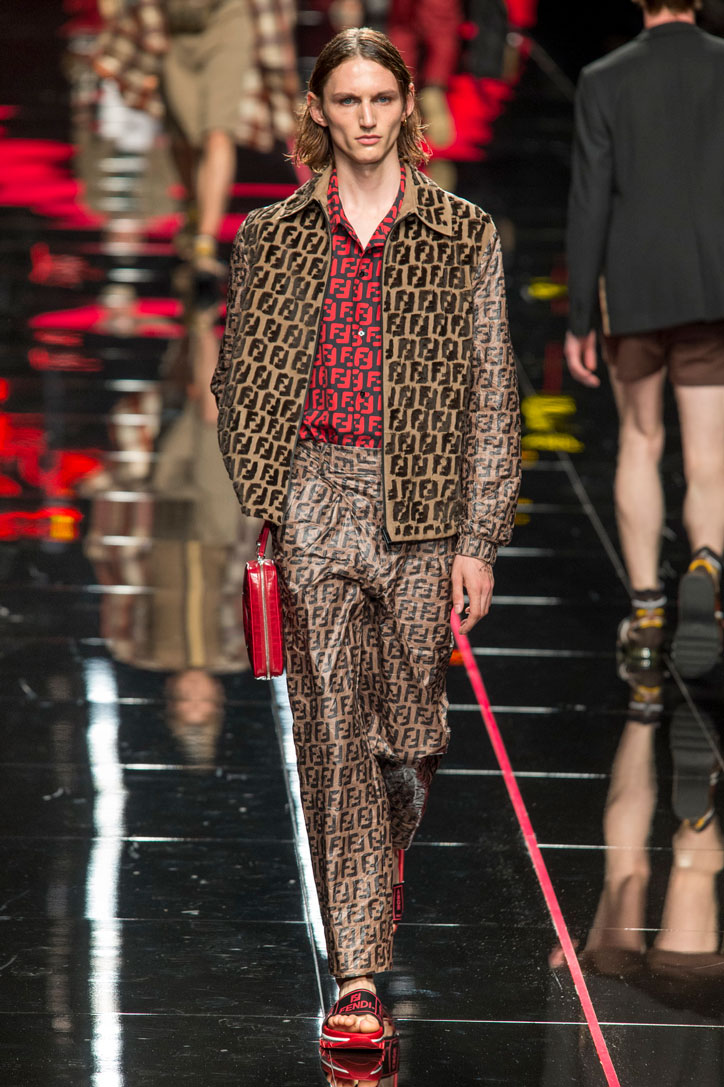 Wow?
Following the shortest of short shorts displayed in Miuccia Prada's sexual revolution 2.0, Fendi brought us the skort short. Part skort (skirt and short combined) and part short short. Guys, get ready to bare your legs like never before next spring/summer. Then there was the JoKarl of the Vascellari-designed playing cards deck. These custom cards featured the Fendi monster as king, Silvia Venturini Fendi as queen, and King Karl Lagerfeld as the joker. Genius. Does Karl approve? "Of course he does, he loves it."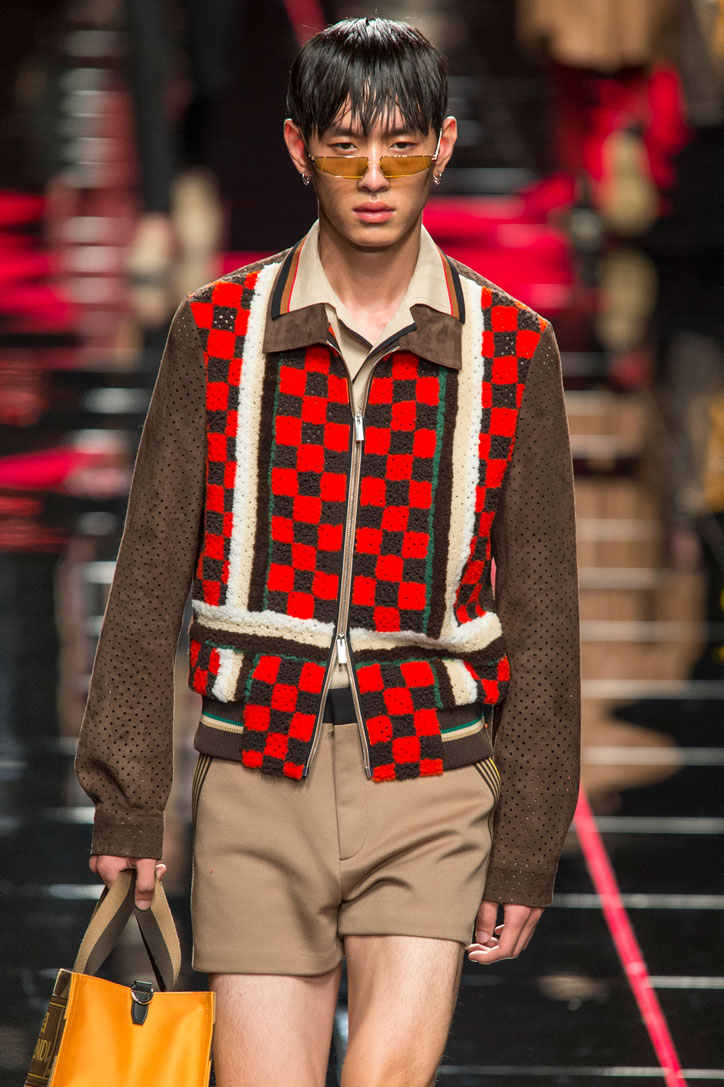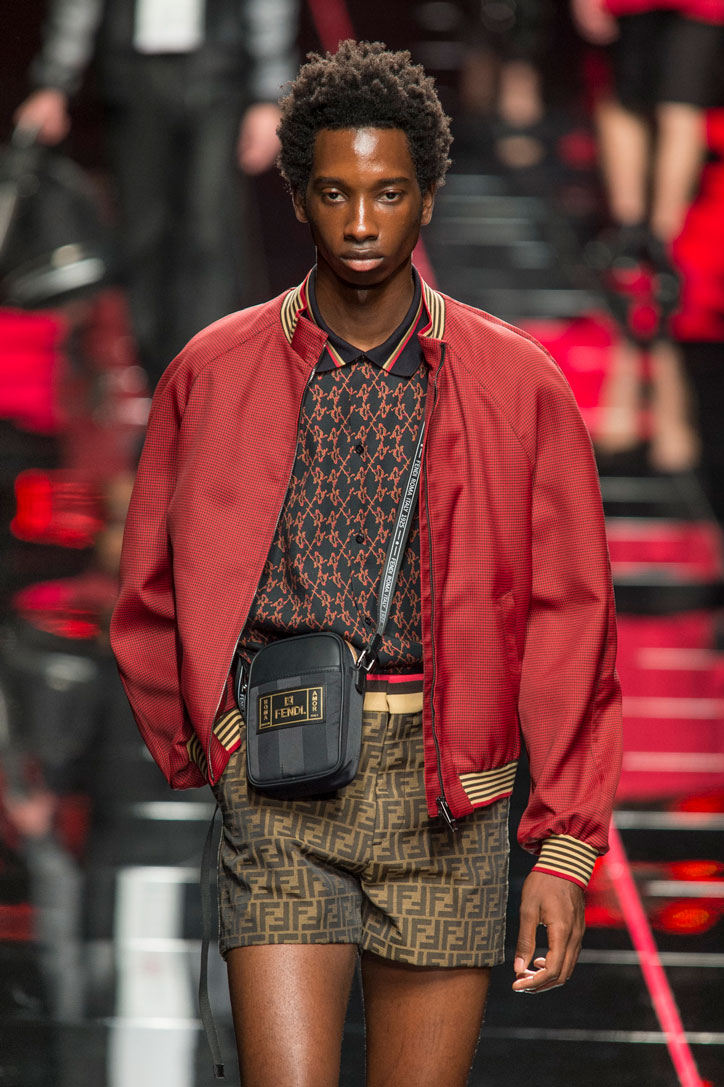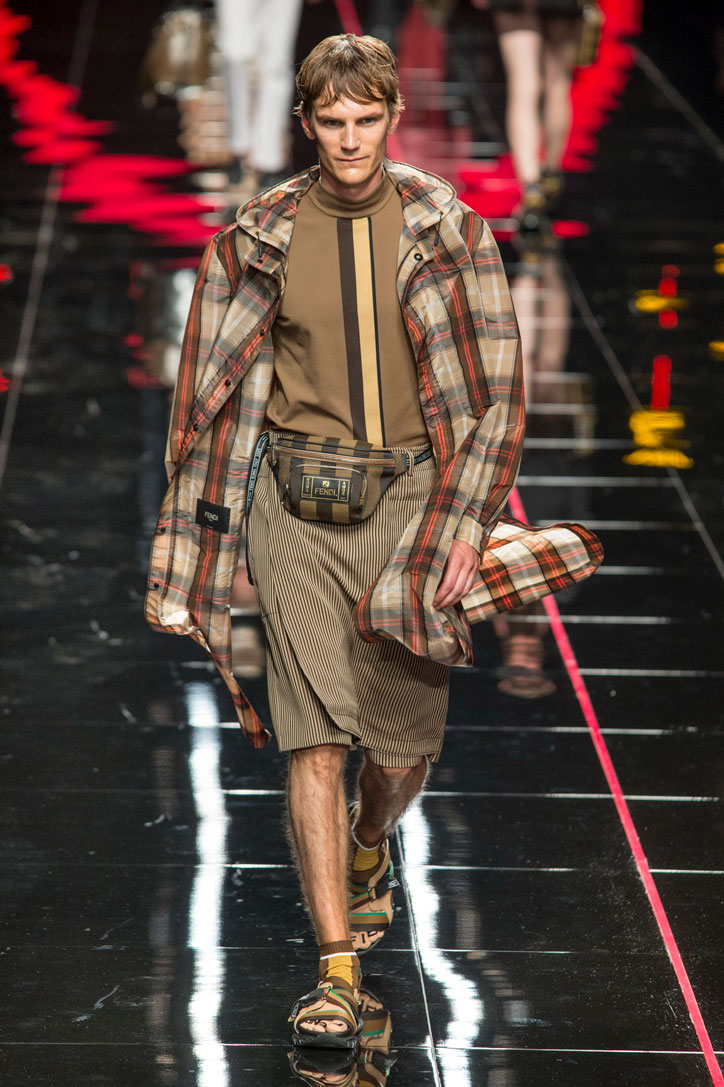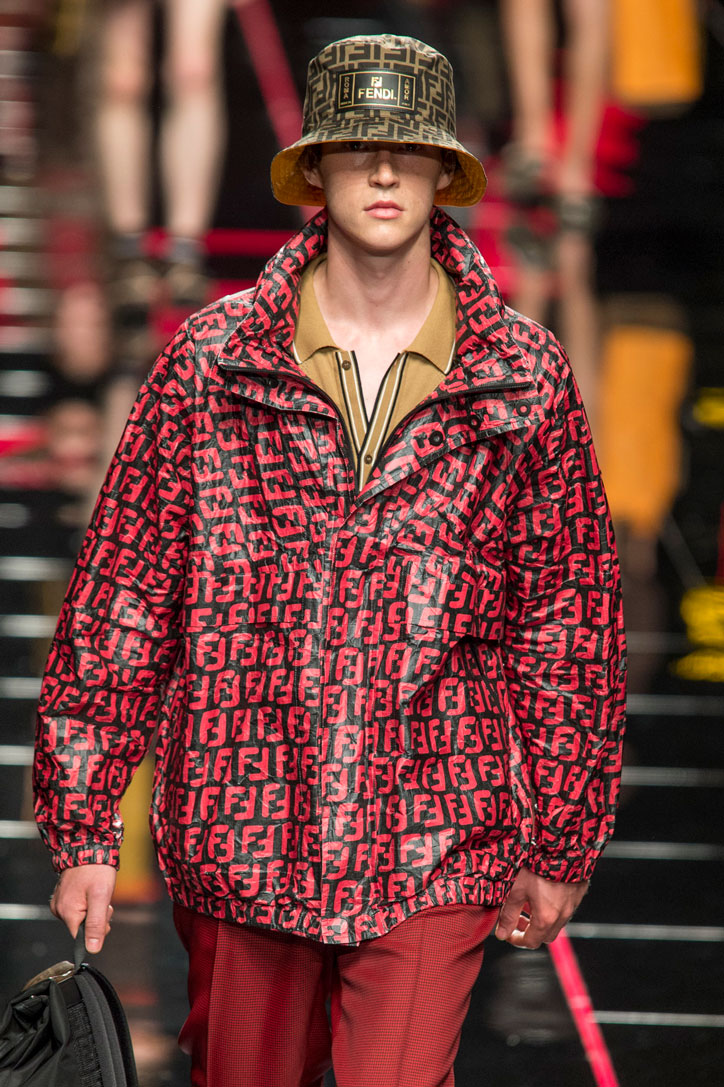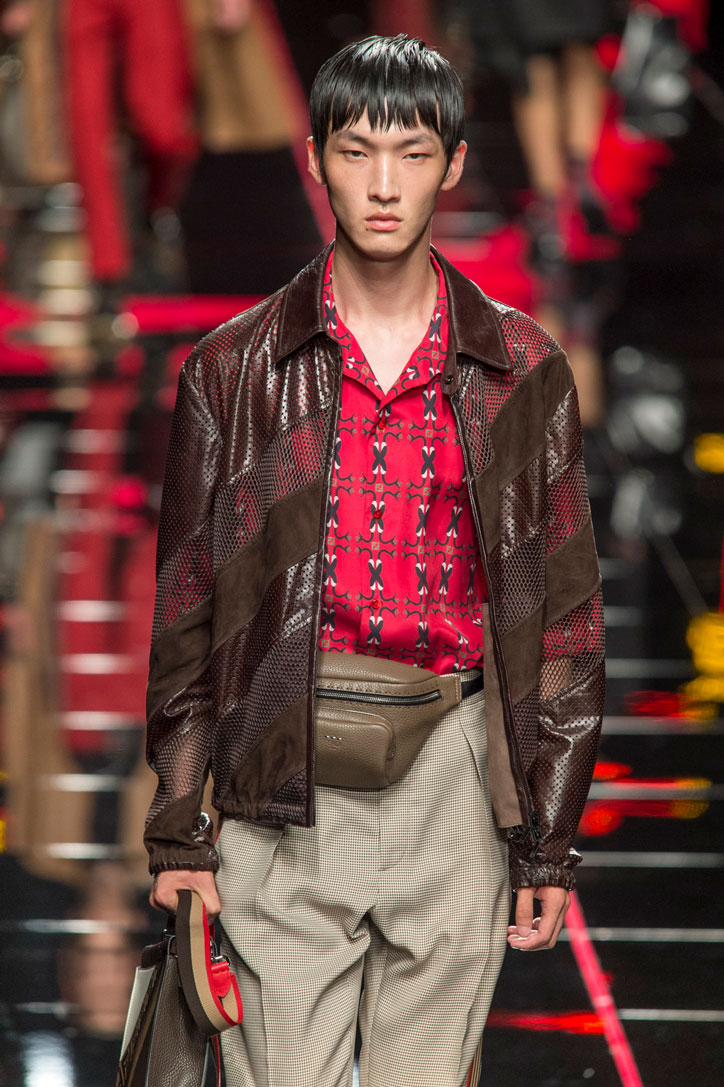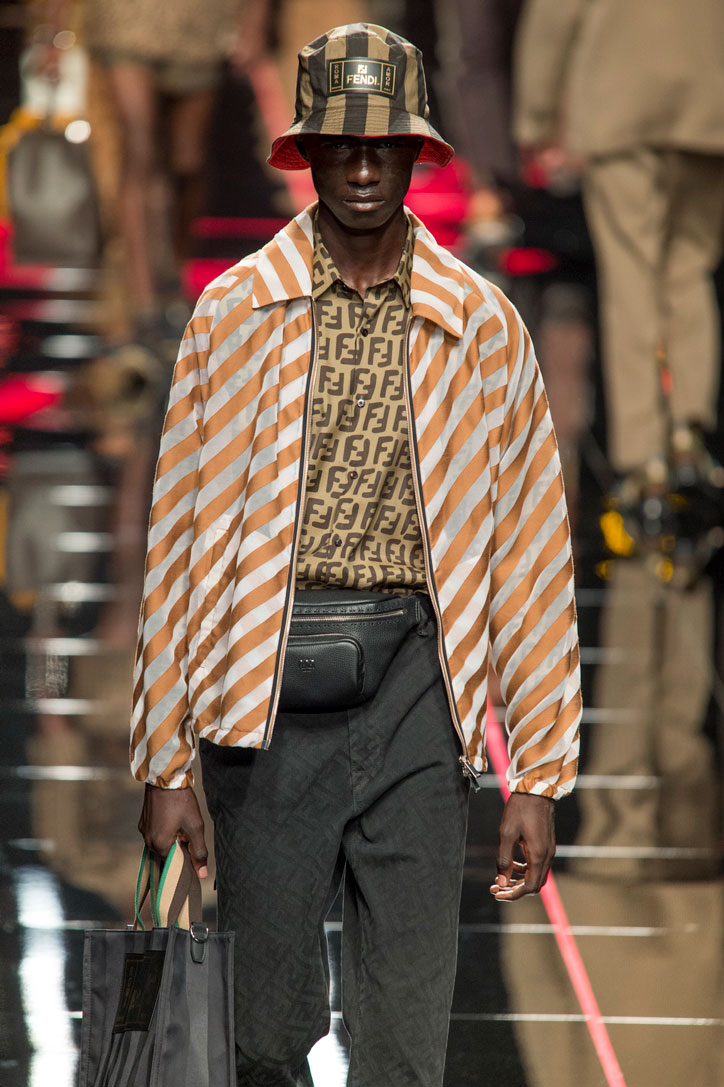 Credits
---
Photography Mitchell Sams
This article originally appeared on i-D UK.