meet the students demanding action at new york's climate strike
On March 15, students around the world skipped school to have their voices heard on climate change. Here's what young New Yorkers had to say.
Photo by Pierre Crosby.
On Friday afternoon, students across New York City joined thousands of their peers in a global climate strike. Children and teens from Seoul to San Francisco made history in the massive walkout, when they cut class and took to the streets to demand politicians take climate action before it's too late. Young New Yorkers gathered at spaces around Manhattan from City Hall to Columbus Circle, where the sea of protesters hoisted their signs into the air and chanted rally cries like "We vote next" and "Climate change is not a lie, we won't let our planet die" before marching further uptown.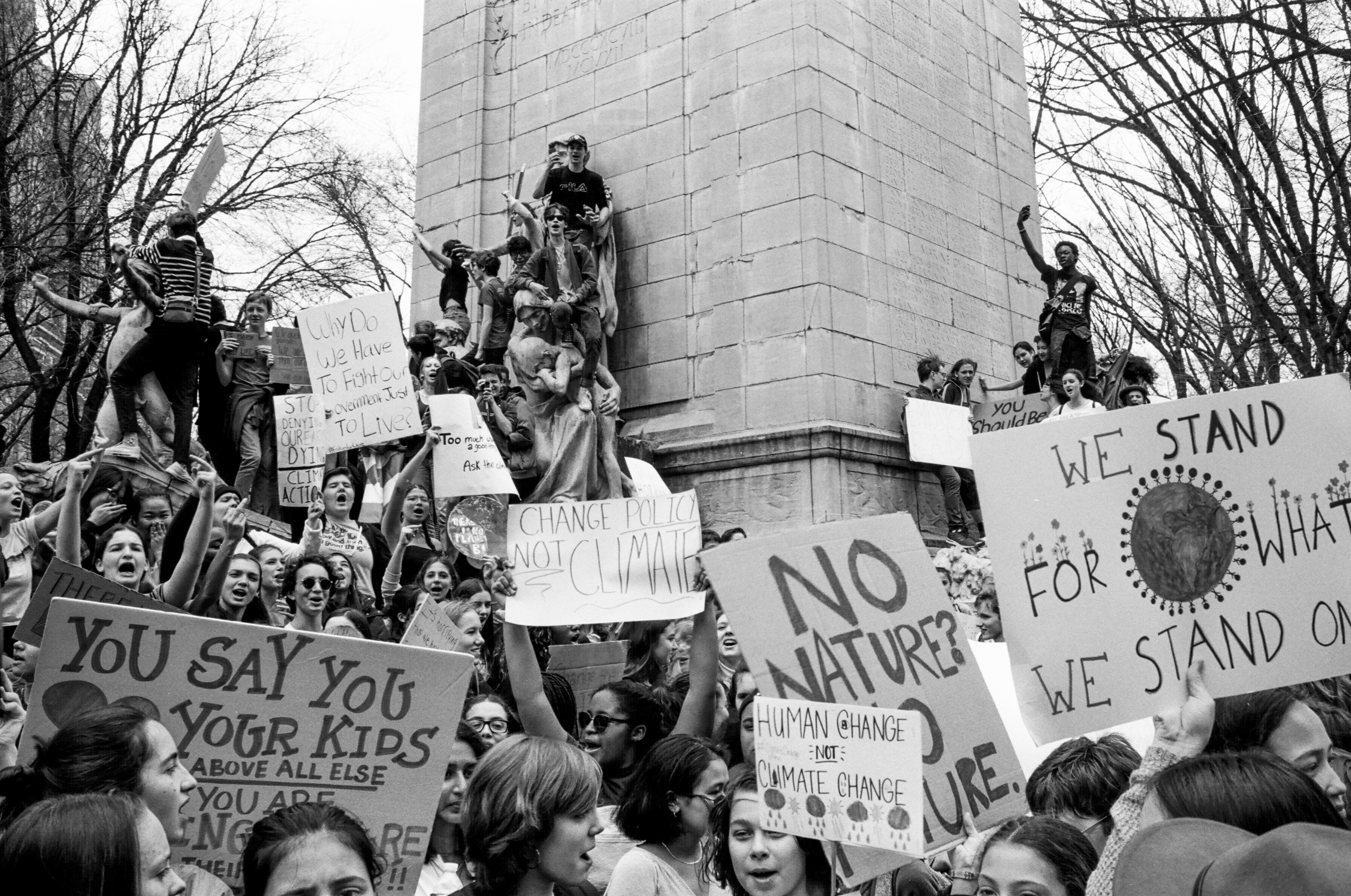 This worldwide youth climate strike was inspired by 16-year-old activist Greta Thunberg, who started a one-woman protest outside of the Swedish parliament building last year. Like her, many of these students aren't even old enough to vote, but they are worried about the future of the planet they will inherit. Now, they are willing to do what it takes to save it. i-D went to the strike in New York City to see what these young people had to say about the climate crisis.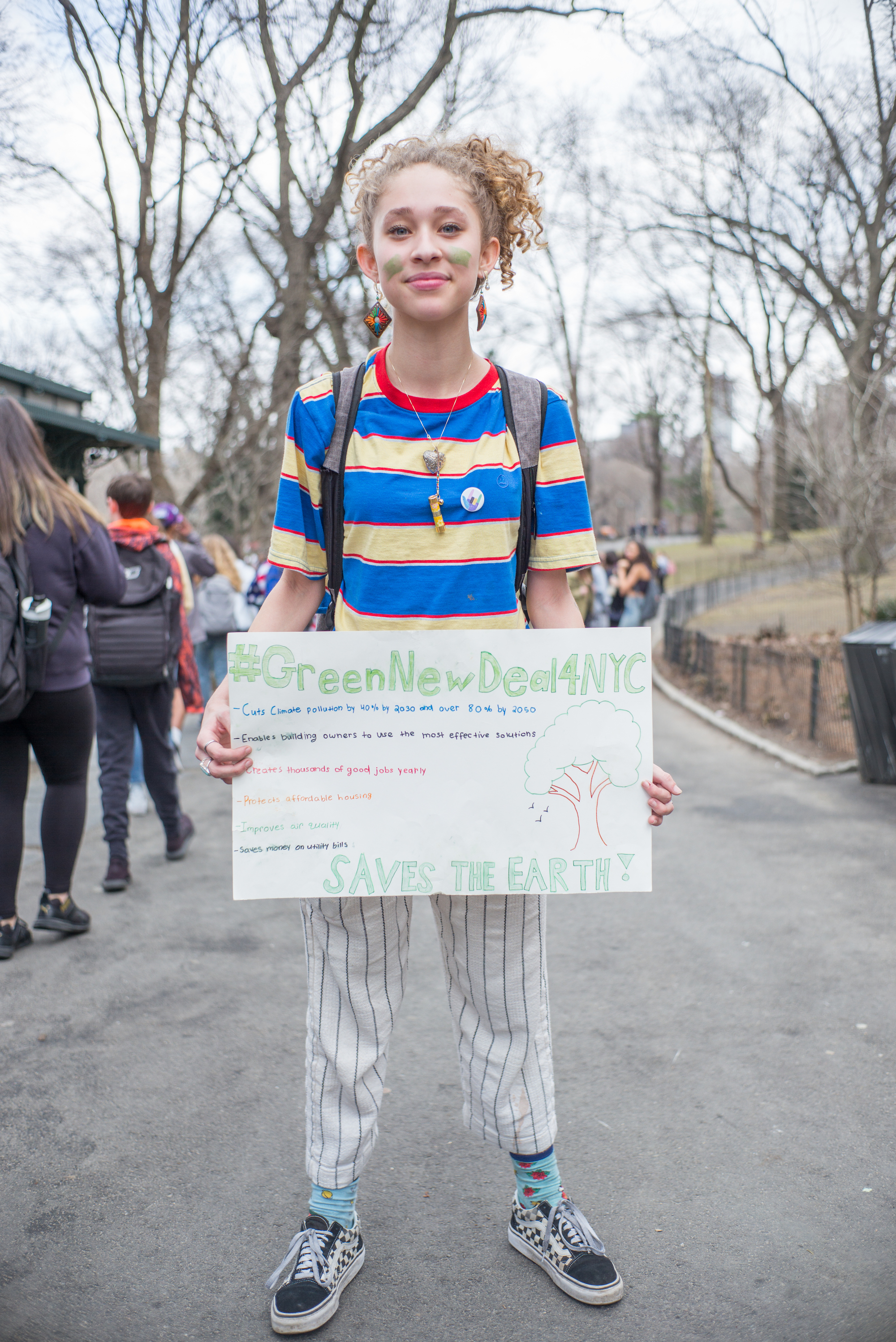 Lana Rockwell, 15
Why are you out here today?
I am here today to try and change the minds of politicians and have our voices heard. I think as kids and teens, when we come in masses we make a lot of noise. If we use that noise for the greater good it will really push us forward. It is our future. Our planet is dying and along with it we are too.
How does it feel to be out here with all these other young people?
It is so liberating. You feel very small sometimes, especially when you are 15 and you're in New York City. It doesn't feel very possible to make a difference, but we have seen time and time again that these things do make a difference. It is really exciting.
What do you hope will come out of the climate strike?
I hope this will change the views of some politicians. I hope they see that there is a change coming — no matter what.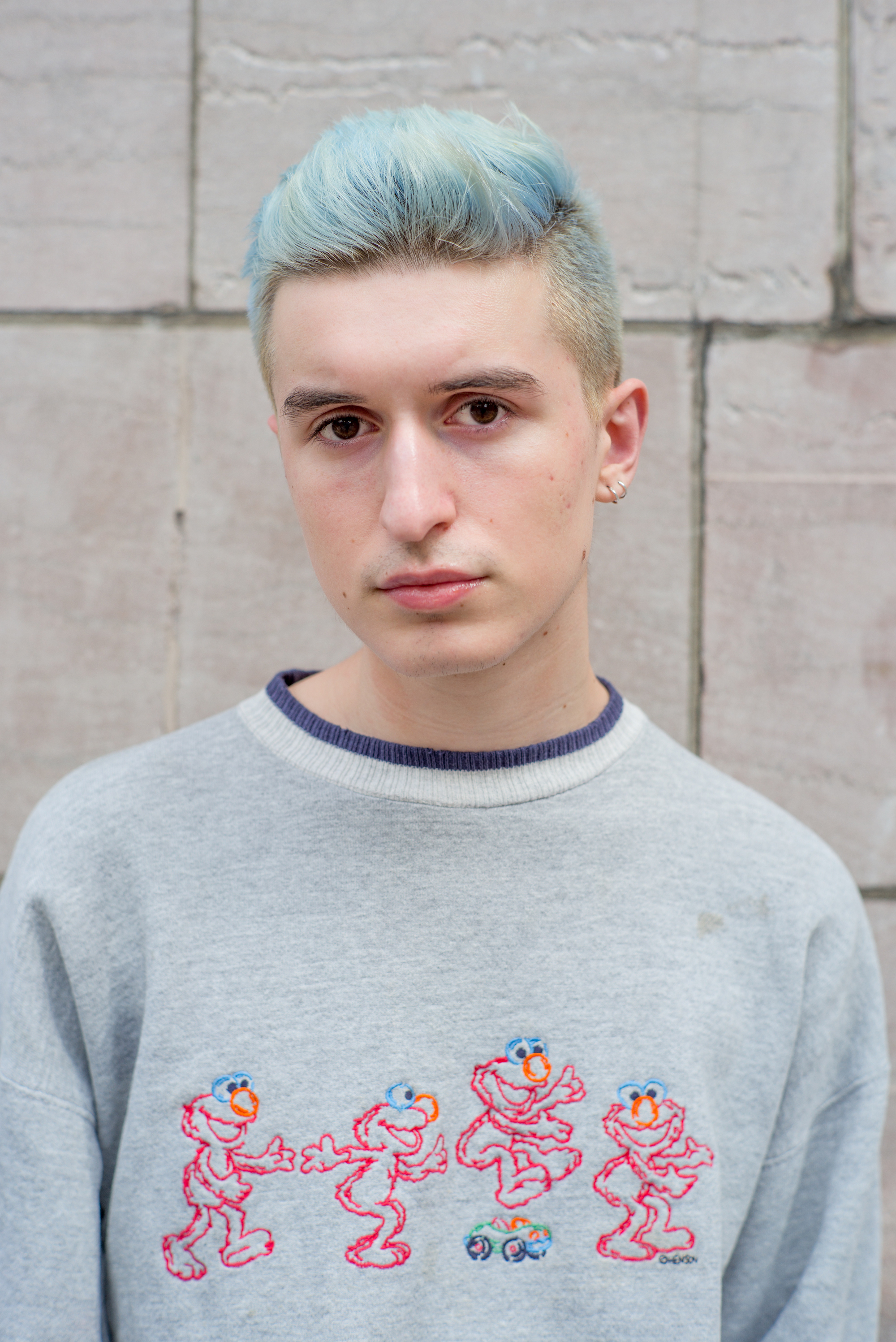 Frank Cooney, 17
Why did you want to join the climate strike?
Even though coming out here is not going to save the planet, it is going to raise awareness and help people see that we are serious about climate change. We're all in this together, and I feel like if we want to make a change for the good and help our planet we need to work together.
Was your school supportive of students walking out?
They didn't even say anything about it, we left, but there are only like eight of us. For the march for gun control, we all left and went to Washington Square Park, I wish there was the same energy behind this because this is something that is affecting us as well.
What do you hope people take away from this global protest?
I hope that people take climate change more seriously. I hope more people can join together and come to more events like this, so we can all be on board to make the world a cleaner place and a better place.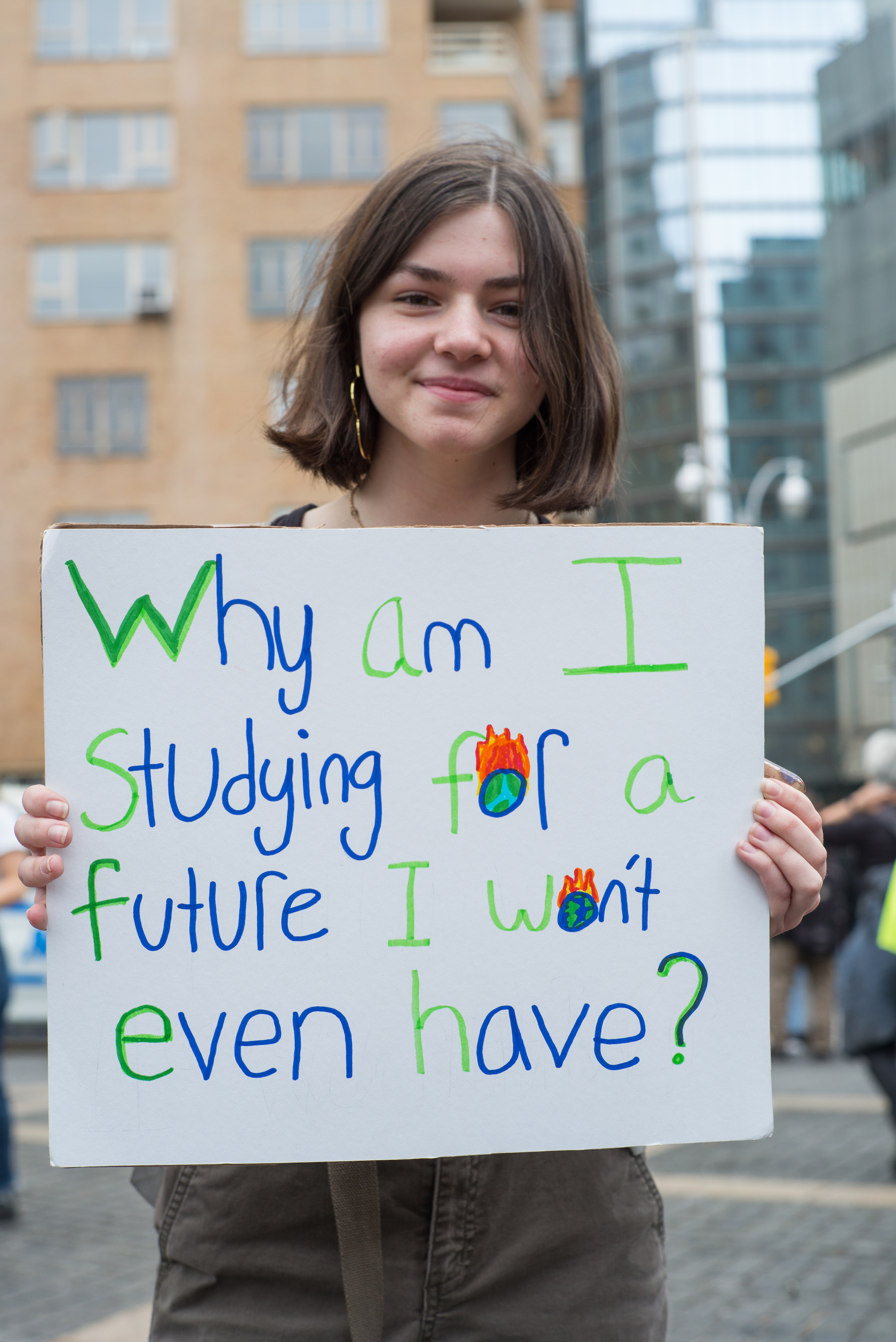 Bridget Villamarin, 14
Why did you want to join the Climate Strike?
I feel like the older generations aren't doing what they are supposed to do to help our climate and our world and it is our responsibility now.
Why do you feel it is important that people are protesting today?
We are the future and we are the people who are going to be voting. It is important we know about the issues that are going on, so we can help fix them.
Do you feel pressure as a young person to save the planet?
It is kind of scary. No one else is doing anything, we have to do it. All the pressure has been put on us, but it is also empowering because I think we can do it if we come together and unite.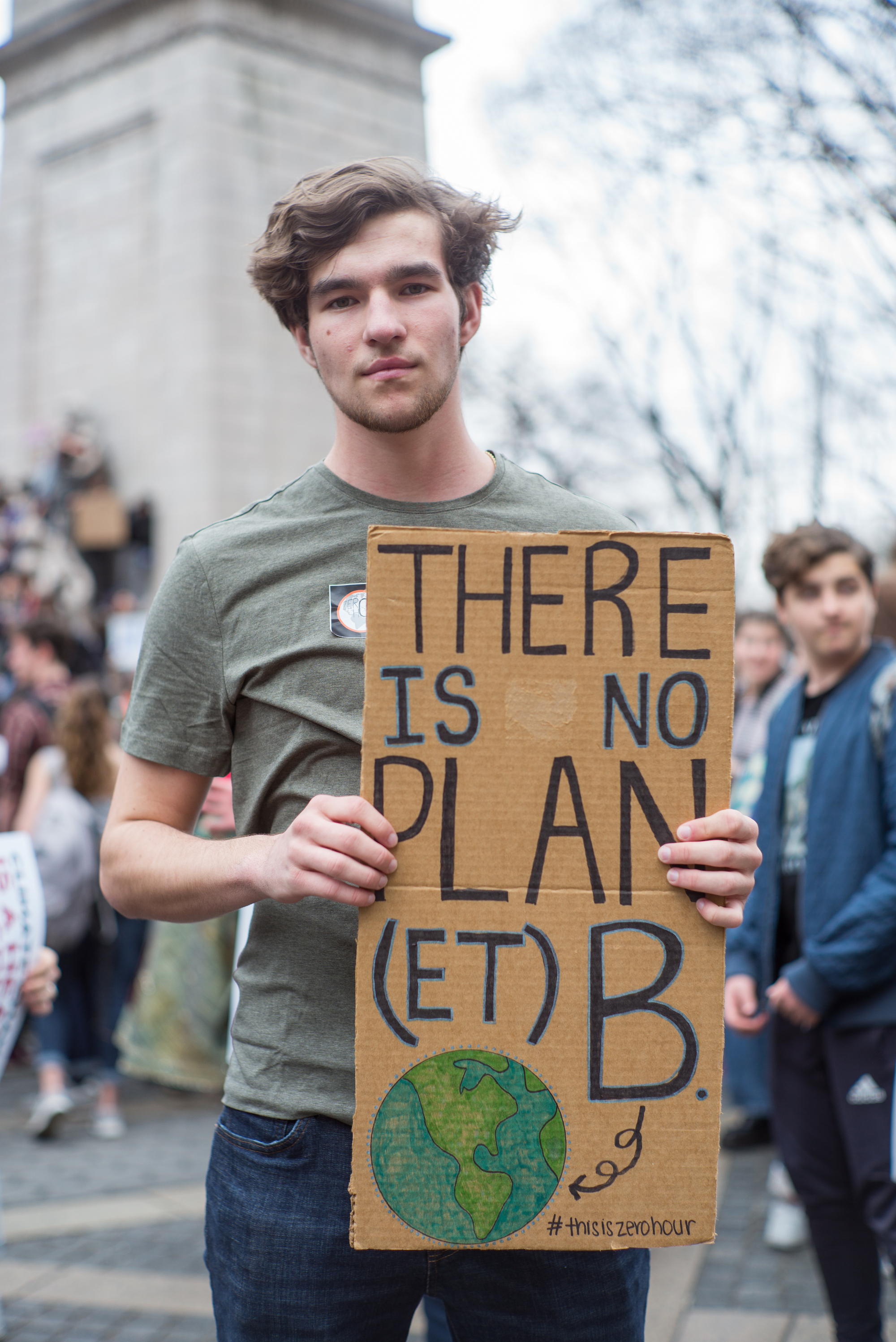 Eli Cenlin, 17
Why are you protesting today?
We are out here today because this generation is the future of the world. We are advocating because this has been going on for far too long without change happening. We are here to show the governments of the world that we are students, we are going to inherit this world, and we need something to start changing.
What changes do you want to see?
What I hope comes out of this is that the government wakes up. Our voices can no longer go unheard. We are going to be the first and last generation to do something about climate change, so we need to see governments work towards the Green New Deal or any legislation that starts to take away our carbon emissions.
How does it feel to be a part of a global movement to fight climate change?
Last year, when I saw the IPCC report come out from the United Nations, I was scared. We have 12 years, now 11 that is 2019, and that is not a lot of time. Being out here and seeing this collective voice, having over 100 countries worldwide, getting out and showing them that our generation is going to step-up is really inspiring.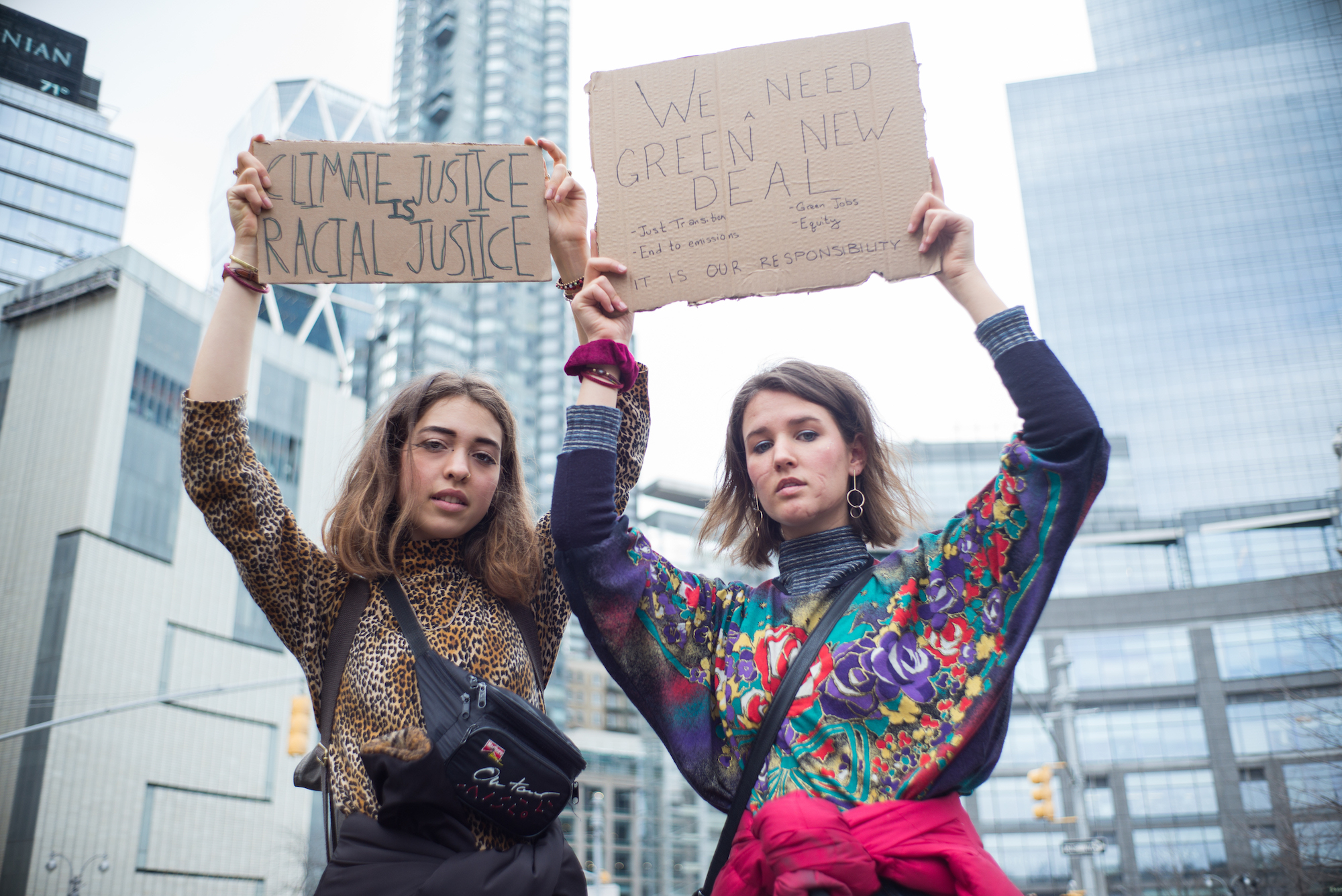 Priszilla Medrano, 21
Why are you out here today?
I was already at the last climate strike in Switzerland, where many people in Europe went on strike. When we heard there was one on the 15th, we knew we were going to be in New York, so we felt like we had to come.
How did you first get involved in climate justice?
It all started because I love cooking. From food, I got more into [the environment] and it is so much more than what we eat, it is about how we live, what we wear, how we treat our planet, but also other people. When I started to get into it, I realized there is no end. There are so many things that need to be changed, basically the whole system.
How does it feel to see young people uniting around the world?
It is an incredible power. To see that people realize that we need to take action, it pushes you. It is such a great thing that all these young people are taking action. I am very proud to be a part of this generation.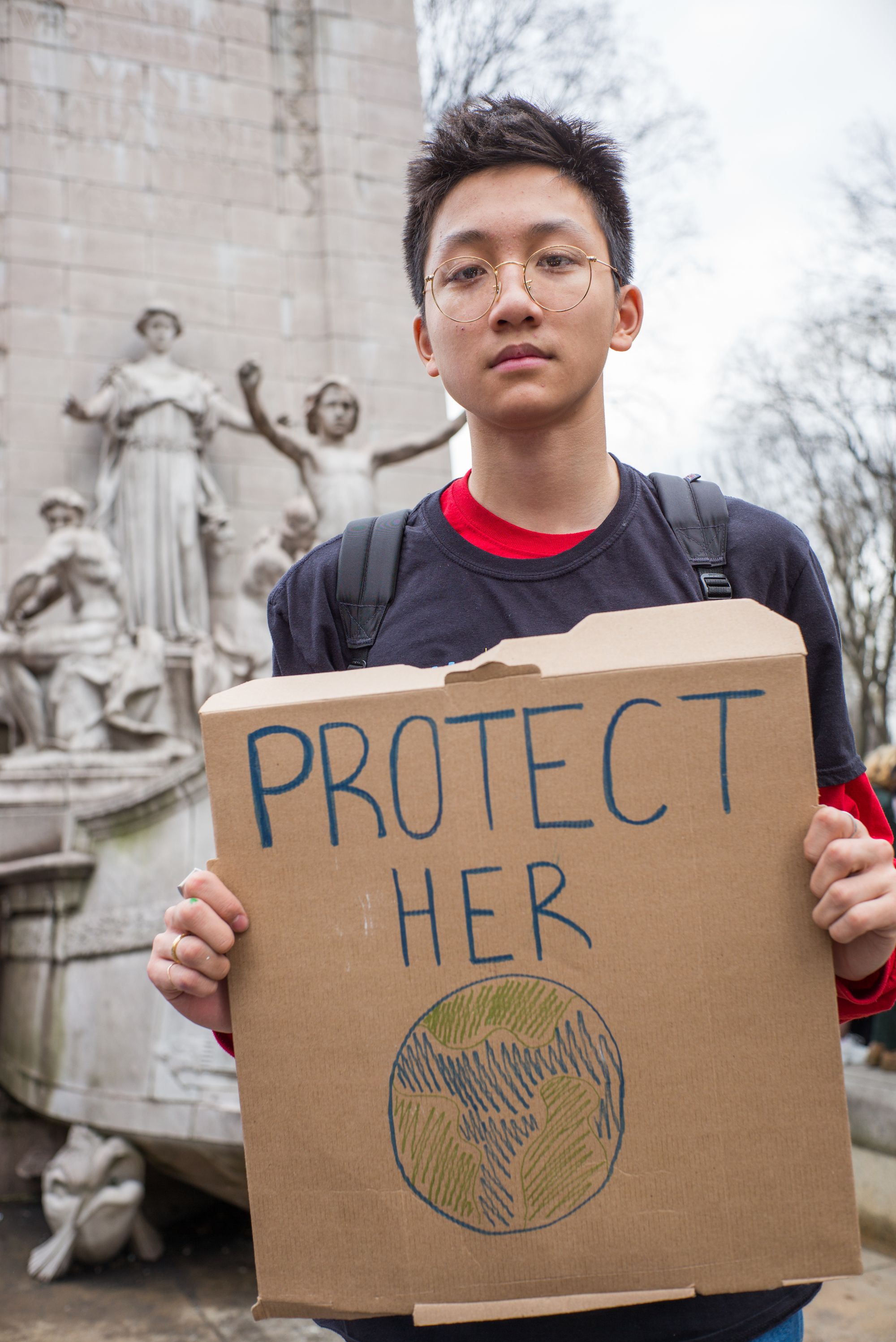 Dylan Ng, 17
Why was it important for you to join the climate strike?
I am here to protest and demand legislative action for climate change. I think half of my high school is here, probably 200 people. They were very supportive and sent an email to all the parents to let them know that there we are doing this and there is no penalization.
Do you feel pressure as a young person to save the planet?
I definitely feel pressure. The older generation left us with this world that we have to fix now. I will be turning 18 soon, so I will be able to vote for the people who will actually change stuff and demand a better earth.
What do you hope to see change?
I hope politicians will understand where we are coming from and that our Earth is dying. I want them to understand that this is a real problem that we are facing.