alex mcquire is interrogating conventional fashion tropes with raffia and taffeta
Meet the RMIT graduate navigating the absurd by experimenting with unexpected shapes, styles and fabrics.
|
01 December 2017, 7:49am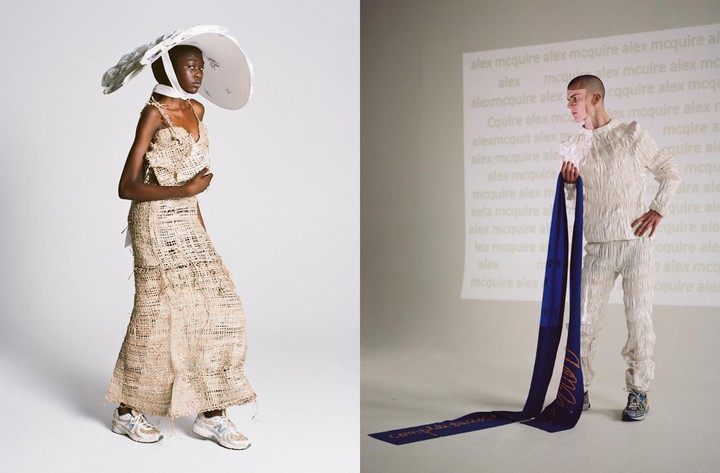 Alex McQuire is an RMIT Fashion graduate who caught our eye with her final collection and its many considered contrasts. As a young designer, Alex is navigating the new fashion landscape and the ever changing role of the institution, while questioning conventional paradigms. We were keen to speak to Alex about her work, her experience so far and what she might do once the study-induced pool of adrenaline, sweat and tears has evaporated.
Congratulations on finishing your course, how do you feel?
I'm on permanent holidays, which feels a bit confusing but so good. I'm used to being busy and now I get home from work and I don't have anything to do. By the course's fourth year, you really have to be committed enough to drive your own workload, so it's good training.
How would you describe your graduate collection?
It's hard to describe my work because I didn't set out to achieve a certain aesthetic with this collection. It progressed as I was making it and became its own thing. In it I reference a lot of different styles of clothing that aren't completely cohesive. I think of my work as kind of collectively messy because it wasn't designed to make sense as a whole. Parts, like the large floppy hat, are quite lavish and then other things are kind of sporty. I prefer to interrogate different ideas and bring them all together, in a way, with conflicting elements.
Do you think that idea of designing to a specific "theme" is becoming less relevant?
It's hard to say, but I think so. When I was making my collection I was thinking about what it was meant to be and meant to look like and then questioning how I could change that a little bit.
What's at the core of your designs? Where do your ideas tend to begin?
I begin by looking at particular styles and archetypes, like at a suit or a particular material and then I change and skew a few of the elements to produce things that aren't quite right. More broadly, I'm very interested in the personal relationship that people have with dress, how they put things together and how it makes them feel. So it's about looking at those really recognisable elements and skewing them so they become more obvious or a bit absurd.
Your raffia dress was a real highlight.
At the start of the year, the raffia dress was the first thing I started developing and then I worked on the accessories from there. I was using a weaving technique with the archetype of a formal dress and wanted to create this lavish formal outfit but in a material that isn't necessarily suited to that context. It was a really nice thing to do and very therapeutic.
Is it comfortable to wear?
It's kind of itchy.
"I begin by looking at particular styles and archetypes, then I change and skew a few of the elements to produce things that aren't quite right."
Ha. How do you think your approach will translate in a more commercial context post university? Does that even matter to you?
I'm not sure yet. I think it would still be about the same sort of process — if it is commercial, it'll just be more wearable.
There's a feeling that there was a real generosity of spirit and sense of collaboration between many of the RMIT students this year.
I think that sharing of ideas is so important and one of the greatest things about RMIT was that we were constantly discussing our work. And we all had to band together to pull off the Final Banquetpresentation. While it's not necessarily a direct collaboration, I find I get much better results if I involve my friends in and outside university.
What's next?
Ultimately I'd like to have my own practise but I think before doing that I'd like to get some more experience working for someone else, for a bigger label to see how things run on a different scale. I've already interned for a couple of labels like Pageant and Dress Up, which was really great. I'd love to intern for Balenciaga. I'm planning to get in touch with a few labels in different parts of the world and see what happens.
Good luck!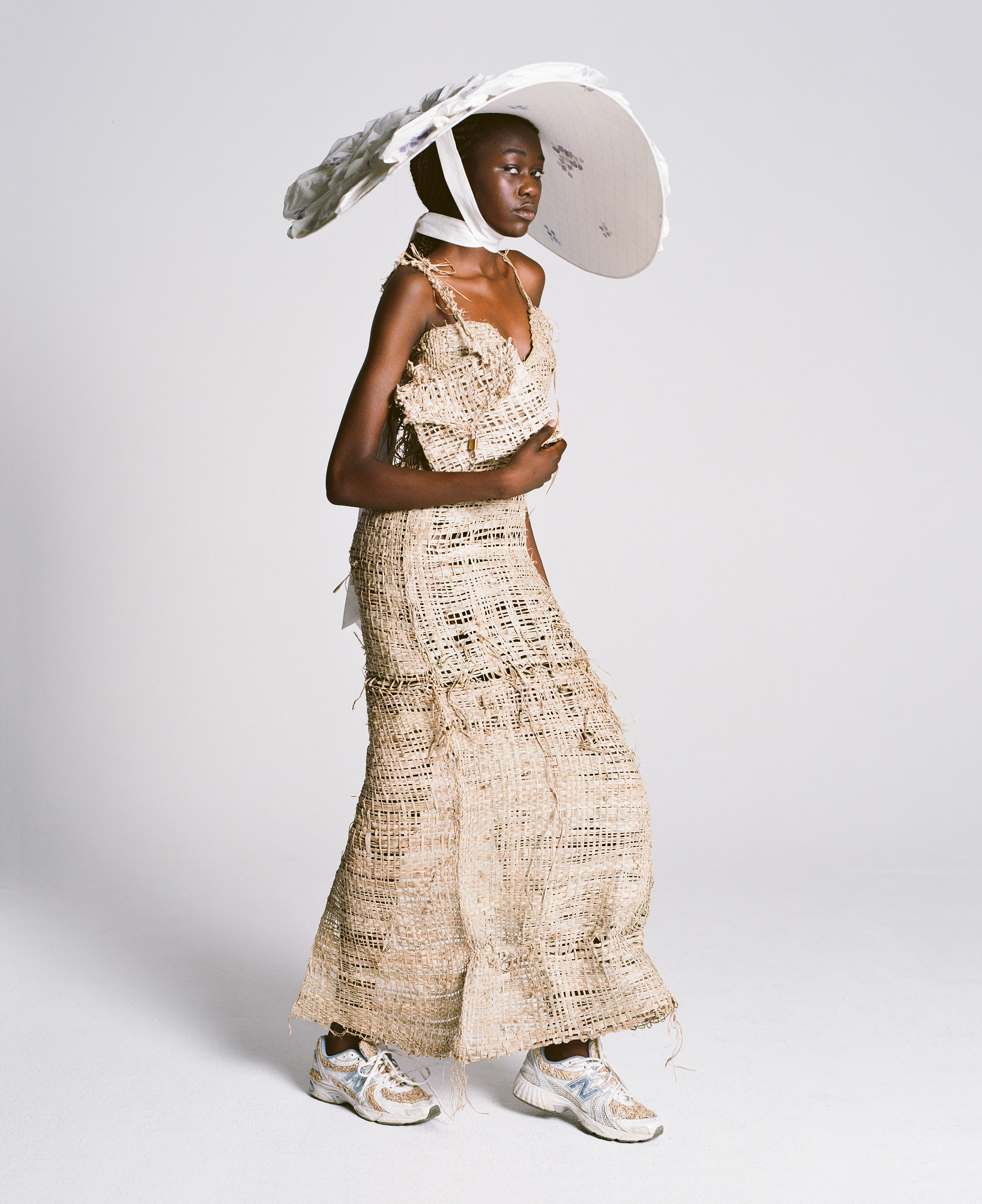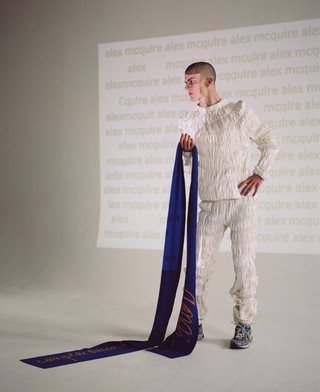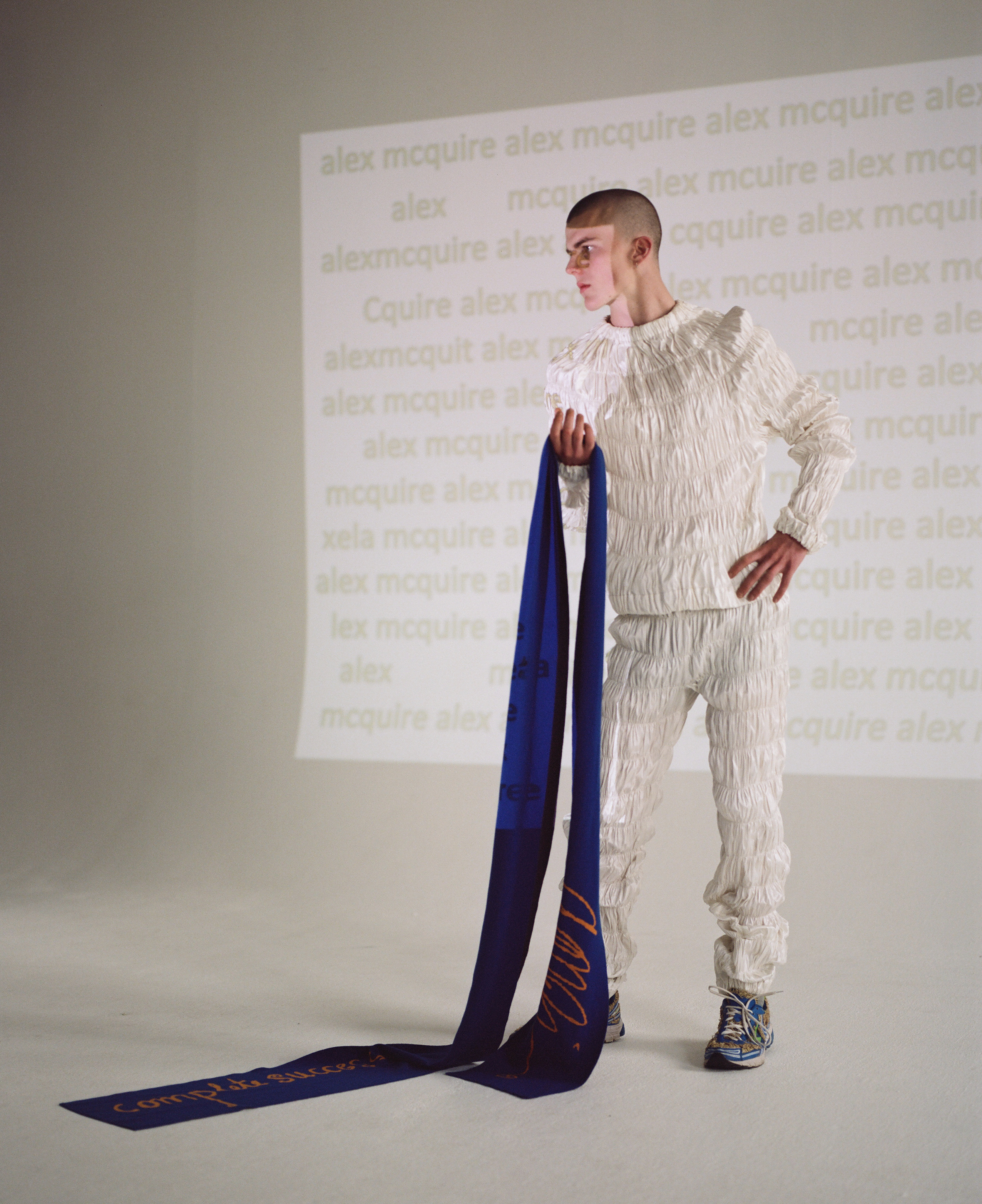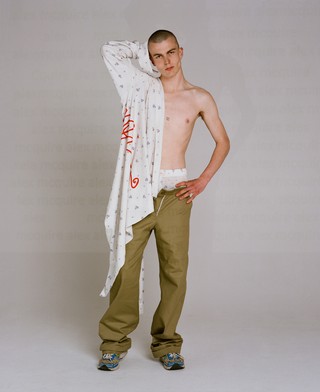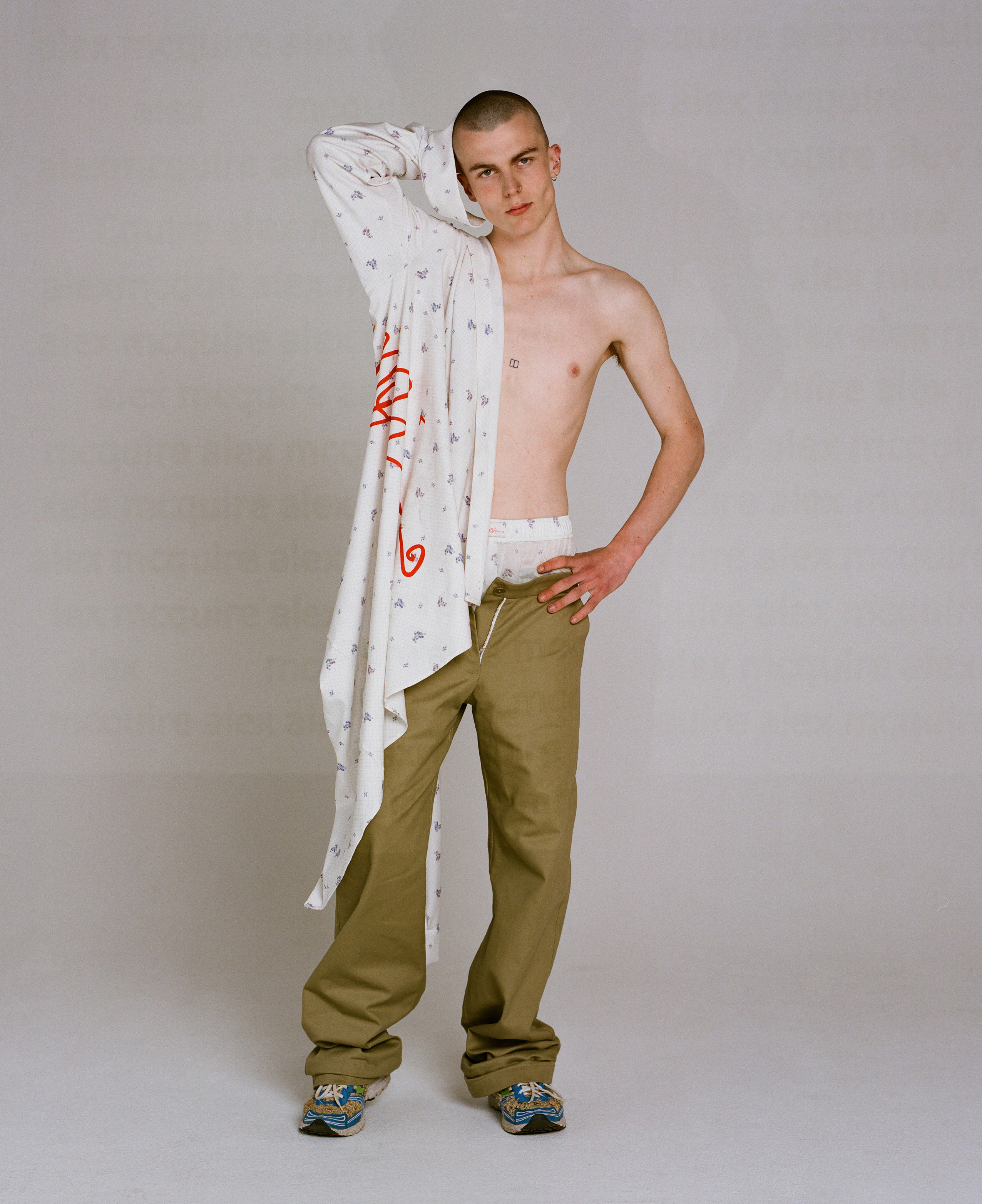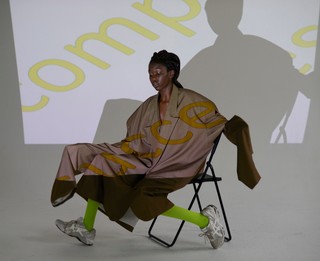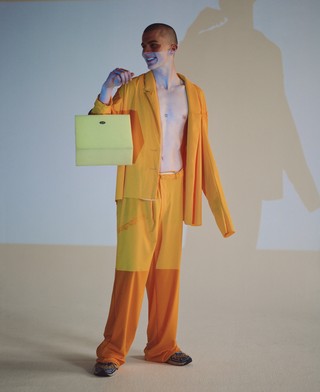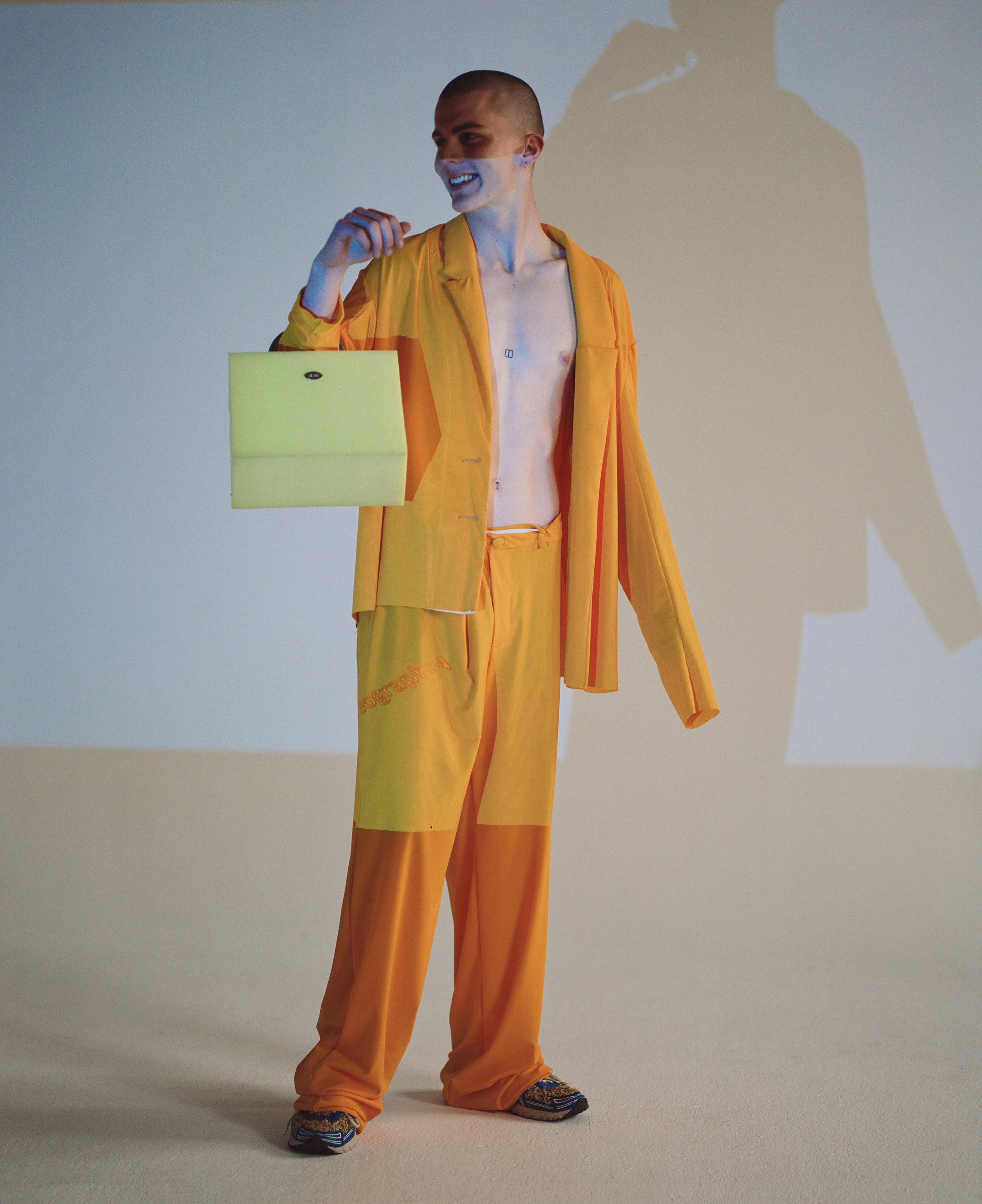 Credits
---
Photographer Jordan Drysdale
Hair and makeup Bradwyn Jones @ Union Management
Assistant Maria Gullace
Ajak A @ FRM & Ben Veen @ Chadwick