skyping my old friend DJ boring about life now he's famous
On quitting your shitty job, acquiring dedicated Instagram fans and getting revenge on your high school bullies.
|
06 February 2018, 6:40am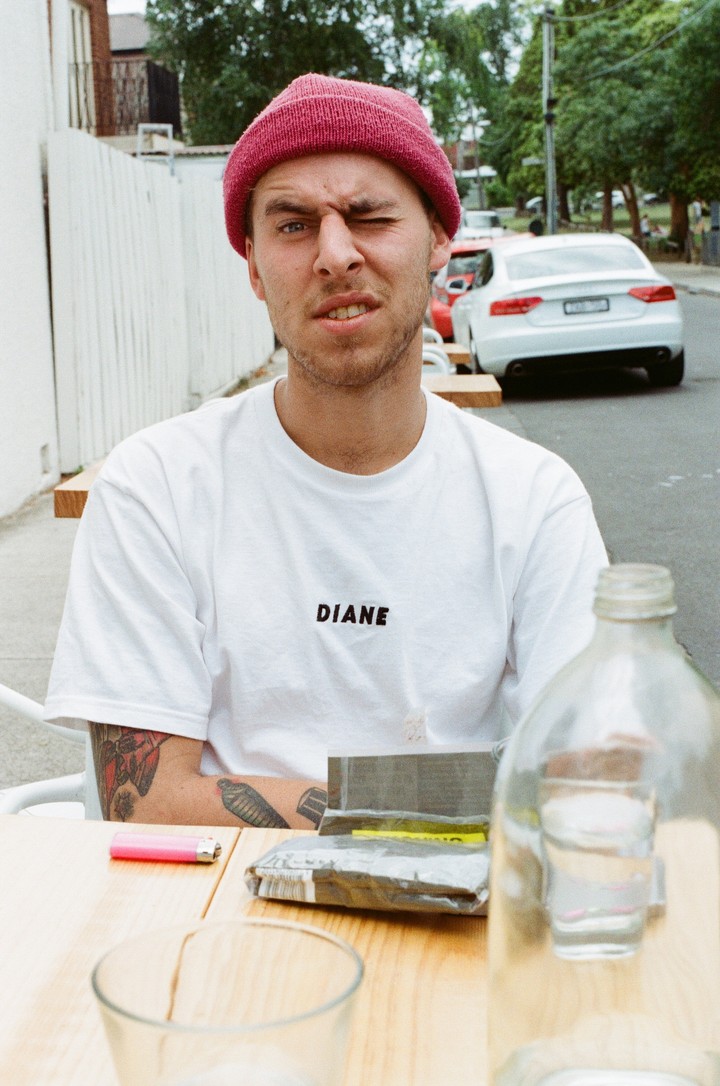 Photographer Anjelica Angwin
Tristan and I went to high school together. We last saw each other three years ago, before another of his friends encouraged him to upload something via Soundcloud. Winona, the track Tristan put up, catapulted him into the lo-fi house scene. Now he performs alongside the likes of Palm Trax, DJ Seinfeld and Julio Bashmore, spending his days touring the world and making people dance. We Skyped so I could ask him all my burning questions.
Hey Tristan, good morning over there!
Hey! A good evening to you.
How's your London morning going?
I've spent the last half an hour on @cafes_of_london's Instagram finding a place to go to breakfast with my girlfriend. We're spending the day together because I'm off to Canada tomorrow for two weeks to do some shows.
Why did you move over there?
I have a passport and I was over Melbourne. I was stuck doing the exact same thing: working in a café and bar and then going out and get fucked up on the weekends then doing it all over again. It finally got to me and I realised I wasn't happy so I thought, let's try London. My girlfriend and I moved over at the end of 2015. It's been two years now, so it's the longest I've ever rented a place.
It's been about two years since we last spoke, around the time your track Winona blew up with something like three million views on YouTube. Now DJing is your day job. How are you handling your new-found fame?
It's surreal, never in my wildest dreams did I think this would happen. It all started because my old housemate back home said he'd never heard any of my music and to put something up on Soundcloud. At that stage, I'd really given up on the idea of making music as a career, it was just for fun. I hadn't moved to London to pursue it either, it was just a bonus that the music market is bigger here. I uploaded Winona one morning, went to my café job and when I came home it already had heaps of views and a comment saying, "Slav brought me here." I found my song had over 50,000 plays in a day!
That's great, thank you Slav! Do people treat you differently now?
Yeah, absolutely. I was badly bullied in school and I played a show in Paris not too long ago and saw these two girls from high school. Back at school they were in the 'popular' group, only friends with jock guys now here they were screaming in the front row. They came backstage and tried to talk to me being like, "OMG this is so crazy! You know back at school..." and I was like, "Yeah I remember you." It was a weird experience!
I remember you saying people treated you like shit back then. The sample from Winona speaks of feelings of inadequacy or others telling you, you're not good enough.
Yeah, when I first heard that Winona Ryder interview, it really resonated with me. With my music, sometimes it's about a story or an emotion or feeling. Winona definitely had that when I made it.
How does your life now compare to how you lived in Melbourne?
It's very different, it's quite relaxing actually. During the week it's calmer, I work on music, but the weekends are more intense, travelling around and playing shows. I used to work in a coffee shop over here too but I don't do that anymore.
How did it feel to play back home on your Australian tour?
It's a crazy feeling. You've got friends who come to the show, so it's like a reunion. Then you've got – which is weird to say and I don't really like it – but fans. My mum came to the show and people were like, "Oh my god you're DJ Boring's mum! I've got to get a photo with you!" She's loving it!
Haha, amazing! Any die-hard fans?
There's a girl on Instagram who edits photos of herself and me together. She's posted pics of me and her in a bed together and captioned it something like "our first night together, it was amazing." And then edited another one where she's got a little straw and me going into the straw and written "my personal cocaine." They're super funny, nothing that weird.
I love it. Does the European crowd respond differently to your music compared to Australia?
Yeah, definitely. I play to Europe a lot more than I do to Australia, but when I played in Melbourne last, some of the tracks that I know do well in Europe weren't received very well. So, I just went back to playing how I used to when I DJed back in Melbourne. I play mainly house music from the 90s and early noughties in Europe. In Australia, especially Melbourne, a lot of nights seem to be more about who's playing the most obscure music. Playing rare music is cool but shouldn't just be about playing weird music nobody knows. There's nothing better than being on a dance floor and a song you know comes on and you're like "Ahhhhh!!"
You started off making lo-fi house, now you're tagging new tracks on Soundcloud with #breakbeat, is this a progression, is it about exploring different genres?
Yeah for sure, I never really intended to be into that whole lo-fi scene. I made a song that had a tape hiss and people pigeonholed me. Low quality music has been around since the 70s, and the break beat track is from the record label I started with my friend Jonas [Stanley Schmit]. We went into the studio to make a house song but ended up with this weird break beat tune. Jonas is really into the genre and it's definitely making a comeback.
What do you think makes a successful DJ?
I was lucky, I started at 17, so when I came onto the scene I already had 'DJ skills'. Knowing how to DJ is helpful, haha. Also, whenever I play a set I have fun and dance around. If you see a DJ having fun, you'll have fun. A lot of cool, techno DJs will just stand and maybe swivel, and that works for them but, when you're into house music and having fun, if you dance with the crowd they'll dance back.
Do you have a go-to get the party started track?
Yeah absolutely, a song by M&S called Salsoul Nugget – you'd know it – it's the one "If you wanna rock the rhythm…" A crazy 90s dance track that gets everyone singing and dancing.
Have you met any of your DJ idols?
Yeah, I played support for Octave One in Newcastle last year. They're older guys in their late 40s maybe 50s, and they're notorious for going home after their sets. They'll sit down for like five minutes, have a bottle of water and go home. But when we played the same night I checked the crowd about 45 minutes into my set and they were still behind me dancing! Then afterwards they came up and gave me a pat on the back and congratulated me. The next morning, I woke up to a tweet by them being like "Yo DJ Boring keep doing your thing," and I was like "Woaaahhhh!" It was cool.
Changing the subject, in industries across the board, there's a push towards diversity and inclusion. Are you seeing more women and members of the LGBTIQA+ community on bills with you?
I am seeing that change and I'm a big supporter of equality for all parties. No one should feel marginalised in any industry or scene, it upsets me because female and LGBTIQA+ DJs are killing it. Collectives like Discwoman are great, Umfang, Frankie, Volvox, they're all really talented. When you watch an Umfang set, you're blown away by her roaring techno. I'm really enjoying what they're all doing.
Last March you made us an i-DJ mix and we asked you what your greatest ambition was, you said it's to one day have your own family, is this still true?
Absolutely! I'd love to have my own family, that's the goal.
Any more drunk cooking videos on the horizon?
Ohh, haha! The drunk cooking channel isn't mine, it's my friend's. I just did an episode on it. I wish it was mine though. Since I posted it on social media it's gotten a bit of attention but he's sadly not doing it anymore…
Dammit! Seeya Tristan.
It was good to see you and catch up! Seeya dude.